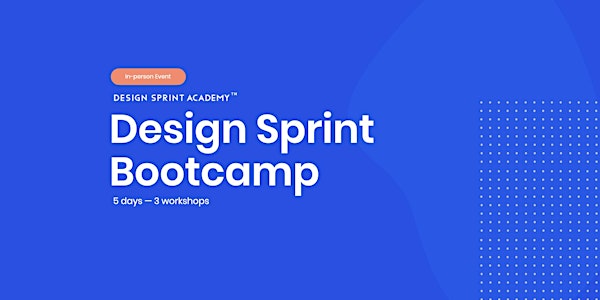 Design Sprint Bootcamp - Berlin
A 1-week Design Sprint Bootcamp to improve team-wide productivity and drive innovation within your organization or with your clients.
When and where
Location
spreewalker Eventlocation Schlesische Straße 26 Durchgang F 10997 Berlin Germany
Refund Policy
Refunds up to 30 days before event
About this event
A design sprint is a process to help your team move from problem to tested solution in less than one workweek. From launching new products to fostering leadership alignment, design sprints give you a step-by-step process for quickly solving complex problems.
In this 5-day Bootcamp, you will learn all the ins and outs of running successful Design Sprints by working in a team setup through B2B and B2C simulations based on real business case studies.
Through the process of Problem Framing, Design Sprint, and Advanced Facilitation, you will gain the right set of tools and skills to find actionable solutions and drive impactful outcomes.
Running Design Sprints since 2016
We found design sprints through our own example of a successful failure.
Our Design Sprint journey started in late 2015 before the Google Ventures book 'Sprint' was published. Since then, we've run dozens of design sprints for a variety of companies, from Fortune 500 companies to startups. This includes training Google in San Francisco as well as partnering with InVision to teach Design Sprints as part of their Design Better Workshops series, alongside the likes of Jake Knapp and Richard Banfield. And, each time, we noticed the companies were looking for different solutions and outcomes from a design sprint.
But no matter the differences in expectations, the overall outcome remains the same – satisfaction from their actionable insights.
Today, we believe in design sprints more than ever. Our focus is not simply to help organizations adopt a framework for innovation. We want to help you achieve real results.
The all-in-one training program
We designed an original end-to-end Design Sprint training that will take you from zero to an expert Design Sprint Facilitator in just five days.
Our all-in-one training program is a curriculum based on the popular Google framework. Fine-tuned for you (based on years of practical implementation and results), this program will build long-lasting skills and capabilities.
You will learn:
✅ A practical Design Thinking approach that they can apply in daily work
✅ To align key stakeholders and help them make better decisions
✅ Customer-centricity
✅ A toolkit to experiment and test new solutions that customers will love
✅ Break silos and collaborate effectively across functions
The Design Sprint Bootcamp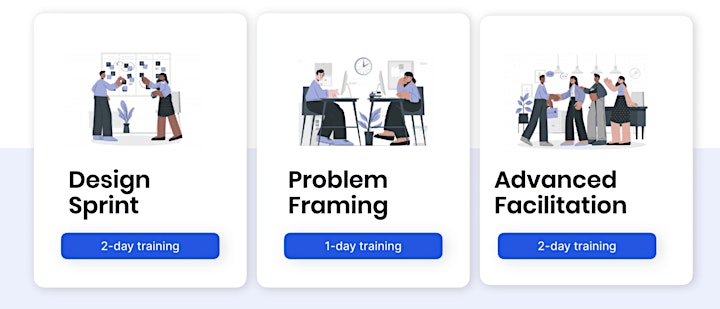 Module 1:
Design Sprint Training, a 2-day interactive learning experience that will show you how to
Solve a real customer problem
Collaborate with a diverse team
Understand and empathize with your user
Build a Customer Journey Map
Create a storyboard as a group
Build a functional prototype in less than 2 hours
Make sense of customer testing insights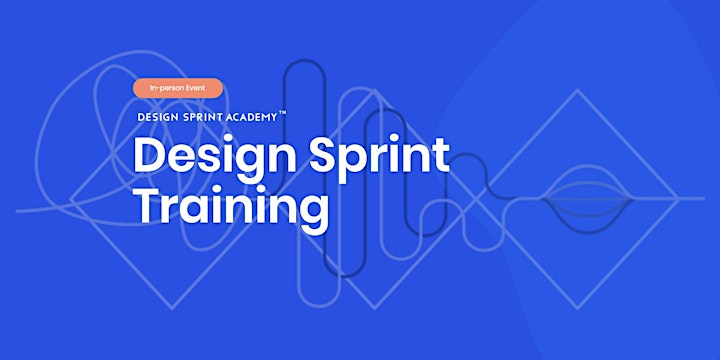 Module 2
Problem Framing Training, a 1-day training to learn how to
Find consensus about real business problems with key decision-makers
Pinpoint the root cause of complex organizational problems
Define the right challenge for the sprint
Get the stakeholder's buy-in
Pick the right team, experts, and target customers
Apply principles from design thinking in meetings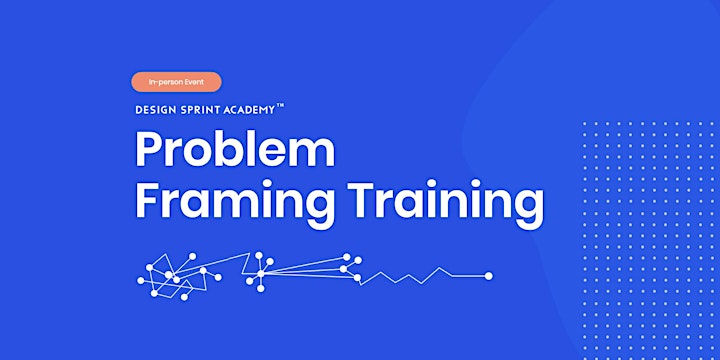 Module 3
Advanced Design Sprint Facilitation, a 2-day training focused on brushing up your facilitation skills.
Learn the ground rules, mindset, and your role as a Design Sprint Facilitator
Get the best out of your team: how to tap into their full potential and creativity
Manage conflicts. Learn how to deal with difficult group dynamics and disruptors.
Improve assertiveness. Learn to show empathy, while intervening firmly
Practice facilitation. Facilitate different Design Sprint phases and receive rounds of actionable feedback from your peers.
Learn how to confidently run a sprint yourself and apply it to your organization.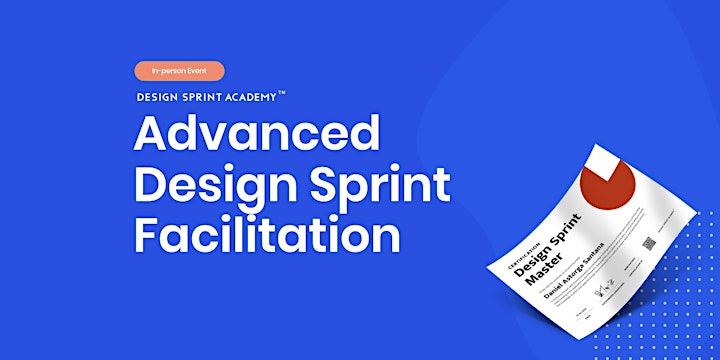 Your learning experience
The Design Sprint Bootcamp facilitates experiential and collaborative learning through team-based activities, expert-led facilitation, and immediate practice of the newly gained skills.
Bite-sized learning
Hands-on practice
Real-world application
Relatable and exclusive case studies
Debrief sessions and lessons learned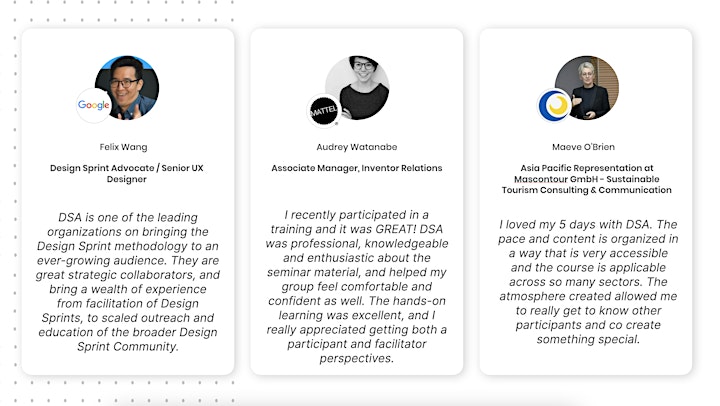 Your Instructors
John Vetan - Innovation Strategist, Facilitator, and Co-founder of DSA
John is an entrepreneur and digital enthusiast with over 20 years of experience. He believes that innovation should not be just another buzzword but something that every organization should attain and instill in their DNA.
Currently, as founder and strategist at the Design Sprint Academy, John is helping organizations around the world use and adopt Design Sprints as an effective way to innovate and find a better way to work.
Dana Vetan - Head or Training and Co-founder DSA
Dana is the co-founder and Head of Training at the Design Sprint Academy who teaches business leaders from global organizations how to solve problems through Design Sprints.  By combining the experience from hundreds of sprints, with her natural empathy and a background in Psychology, Dana has created a unique approach to training future Facilitators by helping them overcome common biases and pitfalls, boost their confidence and play to their strengths.
📣 BONUS #1 📣
From theory to practice, you will receive the resources and playbooks to run design sprints at your organization today (and years in the future).
Facilitator Toolkit: All of the tools, templates, and resources you'll need to consistently implement the knowledge and methods learned in the training workshop.
📣 BONUS #2 📣
Bolster your resume through our certification exams!
As a Bootcamp participant, you can choose to take our certification exams, test your knowledge and gain the credentials you'll carry forever.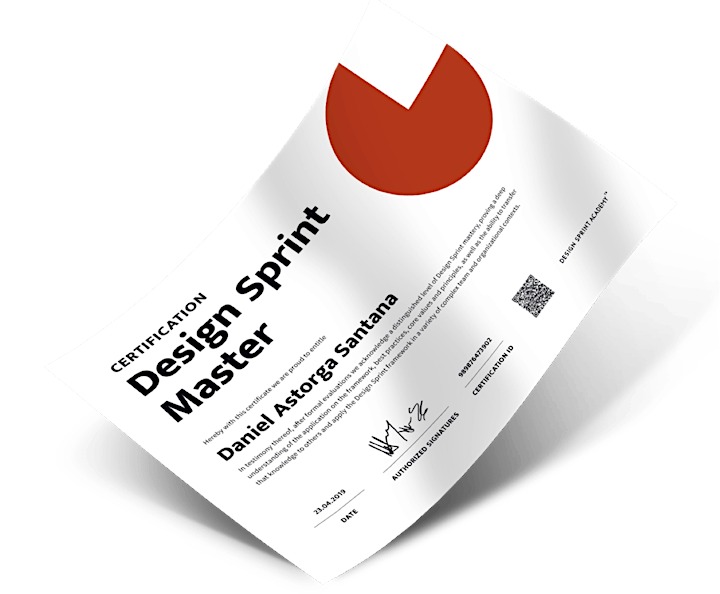 FAQs
Can I pay by invoice?
Yes. Please email us at start@designsprint.academy your company details, and we will issue an invoice.
What should I bring to the event?
Laptop or tablet on Mon & Tue only. However, it is not mandatory.
Are the tickets transferable?
Yes. If you need to request a ticket transfer, please email start@designsprint.academy. But! All requests must be made 72 hours before the event.
What is your cancelation policy?
Due to the limited number of seats in this workshop, we want to ensure that no one misses the opportunity to participate. For a full refund, we kindly ask you to cancel 30 days prior to the event. If you have any questions, please reach out to us at: start@designsprint.academy
Should I come as an individual or as a team?
Both individuals and company teams are encouraged to attend. But just to clarify, you don't get to be a loner at the workshop. Individuals will work together with a team of people from different companies. This workshop will be valuable for both individuals and groups.
Are there any team discounts?
Yes, there are team discounts. Please email at start@designsprint.academy if more people from your company want to join a session.
Will there be refreshments and lunch?
Yes, refreshments and lunch are included.
I don't have five days available. Can I attend separate training modules?
Yes. You can join any training module by simply purchasing a ticket for that specific course. Please find the events listed here.
How much are the tickets for each training module?
Design Sprint Training (2 days) - 🎫 General Ticket €1,000
Problem Framing Training (1 day) - 🎫 General Ticket € 800
Advanced Design Sprint Facilitation (2 days) - 🎫 General Ticket €1,500
Get all three training modules for a 12% discount:
Design Sprint Bootcamp (5 days) - 🎫 General Ticket €2,900 (instead of €3,300)
Prices don't include the VAT and Eventbrite Fees.