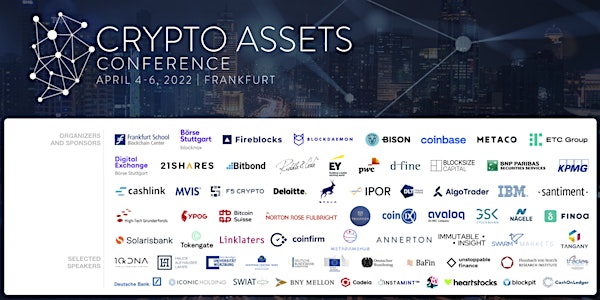 CRYPTO ASSETS CONFERENCE 2022 - #CAC22A
Discover the recent developments in blockchain, custody, crypto assets, DeFi, and the digital Euro at the Crypto Assets Conference #CAC22A.
Refund Policy
Contact the organizer to request a refund.
About this event
Note regarding on-site tickets:
As the number of physical attendees is limited due to ongoing Covid-19 regulations, we have decided to collect a list of all interested participants through a questionnaire. Participants will be chosen and given the opportunity to purchase an on-site ticket. Therefore, the questionnaire is NOT an official ticket but an expression of interest.
In any case, an unlimited number of online tickets will be available so that you will not miss the CAC in case of tightened regulations. If you wish to apply for an on-site ticket, please click on the following link and fill out the questionnaire. We will let you know as soon as possible whether we are able to offer you the chance to purchase an on-site ticket for #CAC22A. Thank you very much in advance!
https://docs.google.com/forms/d/1iPzE0R0n9dpup7CjGiJznQBPanYR3el8Qy1MGZk6dlc/edit
About #CAC22A
Blockchain technology, since its emergence, has created hundreds of digital assets and spurred new business models on decentralized networks. Due to its rapid evolution, the Frankfurt School Blockchain Center organizes the Crypto Assets Conference, inviting executives, founders, investors, and representatives from public authorities to discuss the latest insights into this disruptive technology.
Covering top-level content about current trends in DLT, blockchain and crypto assets through speeches, discussions or pitches, a diverse range of industry experts and thought-leaders will unite at the leading European crypto conference. Join 5000+ online- or 300 on-site participants to collaborate and interact with peers and experts and receive updates on the following topics:
Day 1 (Mon., April 4, 2022): Bitcoin, Crypto Assets, DeFi & NFTs
Day 2 (Tue., April 5, 2022): Digital Securities and Infrastructure
Day 3 (Wed., April 6, 2022): Digital Euro, Digital Identity & Sustainability
All keynotes, presentations, and panel discussions will be streamed to our Frankfurt School conference platform, which will be accessible by all participants with a valid ticket.
Speakers on all three days include (continuously updated)
Sascha Rangoonwala (Coinbase)
Drew Robinson (Coinbase)
Jan Kühne (Coinbase)
Frank Thelen (10xDNA)
Philipp Sandner (Frankfurt School Blockchain Center)
Simon Seiter (Hauck Aufhäuser Lampe)
Dr. Ulli Spankowski (Börse Stuttgart)
Harald Patt (Börse Stuttgart Digital Exchange)
Emin Mahrt (Börse Stuttgart Digital Exchange)
Dr. Oliver Vins (Blocknox - Börse Stuttgart)
Tim Bruenjes (Fireblocks)
Andreas Traum (PwC)
Konstantinos Dagianis (PwC)
Liz Maassen (PwC)
Dr. Jan Rosam (Ernst & Young)
Magnus Jones (Ernst & Young)
Dr. Frederik von Essen (Ernst & Young)
Dr. Matthias Hirtschulz (d-fine)
Dr. Marcus Hennig (d-fine)
Dr. Marc Henniges (d-fine)
Bradley Duke (ETC Group)
Tim Bevan (ETC Group)
Andre Voinea (ETC Group / HANetf)
Tim Clausen (Blockdaemon)
Stefan Schmitt (Blockdaemon)
Kurt Zeimers (BNP Paribas Securities Services)
Seamus Donoghue (METACO)
Prof. Dr. Peter Bofinger (Universität Würzburg)
Dr. Juergen Schaaf (European Central Bank (ECB))
Dr. Martin Diehl (Deutsche Bundesbank)
Dr. Joachim Schwerin (European Commission)
Frank Schäffler (Deutscher Bundestag)
Hagen Weiss (BaFin)
Christoph Kreiterling (BaFin)
Adrian Fritz (21Shares)
Bernhard Wenger (21Shares)
Radoslav Albrecht (Bitbond)
Sebastian Becker (Riddle&Code)
Kai Siefert (Riddle&Code)
Christian Labetzsch (Blocksize Capital)
Thomas Langbein (Blocksize Capital)
Denise Duve (Blocksize Capital)
Michael Duttlinger (Cashlink)
Martin Leinweber (MVIS)
Florian Döhnert-Breyer (F5 Crypto)
Tobias Brenner (Deloitte)
Dr. Johannes Schmitt (NYALA)
Darren Camas (IPOR Labs)
Roger Wurzel (DLT Finance Group)
Andy Flury (Algotrader)
Wolfgang Berger (IBM)
Thomas Hartmann (IBM)
Maksim Balashevich (Santiment)
Dr. Alex von Frankenberg (High Tech Gründerfonds)
Dr. Carola Rathke (YPOG)
Dr. Anika Patz (YPOG)
Thomas Tüllmann (YPOG)
Mauro Casellini (Bitcoin Suisse)
Dr. Caroline Herkströter (NORTON ROSE FULBRIGHT)
Victor Ammer (Trustody)
Susanne Fromm (CoinIX)
Dr. Nils Bulling (Avaloq)
Dr. Timo Bernau (GSK Stockmann)
Dr. Tobias Riethmueller (GSK Stockmann)
Thomas Nägele (Nägele Attorneys)
Dr. Andreas Dittrich (Finoa)
Julian Grigo (Solarisbank)
Tom Rieder (Tokengate)
Dr. Florian Reul (Linklaters)
Jacek Trzmiel (Coinfirm)
Peter Grosskopf (Unstoppable Finance)
Prof. Dr. Thomas Mayer (FVSAG)
Boris Ziganke (tradias / BHS)
Alexander Bechtel (Deutsche Bank)
Manuel Klein (Deutsche Bank)
Nicolas Weber (MetaGameHub DAO)
Alireza Siadat (Annerton)
Dr. Stephan Romeike (Immutable Insight)
Philipp Pieper (Swarm Markets)
Maximilian Lautenschlaeger (Iconic Holding)
Ivica Aračić (SWIAT)
Benjamin Duve (BNY Mellon)
Constantin Ketz (Cadeia)
Jamiel Sheikh (Instamint)
Michael Spitz (360X)
Till Rügge (heartstocks)
Florian Wimmer (Blockpit)
Maximilian Forster (CashOnLedger)
Dr. Harry Behrens (bloXmove)
Dr. Agata Ferreira (Status.im)
Heinz-Günter Lux (Evonik)
Helge Michael (Main Incubator)
Christoph Iwaniez (Nuri)
Jonas Gross (Digital Euro Association)
Dr. Christoph Ruth (Capco)
Arno Pernthaler (DEC Institute)
Frank Wagner (Invao)
Néstor Palao (Sygnum)
Alex Bausch (2Tokens)
Patrick Dewayne (Dewayne Consulting)
Olaf Hannemann (CV VC)
Philipp Hartmannsgruber (DSGV)
Sheraz Ahmed (Crypto Valley)
Robert Richter (Frankfurt School Blockchain Center)
Wolfgang Männel (Blockchain Founders Group)
Benjamin Horvath (Blockrocket)
Dr. Oliver Krause (Advantum Ventures I Untitled INC)
Dr. René Andres (European Investment Fund (EIF))
Philipp Schulden (Rudy Capital)
Thomas Faber (Rudy Capital)
Christian Viehof (International Token Standardization Association)
Felix Fernandez (21e6 Capital)
Maximilian Bruckner (21e6 Capital)
Anna Graf (Misa)
Ivor Kramer (Misa)
Dr. Teo Pham (Delta School)
Katharina Gehra (sustainliquid)
Sarah Rentschler-Gerloff (DXC Technology)
Sven Wagenknecht (BTC-ECHO)
Cedric Heidt (DeFi Talents)
Lucas Zaehringer (Verity Tracking)
Elad Verbin (Lunar Ventures)
Simon Leicht (Possible Ventures)
Patrick Van de Mosselaer (Tioga Capital)
Prof. Dr. Isabell Welpe (Technische Universität München)
Eva Meyer (Technische Universität München)
Robert Spicer (Scorechain)
Marcel Kaiser (PolyCrypt)
Dr. Gökçe Phillips (CryptoIndexSeries)
Carsten van Husen (Gaming X Crypto (stealth))
Leo Hilse (styleXchange)
Topics breakdown
Day 1 (Monday, April 4, 2022): Bitcoin, Crypto Assets, DeFi & NFTs
Bitcoin and Ethereum: Development, potential and performance
Decentralized Finance (DeFi): Emergence of DeFi, Web3 and the Metaverse
NFTs: Trends and the current hype around NFTs
Day 2 (Tuesday, April 5, 2022): Digital Securities and Infrastructure
Digital Securities: Recent developments, new regulations and tokenized assets, funds and equity
Infrastructure: Secure IT, AML, custody services, service providers
Alternative Layers: Optimization possibilities, market trends, innovation and L2 solutions
Day 3 (Wednesday, April 6, 2022): Digital Euro, Digital Identity & Sustainability
Digital Identities: Decentralized identity solutions, Industry 4.0, supply-chains and logistics
CBDCs, Stablecoins and Digital Euro: China's digital currency and trigger solution
Sustainability: Token-based CO2 offsetting and certificates
Location and date
Location: Online via streaming access
Dates: Monday, April 4, 2022, 09:00 CEST until Wed., April 6, 2022, 18:00 CEST
Language: German and English
Tickets
Registration via Eventbrite required: Participants who might not want to pay via credit card on Eventbrite can contact us; this way we will provide an invoice which would then be paid e.g. via bank transfer.
Refund Policy: No refund of the ticket price is possible.
Who should participate?
This conference is ideal for the people who seek to understand crypto assets and are interested in talking to practitioners to be able to judge these new developments:
Investors in new technologies, venture capitalists, crypto investors
Startups and founders that are interested in understanding crypto assets
Financial organizations (banks, investment funds, asset management) in all industries
Employees in the area of business development and digitization in all industries
Lawyers, consultants, and analysts (with IT or business background)
Contact
Frankfurt School Blockchain Center
Email: team@fs-blockchain.de
Phone: +49 69 154 008-790
Internet: www.fs-blockchain.de
About the Frankfurt School Blockchain Center
The Frankfurt School Blockchain Center is a think tank and research center which investigates implications of the blockchain technology for companies and their business models. Besides the development of prototypes, it serves as a platform for managers, start-ups, technology and industry experts to share knowledge and best practices. The Blockchain Center also provides new research impulses and develops training for students and executives. It focuses on banking, mobility, "Industrie 4.0" and the energy sector.
Further information can be found on the Website, on Facebook, or via Twitter.