Location
Vienna
Wien
1010 Vienna
Austria
About this event
Das Festival CRO-ArT ist ein Novum in kulturellem Leben Wiens, mit der Mission das aktuelle kroatische und österreichische musikalische Schaffen in allen Facetten und diversen Hintergründen, als ein bereichernder und relevanter Bestandteil europäischer und Welt-Kultur zu präsentieren.
Es werden die zahlreichen kulturellen Verknüpfungen und gegenseitigen Einflüsse Kroatiens und Österreichs beleuchtet, da die Mehrheit der Künstler eine starke Verbindung zu Österreich haben und Österreich als ihre (Wahl)Heimat erleben.
Im Fokus des Festivals stehen lebende, renommierte und junge, zeitgenössische, kroatische und österreichische KomponistInnen, sowie Exil-KomponistInnen, junge internationale KomponistInnen und große Namen des 20. und 21. Jahrhunderts, deren Werke die internationalen, in Österreich tätigen KünstlerInnen, samt ihren internationalen Gästen, interpretieren werden.
Im Pandemie-Jahr 2020 gegründet, das CRO-ArT Festival hat mit großem Erfolg auch die EU-Ratspräsidentschaft Kroatiens in Österreich abgeschlossen. Dieses Jahr präsentiert das CRO-ArT ein besonderes Programm und feiert dabei festlich 30 Jahre diplomatischer Beziehungen zwischen Kroatien und Österreich. Es verbindet die zwei Länder, aber auch das ganze Europa, da wir das Frieden und gegenseitige Unterstützung in diesen herausfordernden Zeiten am meisten brauchen.
Unter dem Motto "I Dream a World" werden fünf diverse und abwechslungsreiche Veranstaltungen stattfinden.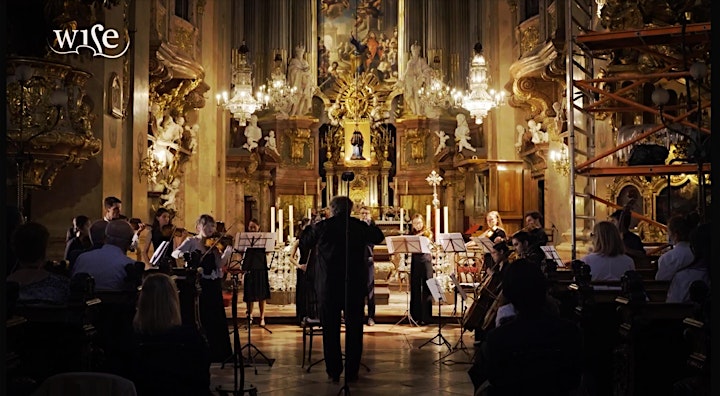 PROGRAMM
1.) Donnerstag, 12. Mai., Peterskirche, Petersplatz 1
15:00 Uhr Joshua Ryan, Orgelkonzert (Royal Academy of Music)
19:30 Uhr Festliche Eröffnung "I dream a World"
Anđelko Klobučar, Berislav Šipuš, Ivan Josip Skender, Franz Schmidt, Anton Webern, Gabriele Proy, Akos Banlaky, Dmitry Schostakowitsch, u.v.m.
WISE: Wien International Soloists Ensemble
Joshua Ryan, Orgel
Ivana Nikolic, Oboe
Josipa Bainac, Mezzosopran
Andrea Nikolic, künstlerische Leitung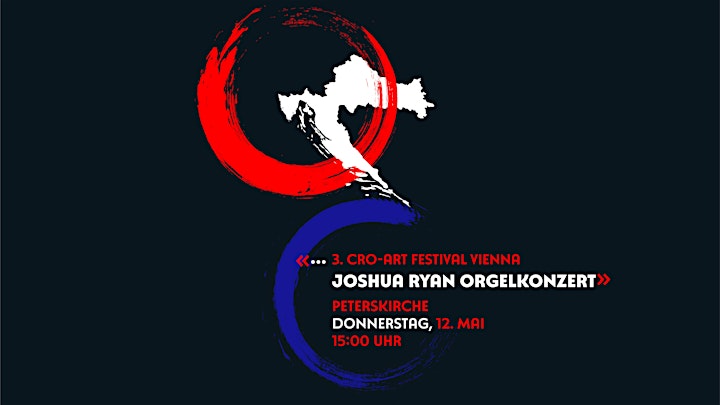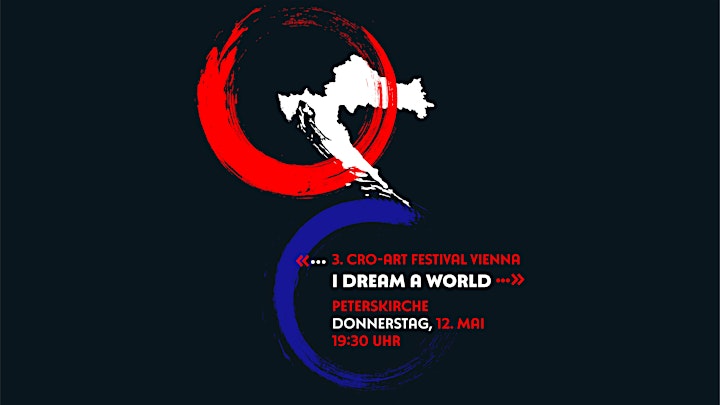 2.) Montag, 23. Mai, Bank Austria Salon im Alten Rathaus, Wipplingerstrasse 8
19:30 Uhr "Impeach the Kitsch!"
WISE: Wien International Soloists Ensemble
Nataša Veljković, Klavier
Ulrike Anton, Flöte
Stipe Bilić, Klavier,
Ivana Nikolić, Oboe
Angela Chia Chen Lin, Violine
Hanga Feher, Viola
Andrea Nikolić, Violine/Viola & künstlerische Leitung
Margareta Ferek-Petrić (UA neues Werkes), Igor Kuljerić, Emil Cossetto, Frano Parać, Meinhard Rüdenauer, Gabriele Proy, Johanna Doderer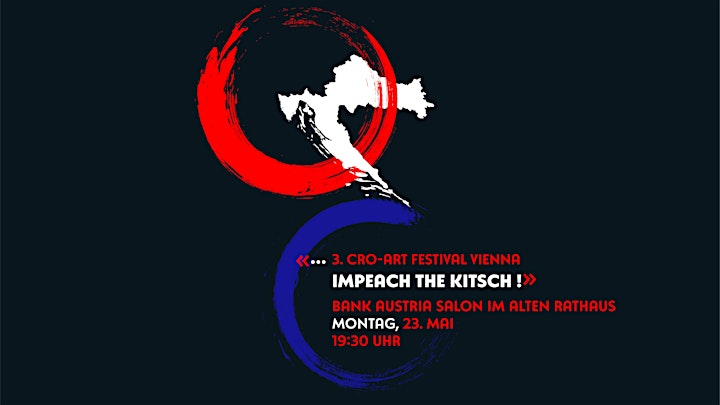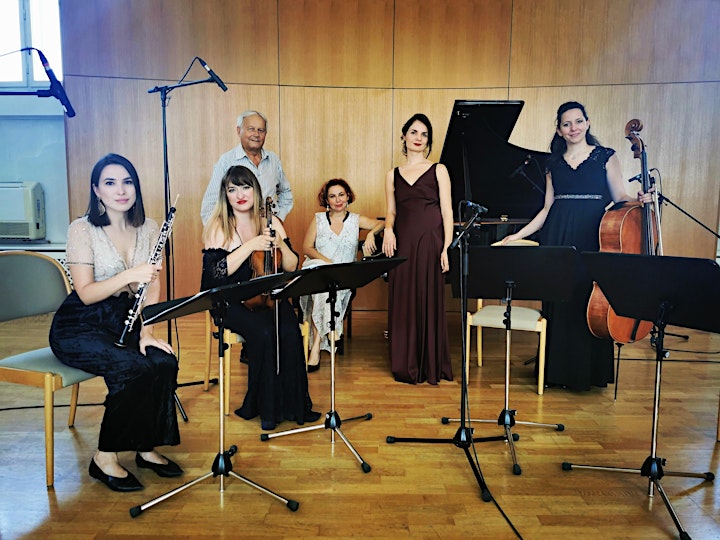 3.) Freitag, 03. Juni, Ankersaal, Kulturhaus Brotfabrik
18:00 Uhr - Panel Diskussion und Konzert-Einführung
19:30 Uhr Festliches Abschlusskonzert
WISE: Wien International Soloists Ensemble und Gäste aus dem Klangforum Wien
Andrea Nikolic, Violine
Rodrigo Samano Albarran, Dirigent
Olja Jelaska, Gabriele Proy, Boris Papandopulo, Gottfried von Einem, Arnold Schönberg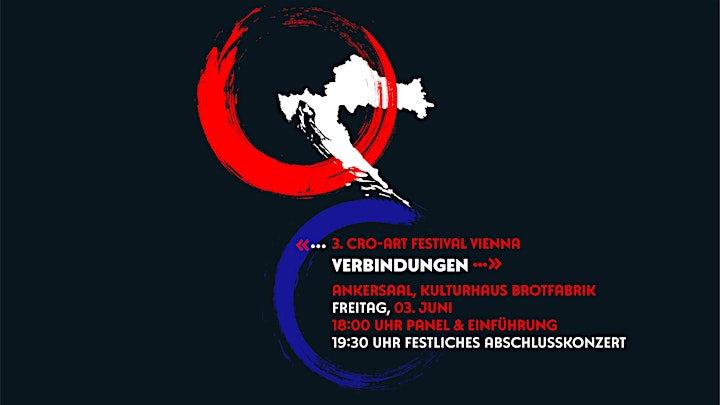 I DREAM A WORLD
I Dream A World
I dream a world where man
No other man will scorn,
Where love will bless the earth
And peace its paths adorn
I dream a world where all
Will know sweet freedom's way,
Where greed no longer saps the soul
Nor avarice blights our day.
A world I dream where black or white,
Whatever race you be,
Will share the bounties of the earth
And every man is free,
Where wretchedness will hang its head
And joy, like a pearl,
Attends the needs of all mankind-
Of such I dream, my world!
- Langston Hughes
_________________________________
EINTRITT: Pay as you wish!
(Empfohlener Mindestbeitrag 10.-EUR)
Wir freuen uns auf Ihr Kommen!