Creative note taking for coaches
Creative note taking for coaches
Refund Policy
Refunds up to 7 days before event
About this event
This meet-up is an invitation to start or deepen your journey of bringing creativity and imagery into your coaching. This will be a little slice of a bigger cake.
Key takeaways include:
- fresh tools for your coaching toolbox
- greater awareness of how you model information
- detailed insights into your unique coaching process
- techniques for making connections visible
Creative note taking can unlock and deepen connections for your clients. This is a practical session, where you will get to test some creative ideas for yourself. There will be individual, pair and group work and plenty of time for reflection.
This is not an art class, or a competition to see who is the most creative. This is simply a time to play together without judgement.
Speaker: Federica Boschetti and Noel Warnell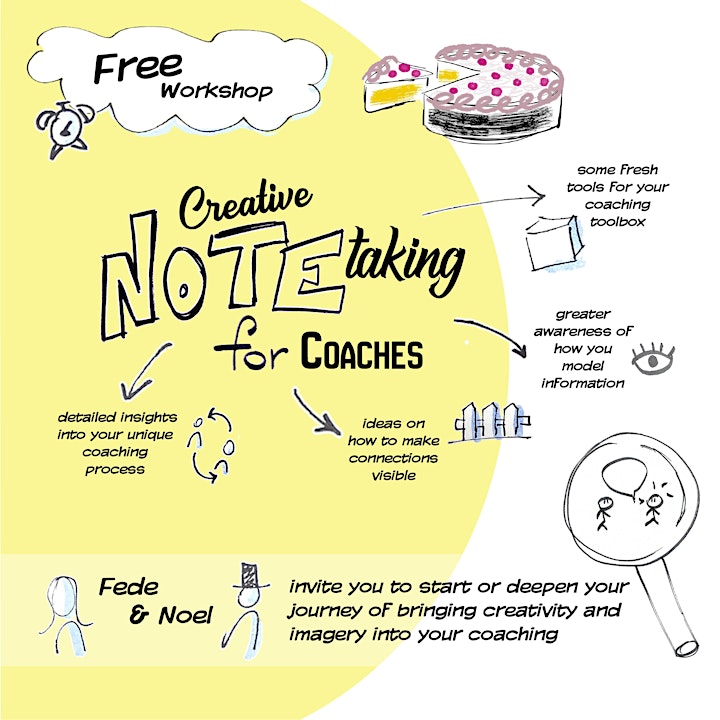 Noel is a ICF PCC coach and sketch note artist who has been experimenting with ways to combine these passions for over 2 years.
Fede is an ICF ACC coach with a background in web design. She always finds joy in bringing her creative soul into coaching and everything she does.
Together Noel & Fede have experienced the benefits of creative note taking for coaches first hand and wish to share their insights in the hope that you experience the joy and utility this can create for you and your clients.
Benefits for the participants:
discovering your unique visual note taking style
exploring the possibilities of imagery, sketchnotes, templates, physical objects and more
adding some fresh tools for your coaching toolbox
increasing awareness of your unique coaching process
reinforce the core competencies (esp. in relation to communicating effectively and facilitating learning)
Further Information
All we recommend is to bring yourself as you are. This is not an art class, or a competition to see who is the most creative. All is needed is some different colour pens and some physical paper / post-it notes.
CCEU
Core Competencies: 0.75
Resource Development: 0.75