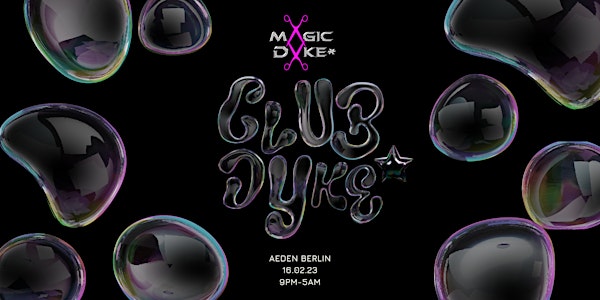 CLUB DYKE* BY MAGIC DYKE*
MAGIC DYKE* IS BACK WITH IT'S FIRST EVER CLUB NIGHT AT AEDEN WITH HOT PERFORMANCES AND DJS UNTIL 5AM!
Date and time
Thu, 16 Feb 2023 21:00 - Fri, 17 Feb 2023 05:00 CET
Location
Æden Schleusenufer 3 10997 Berlin Germany
Refund Policy
Contact the organiser to request a refund.
About this event
THE PARTY
You asked for more Magic Dyke* so here it is in full club technicolour… Bring your Valentine's or meet one there, the first ever CLUB DYKE* is guaranteed to bring the fun, the sexiness and the Dyke*s… With hot str!ppers, hot DJs and a dark room, this will be a Magic Dyke* to remember!
February 16th 2023
AEDEN Berlin, Schleusenufer 3, 10997 Berlin
- Doors 21:00
- Show 23:00
- Club Night 01:00-05:00
PLEASE BRING CASH TO TIP US!
HOUSE RULES
INCLUSIVITY
Never assume someone's gender, pronouns or ability. Dyke does not mean cis female lesbian. We do not tolerate racist, ableist, TERF or SWERF ideology.
CONSENT
We are a str*pping party and have our bodies on show for you. We will have a system in place on the night to give or not give your consent to the Dyke*s, but under no circumstances should you touch the Magic Dyke*s or other people without their express consent. This will result in your expulsion from the venue.
FLINTA* SAFE SPACE
We will have our own door to ensure FLINTA* and friends are prioritised. Please keep this in mind. If you are concerned about presenting a certain way please don't be! Give us a DM and we will write your name down to ensure your entry.
Please tell one of our members or door people if you feel uncomfortable at any time.
CORONA
We ask and recommend to please take a corona test to protect everyone in our community. Don't be ableist!
STAYING SAFE
We will have an amazing FLINTA* Awareness Team in neon harnesses walking around that have training in drVg safety, first aid and consent.
We know our parties are loads of fun but try to keep in mind your own and your friends' limits, whether with alcohol or other substances. For our very small and very busy team, as well as the other people around you - have fun but pace yourself and drink lots of water!!!
ACCESSIBILITY
WHEELCHAIR ACCESS
The space is wheelchair accessible. If you are a wheelchair user and concerned about space, please message us beforehand so we can reserve a spot.
DISABILITY ACCESS
Please message us so we can have a seat available to you.
NEURODIVERSITY ACCESS
We understand noise can be an issue. Please bring ear plugs or headphones if needed. If you need anything specifically please feel free to reach out on Instagram to our team.
Unfortunately, we do not sign but we hope to improve Deaf inclusivity in the future.
HAVE FUN DYKE*S!
Check in on each other, know your limits and have fun!
TICKETS DO NOT GUARANTEE ENTRY.
NO REFUNDS, TICKET EXCHANGE AVAILABLE VIA TELEGRAM GROUP: https://t.me/+NvGOLU0jz7gwZmU6