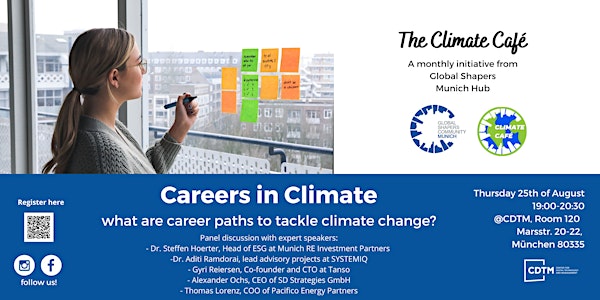 Climate Café
Careers in Climate - what are the paths to take to tackle climate change with your job? Join us for an insightful discussion!
When and where
Location
CDTM Room 120 Marsstraße 20 Room 120 80335 München Germany
Refund Policy
Contact the organizer to request a refund.
Eventbrite's fee is nonrefundable.
About this event
Event Detail Reminder
(In Person)
🌎 Climate Café Thursday, August 25 · 7:00 – 8:30pm @ CDTM Munich https://goo.gl/maps/YgVsmSCHELPKHVGc8
Room 120
(Online)
🌎 Climate Café Thursday, August 25 · 7:00 – 8:30pm Google Meet joining info Video call link: https://meet.google.com/wvy-nisn-qpd
The Global Shapers Munich are inviting you to another session of our monthly climate café, this time on the topic of Climate Careers. Join us to discuss the paths that you can take and maybe help you choose your next career move.
The worse climate change becomes, the more unpredictable the future of careers could be. That in itself might be a strong reason to dedicate your career to working on climate change. If you want to make climate change the focus of your career, this edition of climate cafe will share some thoughts on the most effective ways to help tackle it.
Our Guest Speakers/ Panelists:
- Dr. Steffen Hoerter: He is head of ESG at Munich RE Investment Partners . His work includes shaping ESG investment and fund strategy for global asset managers, building and managing ESG client investment advisory and ESG portfolio solutions function , shaping international pension and insurance asset owner ESG and Net Zero Climate investing strategy (GB, NL, F, Ger) and creating ESG market footprint for asset managers through ESG thought-leadership
- Dr. Aditi Ramdorai: She leads advisory projects at SYSTEMIQ, a system change company and think-tank dedicated to accelerating delivery of the Paris Agreement and UN Sustainable Development Goals by transforming markets, business models and asset classes in three economic systems: land-use/nature, clean energy and materials/circular economy.
- Gyri Reiersen: She is a climate activist, co-founder, and CTO of the ClimateTech startup Tanso. Driven by the urgency and importance of mitigating climate change, Tanso aims to remove the structural barriers that hinder corporations to decarbonize.
- Alexander Ochs: He is the founder and managing director of SD Strategies, a consultancy practice working at the intersection of energy, the environment, and social and economic development. He is also a Senior Fellow at the Worldwatch Institute and Johns Hopkins University, the Founding President of the Forum for Atlantic Climate and Energy Talks (FACET), and chairs the Energy Working Group of the Low-Emissions Development Strategies Global Partnership (LEDS-GP). Former positions include the Center for Clean Air Policy (CCAP), German Institute for International & Security Affairs (SWP) where he co-founded the International Network to Advance Climate Talks (INTACT). He taught classes at CUNY, Princeton, George Washington, Munich, Freie and Humboldt Universities as well as CIEE Global Institute. In 2011, he received the Sustainable Future Award of the Austrian Academic Forum for Foreign Affairs.
- Thomas Lorenz: Thomas is the Chief Operating Officer of Pacifico Energy Partners, responsible for asset management, operations, digitalization, and human resources. Pacifico is a renewable energy company for wind and solar energy as well as battery and hydrogen technologies. It shapes the energy future by developing greenfield projects, repowering existing plants, providing asset management services, and facilitating the acquisition of operational plants.