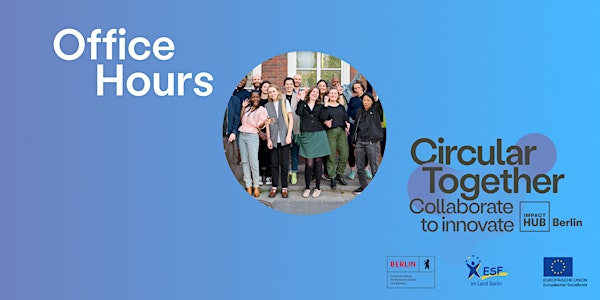 Circular Together 2023 Applications Officehours
Here's a chance to explore the Circular Together program, ask questions and interact with its team & fellow aspiring applicants!
About this event
Circular Together's OfficeHours are a weekly event series, where the team of Circular Together incubator presents the program, and encourages and answers any open questions. This is followed by an open room where applicants can interact with each other and network.
Circular Together is a Berlin-based six-month incubator with the circular economy at its core. The programme is funded by the Berlin Startup Stipendum, and supports early-stage impact entrepreneurs with stipends and tailored business coaching, giving them the space, tools, and network needed to secure strong partnerships and to grow their impact.
Here are a few highlights of the program benefits.
- Customised program with world class coaches to set solid foundations for your entrepreneurial journey
- €2000/month stipend to support you financially
- Access to Impact Hub's rich network of 24,000+ impact entrepreneurs, investors and enthusiasts
- Free co-working space at Impact Hub Berlin in Neukölln, built entirely on circularity principles.
Here's the link to the program, for more information and FAQs.
https://circulartogether.impacthub.berlin/
Apply here --> https://www.f6s.com/circular-together-2023/apply
About Impact Hub Berlin
Impact Hub Berlin empowers impact-driven entrepreneurs and organisations to realise, develop and scale their solutions. By providing innovators with tailored support, a collaborative coworking community and connection to our growing global network, we help shape a more equitable future for people and the planet.
Sign up for Impact Hub Berlin's monthly newsletter to be the first to hear about our events, programmes and opportunities.