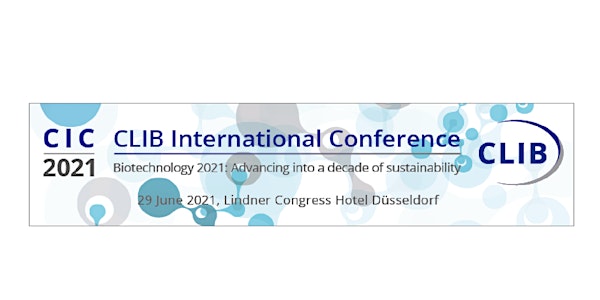 CIC2021 Hybrid Event
The final event in this year's CIC2021 series will take place as a hybrid event at the Lindner Congress Hotel in Düsseldorf on 29 June.
When and where
Location
Lindner Congress Hotel Lütticherstraße 130 40547 Düsseldorf Germany
Refund Policy
Contact the organiser to request a refund.
About this event
Under the motto "Biotechnology 2021: Advancing into a decade of sustainability", we will discuss topics such as structural change, technology transfer and scaling of biotechnological processes, sustainable solutions for the textile industry and contributions of biotechnology to closing the loop in plastics. In these diverse thematic areas, we want to highlight contributions of biotechnology to sustainability and to the transformation of industry.
Session 1 "The long and winding road to scale"
Scaling up biotech processes to production scale remains a challenge. This session will highlight the procedural hurdles, real-world success stories and the role of scale-up in the biological transformation of the industry. How can an efficient scale-up be supported and what are the critical factors in planning and implementation of novel biotech processes?
Session 2 "Functionality meets sustainability - Biotech in textiles"
Bringing together the textile and biotechnology industries, this session will address opportunities for biotechnological/chemical processes in the textile industry, for textile processing or recycling. This includes raw materials for fibres, but also how biotechnological processes or catalysts can play a role in fibre processing or finishing, providing technical or fashionable functionalities while avoiding negative environmental impacts. Lastly, can biotechnology help in establishing a circular fashion industry, by contributing to recycling technologies?
Session 3 "Biotech: Silver bullet to cure our oceans from plastic waste?"
What role can biotechnology and bio-based polymers play in the necessary closing of the loop in plastics? Is biotechnology the silver bullet for better recycling of plastics, or are biodegradable polymers rather a disruptive factor for efficient recycling? We want to address these questions in a discussion round with representatives from industry and academia.