CALMDOWN with band & liquid show. Pre-release Concert/The PrisonerK Trilogy
CALMDOWN LivE with band & liquid show, PRE -PRESENTS her album "PINK".A story about the color Pink that we artificial create in the brain.
When and where
Location
Marie-Antoinette Holzmarktstraße 15-18 10179 Berlin Germany
Refund Policy
Contact the organizer to request a refund.
About this event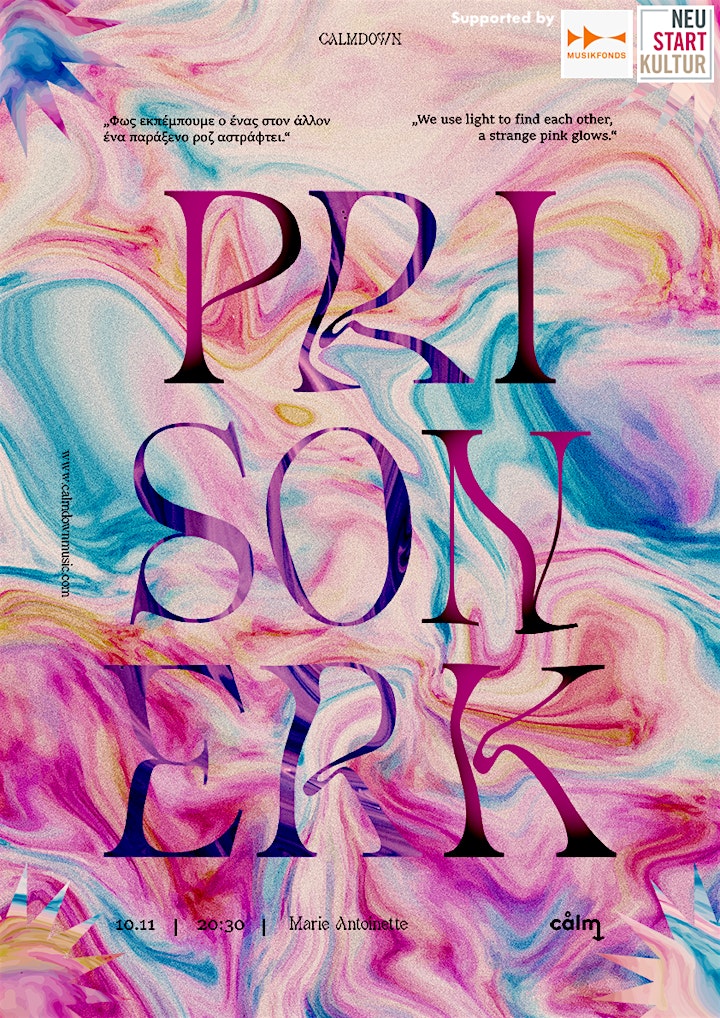 Twice funded and supported by Neustart Kultur, Elisa - Irini Vidalis aka CALMDOWN Pre - Presents, before the official release of her upcoming Album "Pink" the III Part of her Trilogy ''PRISONERK''.
Pink color doesn't exist. We literally fool our brain to see it. Imagine if you can create such color as pink what else you can create!
A musical journey that goes through three parts:
I. The light
II. Metamorphosis
III. Liberation
"It's a story of a girl who left her homeland and traveled in search of happiness to find that everything we need is hidden within us that happiness is different for everyone and is something what others cannot see what we can see. This girl came from an island. An island full of water and light. The trilogy is called Prisoner K. It's a play on words, with the word PINK hiding inside. Since the color pink does not exist as light (or colour), but is simply created artificially in the brain, the entire trilogy revolves around this theme. Still, we see this color and for this girl
PINK is the freedom of being"
She has found that the color PINK is often seen in water and there, where is a lot of light. PINK is everything we can't see. It does not exist outside of you. PINK is something you create and it's already inside you! You have to release it & let it shine
Alongside with a live band that includes Piano/Voice/Synth/Waterphone (CALMDOWN) Percussion (Jeremie Mortier), Harp (Cara Dawson), Saxophone (Yiorgos Parisis), Bass/Synth (Felix - Florian Tödtloff) the show will be accompanied by a live liquid show (7G Sector LIVE VISUAL ART | LIGHT SHOW
3. Bio & Album Info
The Greek born music producer, singer/songwriter & videomaker Elisa – Irini Vidalis aka CALMDOWN and her music, has been in the underground scene for a while now. Lately she collaborated with music producer and Trip Hop Pioneer Howie B (Björk, Brian Eno, U2, Tricky a.m), with him doing a remix for her latest single "Seasalt Symphony – Part I/ Preface". Her project ''PRISONER K'' was selected and funded and gave her the possibility to finish her upcoming album - the 3rd part of her trilogy - that she plans to drop out in 2022 under the name ''PINK''.
The album goes back to her roots! The Island that shaped her, all what followed that reformed her, to end in a place where she wants to be, reminiscing the days of getting lost in the water, feeling free and staring at endless possibilities. An island full of water and light, two elements that are very present in the album.
As Elisa says:
"I wanted the sound of the album to be BRIGHT as the light, TRANSPARENT as water, EXPLOSIVE as the bursting of the seawaves against the rocks, and DEEP as the depth of the deep parts of the sea. As well every tiny sound, to sound like the living life under the bedsea. If that makes any sense at all"
It evokes various feelings to the listener such as, feelings of happiness, a sense of magic, liberation, kind of a punch in the face, uneasines, decisiveness and then a feeling of relaxation. The album includes instruments such as Orgel, Harp, Waterphone, Crickets and Beats and sung in Greek and English lyrics, addressing Elisa's dealing with her Impostor Syndrome, lack of self love and breaking free by cutting looses from everything & everyone that tries to distract - as cliche as it sounds - her light, as she simply sings : It's time for me now! It's time for her, for him, for them. " It's time for everyone to face their shit and don't messes with others people life. To talk openly with each other. We all have wounds… there is no exception.
''I wanted to create an album that everytime I hear it I feel peace, gives me strength and hope, doesn't lie to me and engourages me. A Friend - Album. It's like ok! Whatever, better will come you know! But do something if you want better! Work on yourself and most importantly start loving yourself! Give time! Be patient! Cry or laugh the shit out of you! Kind of nirvana! Stay alone with your fear. Give it time to bloom. Understand it & watch it disappear. Make fun of it! That's my perspective! It's all about Perspective! There is no easy way & not fast way either! We are there, where we choose to be. We create where we want to be. That's pink! "
Elisa – Irini Vidalis, is a mixture of electronica, art pop and trip hop . She is mainly a one-woman project, even though she also appears on stage with the support of different musicians & band, as well as choir. Since 2012 she produces everything independently. In 2018 she released her latest album ''CALMDOWN AIRLINES'' and she was nominated as best newcomer for the video of her song ''All is pretty in Berlin'' ,between names such Alice Phoebe lou , at the ''Listen to Berlin- Music Awards''. During 2018 - 2019 she toured in Europe and played as support group for the Band ''Seed to Tree'' & ''Grey Paris''.
She has performed in Festivals, Music Showcases, Exhibitions such as Fusion Festival, Ejc Festival, Berlin Circus Festival, Wandelism Grafiti Exhibition and performed with live band in Alex Tv BerlinStudio,Berlinale and opening events such as CUBE Berlin. In October 2020 her music has been featuring in the documentary ''The conscience of clothing - MODE. MACHT. MENSCHEN.''
www.calmdownmusic.com
@calmdownmusik