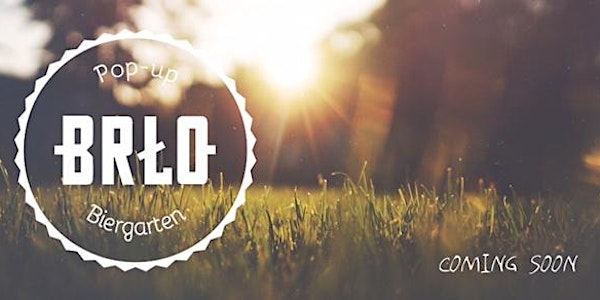 BRLO Pop-Up Biergarten (13. bis 20. Juni 2015)
Date and time
Saturday, June 20, 2015 · 3 - 10pm CEST
Location
PLATOON KUNSTHALLE Schönhauser Allee 9 10119 Berlin Germany
Description
(English version below)
Es werde Biergarten! Wir feiern die schönste Zeit des Jahres, angemessen und standesgemäß. Denn die erste Berlin Beer Week steht vor der Tür und was läge da näher als ein Heimspiel mit eigenem Stadion. Voller Stolz und allen Ernstes eröffnen wir vom 13. bis 20. Juni 2015 direkt neben der PLATOON KUNSTHALLE in Mitte unseren ersten eigenen Pop-up Biergarten. #uffjerecht!
Mit Deko und Bänken und Tischen und echtem Food aus echten Trucks, mit Konzerten von großartigen Bands wie St. Beaufort und BETTY aus NYC und jeder Menge Spaß und Spiel. Wie wäre es beispielsweise mit einer gepflegten Partie Cornhole oder einem BRLO Aussprech-Wettbewerb nach ein paar feuchtfröhlichen Runden?
Pale Ale, Helles, Baltic Porter – alle drei BRLO Sorten fließen frisch vom Fass, dazu nehmen wir noch ein paar Highlights von befreundeten Craft Beer Brauern mit an den Hahn. Eine Woche lang, jeden Tag bis in die Nacht wollen wir mit euch abhängen, feiern, anstoßen.
Wir freuen uns riesig. Save the planet – it's the only one with beer!
FACTS:
BRLO Pop-up Biergarten
täglich geöffnet / open daily, 13th-20th of June:
Mo-Fri 3-10pm
Sat/Sun 12-10pm
Eintritt frei / Free admission
Program (to be updated):
Saturday, 20th of June:
Concert St. Beaufort (http://stbeaufort.com/)
More info coming soon!
-----------
Hooray for biergarten season! And could there be a better way to celebrate the best time of the year than during the Berlin Beer Week? Sounds like the perfect territory to us! Full of pride – and in all seriousness – we'll be opening our very own and very first pop-up biergarten from June 13th-20th right next to the PLATOON KUNSTHALLE in Mitte. #wearesoexcited!
Real biergarten feeling with tables and benches, food trucks, cool bands like St. Beaufort and BETTY from New York City and tons of fun and games. How about a bean bag toss or a BRLO pronunciation contest after a few boozy rounds?
Pale Ale, Helles and Baltic Porter – all three BRLO varieties will be on tap plus a couple of specials from our craft beer brewing friends. We look forward to hanging out with you, celebrating and drinking to the good things in life – for one whole week and all night long!
We're thrilled to bits. Save the planet – it's the only one with beer!