Dieses Event ist beendet.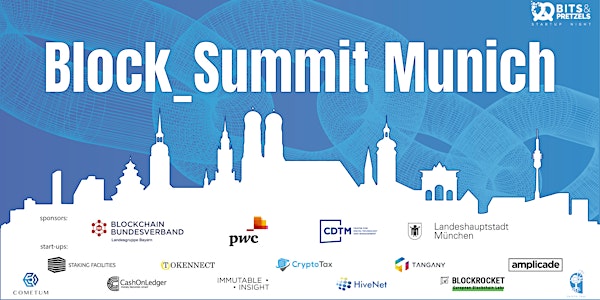 Block_Summit Munich
Von Landesgruppe Bayern des Blockchain Bundesverbandes
Zeit und Ort
Datum und Uhrzeit
Mo., 30. Sep. 2019 19:00 - 23:00 CEST
Veranstaltungsort
Center for Digital Technology & Management Marsstraße 20 80335 München Germany
Beschreibung
Curious about Blockchain technology apart from all the hot hair and buzzword bingo? Eager to meet people working in that space or looking for someone to share your ideas and experiences with?
At "Block_Summit Munich" you will meet entrepreneurs, policy makers, enthusiasts as well as representatives from the academic and corporate world. Listen to pitches and short presentations on all things crypto, enjoy a chilled drink, some snacks and connect with people from this exciting new industry.
We kick-off the evening with pitches by up-and-coming start-ups from the crypto space. We have eight exciting projects presenting their work and providing insights into the daily works of a blockchain start-up: Staking Facilities, Tangany, CryptoTax, Cash-on-Ledger, Cometum, HiveNet, BlockRocket and CryptoTree.
Afterwards, a representative of PricewaterhouseCoopers (PwC) Munich will shortly introduce the NextLevel program. This is followed by Prof. Dr. Mathes from the Technical University Munich (TUM) who will present Blockchain Bayern e.V. and a talk from Katharina Gehra of the Blockchain Bundesverband - Landesgruppe Bayern and co-founder of Immutable Insight in order to get a clearer picture about the overall blockchain landscape in Bavaria.
As one of the evening's highlights, we are thrilled to host Bettina Stark-Watzinger, member of the German Bundestag and chair of the Finance Committee, to talk about blockchain, the German federal government and what this technology might hold in place for the future.
To wrap up the evening, we will have a short panel discussion with the speakers and start-up representatives, answering questions from the audience.
The overall event will be moderated by Lisann Catherine Janetzky, Founder of Tokennect and Robert Dörzbach from Staking Facilities.
Special thanks goes out to the Landeshauptstadt München as well as PricewaterhouseCoopers (PwC) for sponsoring this event as well as the Center for Digital Technology Management (CDTM) for providing us with an amazing venue. We also want to thank the team from "Bits & Pretzels" for providing this kind of format and having us on board as official side-event of one of the most exciting start-up conferences.
Please note: we will film the event in order to publish a short promotional video as well as the pitches & presentations. If you do not wish to be in the video, please let us know during the event, so we can make sure to cut you out.
Snacks & drinks will be provided.
No show = no go: in order to reduce food waste, we kindly ask everyone who signed up to de-register in case they will not make it to the event.
Let's exchange ideas, get to know each other and co-create the future together - we are looking forward to welcoming and entertaining you at "Block_Summit Munich"!
Über den Veranstalter
The Landesgruppe Bayern was founded in order to bundle competencies and research activities associated with blockchain technology.