Dieses Event ist beendet.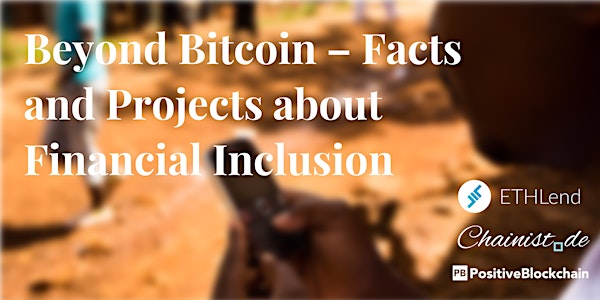 Beyond Bitcoin – Facts and Projects about Financial Inclusion
Zeit und Ort
Veranstaltungsort
TechQuartier Platz der Einheit 2 60327 Frankfurt am Main Germany
Karte und Wegbeschreibung
Beschreibung
The Why the How and the Who. At this meetup social entrepreneurs, founders and like-minded people share use cases and insights about projects to help 1.7 Billion people to access financial services to improve their personal lives, their communities and their countries. Let's move the storyline from ICO, trading and big money to a story, in which we clearly see the good impact of blockchain technology. With facts, founders and some fun.
The food and drinks are sponsored by ETHLend. Thanks to the awesome ETHLend team.


Agenda
18:00 - 18:15
Welcome and Introduction, Nhan Vu, Meetup Organizer
18:15 - 18:30
How 150,000 adults in 140 countries use money. - Nhan Vu, Blockchain Enthusiast
18:35 - 19:00
10 Real World Use Cases for Financial Inclusion - Lucas Zaehringer, Founder positiveblockchain.io
19:05 - 19:30
Decentralized Lending and Financial Applications - Stani Kulechov, Founder ETHLend
19:35 - 20:00
How energy can help local economies to grow - Sam Liban, Founder TheSunProtocol
20:05 - 20:30
Transparent Impact Investment with Crypto - Kai Schmidt, Founder Crypto Development Fund
20:35 - 21:30
Open Discussion & Networking, Food & Drinks
About the speakers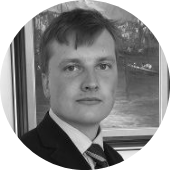 Stani Kulechov
Stani is the Founder & CEO of ETHLend. Stani kickstarted ETHLend back in late 2016 and today ETHLend is one of the most successful blockchain based application on Ethereum network. His legal education and experience in Smart Contracts product development have created a boom in the whole blockchain community.
https://www.linkedin.com/in/stani-kulechov-361284132/
---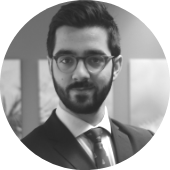 Lucas Zaehringer
Lucas is the founder of PostiveBlockchain.io, the open source database, community and platform in blockchain for social impact. He has been involved as member or coach in various communities working on social innovation and social entrepreneurship such as MakeSense, Enactus or Startup Weekend Changemakers. Lucas graduated in Business Administration & Management of Technology from Grenoble EM and the University of Mannheim.

https://positiveblockchain.io/
https://www.linkedin.com/in/lucas-zaehringer-65725145/
---
Sam Liban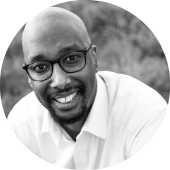 Sam is the co-founder of TheSunProtocol. It aims to fusion renewable energy with crypto, but not theoretically, no in real. First energy is produced and then crypto introduced - benefit oriented and limited to each specific village, creating true decentralized economies. For the people, by the people.

https://www.linkedin.com/in/samater-liban/
---
Kai Schmidt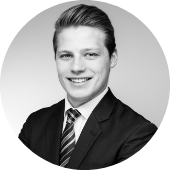 Kai co-founded the Crypto Development Fund at the beginning of 2018. Prior to that, he worked in a Rocket Internet-funded start-up in Bangladesh where he experienced the challenges of developing countries and learned how to build start-ups in unstable environments.
https://crypto-development-fund.com/
https://www.linkedin.com/in/kai-schmidt-709672b3/
---
Nhan Vu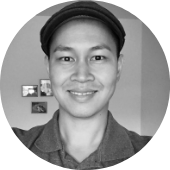 Nhan is founder and contributor to various blockchain projects. He loves to build communities and to connect people. He co-organises meetups, events and workshops like the crypto community Mainz and IHK Rheinhessen Blockchain Camp. Or this one which you are about to register for ;)

https://www.linkedin.com/in/trinhanvu/
For any inquiries or questions contact me: trinhanvu@gmail.com
About the location
TechQuartier
Located in the heart of Frankfurt, TechQuartier provides access to a valuable network of startups, corporates, investors, talents and mentors.
A big thank you for TQ helping us and host our event at your venue. You rock and are awesome. Special thanks to Hugo and Laura!