Dieses Event ist beendet.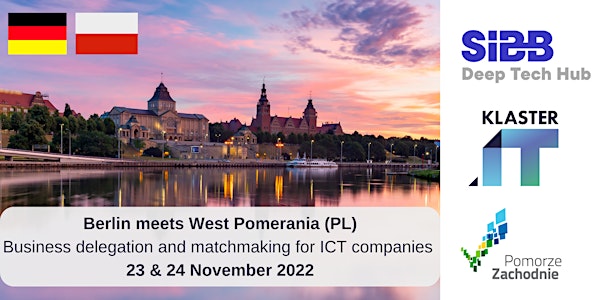 Berlin meets West Pomerania. Business delegation&matchmaking for ICT firms.
Discover business opportunities for tech companies in West Pomerania (Poland)
Zeit und Ort
Veranstaltungsort
Ankündigung folgt
Zu diesem Event
The two-day delegation will be an excellent opportunity to explore the tech scene in Westpomerania and its capital Szczecin. Establish new business connections.
Programme:
23rd November 2022 (Wednesday)
7.30 -Transport by private bus Berlin- Szczecin
10.00 - 10.30 - welcome coffee
10.30 - 11.30 seminar (greetings, short presentations of individual partners);
11.30 - 13.30 B2B meetings/Matchmaking with KlasterIT members and companies
13.30 - 14.30 Lunch (and continuation of business talks)
15.00 - Study visits - either parallel study visits to different companies or two joint study visits - depending on participants' preferences
18.00 - accommodation in the hotel, relaxation
20.00 – Official dinner
24 November 2022 (Thursday)
Attendance at the Polish-German conference: To share International Knowledge and experience .
The conference will be translated simultaneously (PL-DE)
10.00 Thematic panels:
I Energy Panel (PL- DE) - on a comparative basis we would like to present and discuss energy development in the regions on both sides
• Green energy
• Limited resources
• Packaging
• Renewable energy
II Change management
• German-Polish cooperation as an answer to disruption in supply chains,
• J-v joint ventures, distribution agreements, mergers - acquisitions,
• Finding solutions to companies' staffing problems - secondment of employees,
• German company as an advantageous alternative for Polish transport companies
III Security in IT
• Secure data in terms of:
o What are the most common attacks and how to deal with them
o security aspects by software usage
o changes in security in IT due to the war in Ukraine
• Secure organisation:
o friend-shoring' aspect of security when choosing a cooperation partner (and examples of PL-DE cooperation)
15.00 - lunch
16.00 departure to Berlin
18.30 Arrival in Berlin
DEADLINE FOR REGISTRATION: 25th September!
LIMITED NUMBER OF PLACES!
Regular price - EUR 150 * + VAT
Special price for SIBB Members with 25% discount - EUR 112,5 + VAT
*What is included?
- 1 night accommodation ( with breakfast)
- Participation in networking events and matchmaking session
- Official dinner with polish companies
- Participation at Polish-German Conference
- Transportation by private bus to/from Szczecin and between venues
- Tour guiding and support from SIBB-Team
Interested?
Please contact International Team for more details:
Magdalena Zawodny-Barabanow
Project Manager International Business
magdalena.zawodny-barabanow@sibb.de

Bussiness Mission Supported by West Pomerania Region.