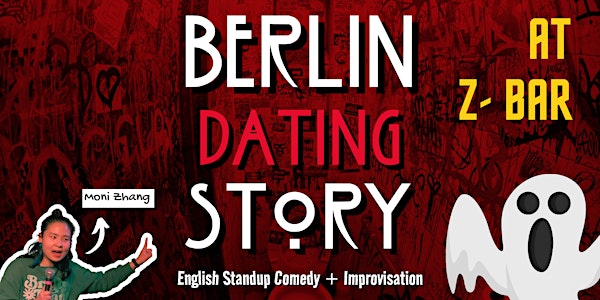 Berlin Dating Story: English Standup Comedy + Improvisation @ Z-BAR #21
Date and time
March 31 · 10:30pm - April 1 · 12:15am CEST
Location
Z-Bar Bergstraße 2 10115 Berlin Germany
About this event
1 hour 45 minutes

Mobile eTicket
‼️ Attention comedy fans! This show SELLS OUT EVERY WEEK, so be sure to reserve your seat on Eventbrite to guarantee entry! ‼️
👻 Berlin is a city full of ghosts, if you are on dating apps.
❓ Have you gone on a date with a perfect match, only found out they are married?
❓Have you matched on Tinder with a group photo, then realized your date is the grandpa in the picture?
❓Have you met someone on Bumble who request to clean your flat with no cloth?
🤣 Me neither!!! 🤞
🎭 Join us for a night of comedy that's all about the ups and downs of dating in Berlin. From awkward first dates to bizarre Tinder matches, our comedians have seen it all. Come for the laughs, stay for the anonymous audience participation – who knows what kind of wild dating stories you'll hear (or share).
🥰 You'll leave feeling like maybe it's not just you – IT'S BERLIN!
🎤 Host by Moni Zhang 🇨🇳 (IG: @moni.zhang.comedy)
Winner of Berlin New Standup Award 2019 & Founder of Berlin Mental Health Festival. Moni is featured by BBC, Euronews, Scottish Field, and The Scotsman. Now touring with her Edinburgh Fringe 2022 Sell-out show "Child from Wuhan".
Check more info at www.monizhang.com
🔥🔥🔥 Lineup 🔥🔥🔥
Improvisation is like a high-wire act – one wrong move, and you're plummeting towards the ground (or worse, a sea of silent stares).
That's why at our show, we're only booking the seasoned pros.
With at least 5 years of experience under their belts, our comedians are ready to turn any of YOUR weird dating stories into jokes.
🎤 Ori Halevy 🇮🇱 (IG: @orihalevy_bigoldjew)
🎤 Pascal Hausberger 🇰🇷 🇦🇹 ( IG: @pascalhausberger)
🎤 David Adams 🇦🇺 (IG: @dave.adams.has.feelings)
🎤 Daniel Stern 🇺🇸 (IG: @danielandstern)
🎤 Host by Moni Zhang 🇨🇳 (IG: @moni.zhang.comedy)
Ticket:
👉 It's time to break the myth that laughter is free. Comics have rent to pay, Falafels to eat, and probably a few therapy bills to cover up their emotional scars from telling jokes for a living. We can't pay the bills with compliments or rainbows, we need cold hard cash.
🤑 This ain't no free gig. It's a Pay What You Want situation. How does it work? You get to decide how much to donate AFTER you've laughed your butt off. If you're planning on soaking up the jokes without leaving a tip, better skip this show!
This is a professional-level gig, thus
💰 we suggest a donation of 15€ - 20€.
💰 Students & unemployed 7€ - 10€.
💰 We accept cards & cash.
❓ Is smoking allowed at the show?
👉 The area where you buy drinks is smoking allowed. However, the room where the comedy taking place is smoking-free.
❓ Wow, this show is so interesting, but I can't make it on this date :( When's the next one?
👉 Weekly! Follow Moni's Eventbrite Page to get notified of future shows.
❓ I want to perform. How may I sign up?
👉 This is a professional-level show, as improvisations are difficult to pull off, we only book acts with a minimum of 5 years of experience. It's invite-only, signups are not possible. If you want to sign up for OPEN MICS, please go to the following link, on each event's discussion page to write "spot" and a one-sentence introduction to sign up. Please DO NOT pm me, it's very hard to keep track of direct messages!
https://www.facebook.com/moni.zhang.comedy/events/
Where & When?
Doors opens: 10.30pm
Showtime: 11.00 - 12.15pm
📍 Z-Bar Berlin: Bergstraße 2, 10115 Mitte. Near Rosenthaler Platz.
We'll start at 11pm sharp, please don't be late!