Location
Designit Tokyo
The Park Rex Koamicho Bldg 8F
11-8 Koamicho Nihonbashi
Tokyo, Chuo-ku 103-0016
Japan
Sales Have Ended
Ticket sales have ended
Thank you for joining the Being Visual Workshop! As soon as I receive the confirmation, I will send you some questions about your expectations and wishes for the the workshop. Meanwhile, have a look on this old presentation about Being Visual in Service Design. Be aware I will repeat most of the jokes in the workshop :-) https://goo.gl/dvUrJg Looking forward to have you onboard! Best Mauro Rego
Description

VISUAL THINKING is a fundamental part of Design Thinking and other innovation processes such as Google Design Sprints and Lean Startup. It enables better communication between team members, boosts presentations and helps on presenting ideas.
This full-day workshop is an introduction to the fundaments of using visuals for better (and quicker) communication. It will focus on three central axes: Visualising Abstract Concepts, Process Visualisation, and Visual Storytelling.
「ヴィジュアルシンキング・ストーリーテリング(Visual Thinking)」は、デザインシンキングやグーグルの「デザインスプリント」、「リーンスタートアップ」といったイノベーション手法の基礎をなすものです。
チームメンバー同士のよりよいコミュニケーションを促進し、プレゼンテーションをさらに魅力的にし、アイデア発表の助けにもなります。
丸1日かけて行われるこのワークショップは、よりよい&迅速なコミュニケーションのためのヴィジュアル利用の入門編です。
今回のワークショップでは3つの軸──「抽象的なコンセプトの視覚化」「プロセスの視覚化」「ヴィジュアルストーリーテリング」──にフォーカスします。
What will you learn?

学べること

Part 1 - VISUALISING ABSTRACT CONCEPTS | パート1- 抽象的なコンセプトの視覚化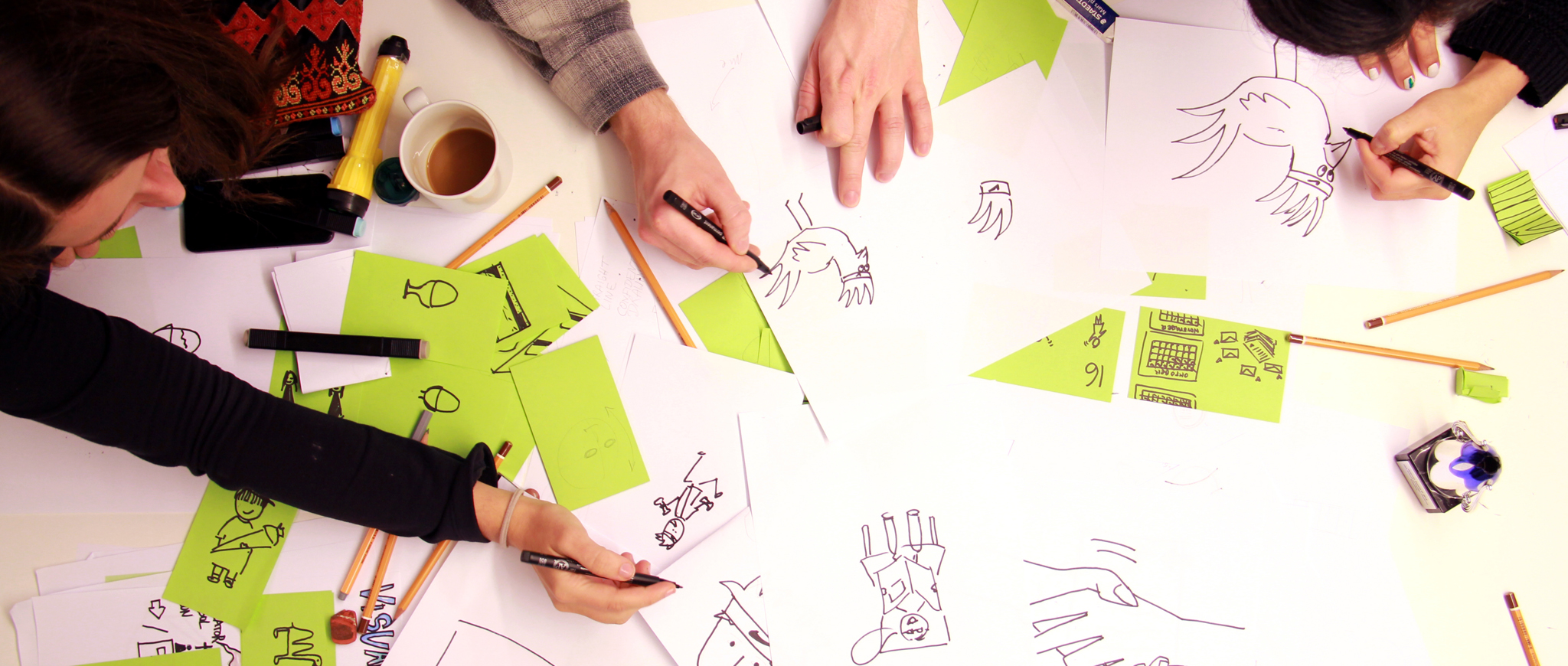 The complexity of the current jobs and tasks is overwhelming. It can be seen in all the vocabulary we had added in the last years to describe tasks, areas, and activities. From tangible elements of projects like "pipeline," "backlog" and "deadline," to more complicated and fuzzy like "innovation," "disruption" and "impact," we are more and more dependent on visual analogies and metaphors to make our point understood amongst our peers. In this block, we will learn the basics to create visual analogies that can support teamwork and empower your presentations.
今日、仕事やタスクは非常に複雑なものになっています。それは、ここ数年で加わった、タスクや分野、アクティビティを示す単語の数々からもうかがえるでしょう。
「パイプライン」「バックログ」「納期」など、プロジェクトの具体的要素を示す単語から、「イノベーション」「ディスラプション」「インパクト」といったより複雑で曖昧な単語まで、われわれは自分の考えを周りに伝える際にどんどん比喩やヴィジュアルアナロジーに頼るようになっています。
このパートでは、チームワークをサポートし、プレゼンテーションを強化するためのヴィジュアルアナロジーのつくりかたの基礎を学びます。
PART 2 - PROCESS VISUALISATION | パート2 - プロセスの視覚化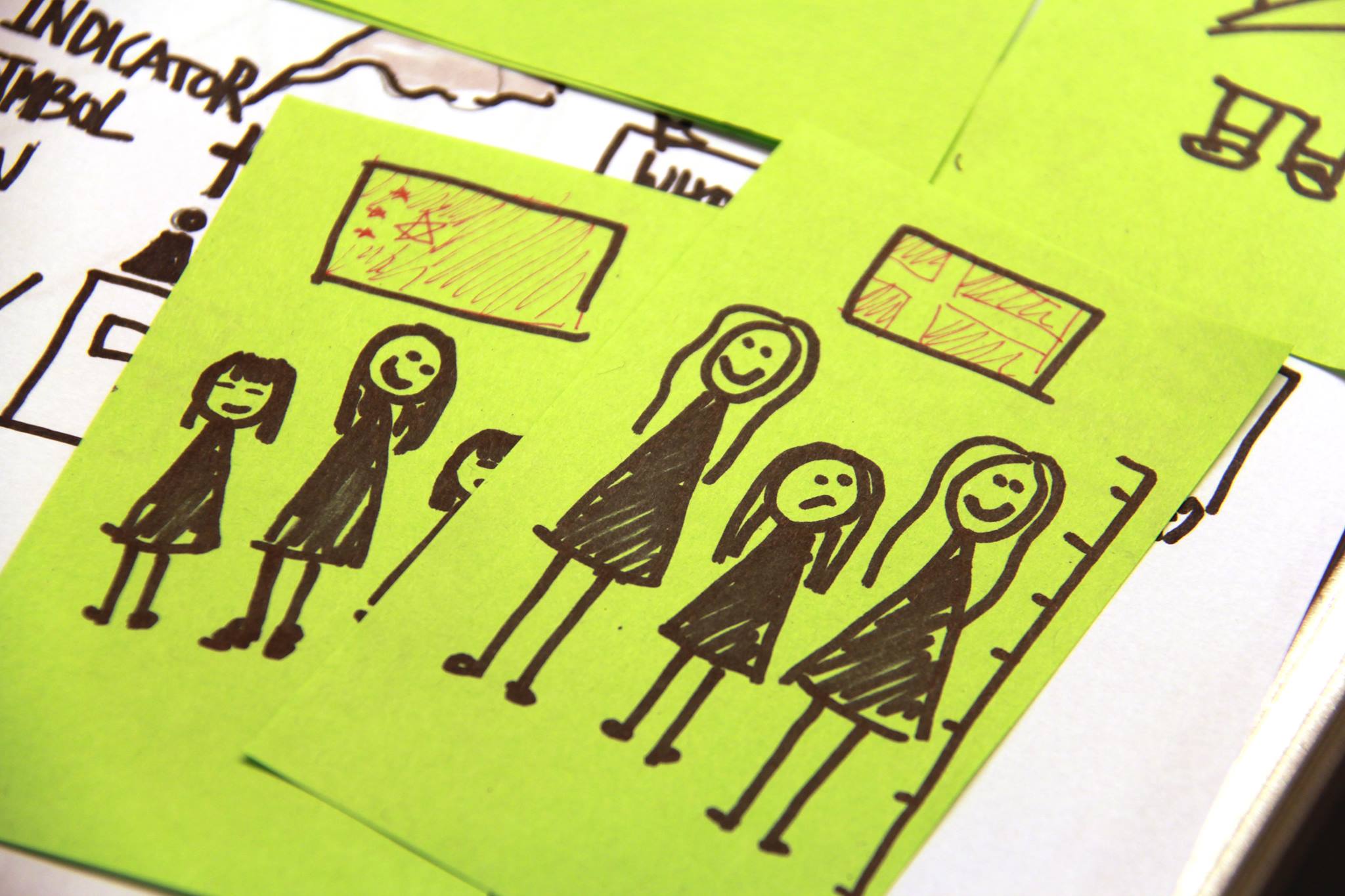 Especially in management and leadership work you are consistently presenting and reshaping
how people will organise themselves and their goals. It is usually hard to communicate and agree on steps and achievements within your team.

The main challenges are: find a consensus on how to operate; make clear what the headlines actually mean.
In this block, we will provide a framework to easily define processes with your team and create a structure with elements that people can understand and follow.


特にマネジメントやリーダシップをとる仕事において、われわれはメンバーの自己管理や目標管理の方法を常に変えています。
しかし多くの場合、各ステップや成果について話し合い、合意するのは容易ではありません。
主な課題は2つ──オペレーションで合意にたどり着くこと。そして、掲題の意味を明確にすることです。
このパートでは、チームメンバーとともに簡単にプロセスを明確化し、周りにも理解しやすく従いやすい要素をつかった仕組みづくりのためのフレームワークを学びます。

PART 3 - VISUAL STORYTELLING | パート3- ヴィジュアルストーリーテリング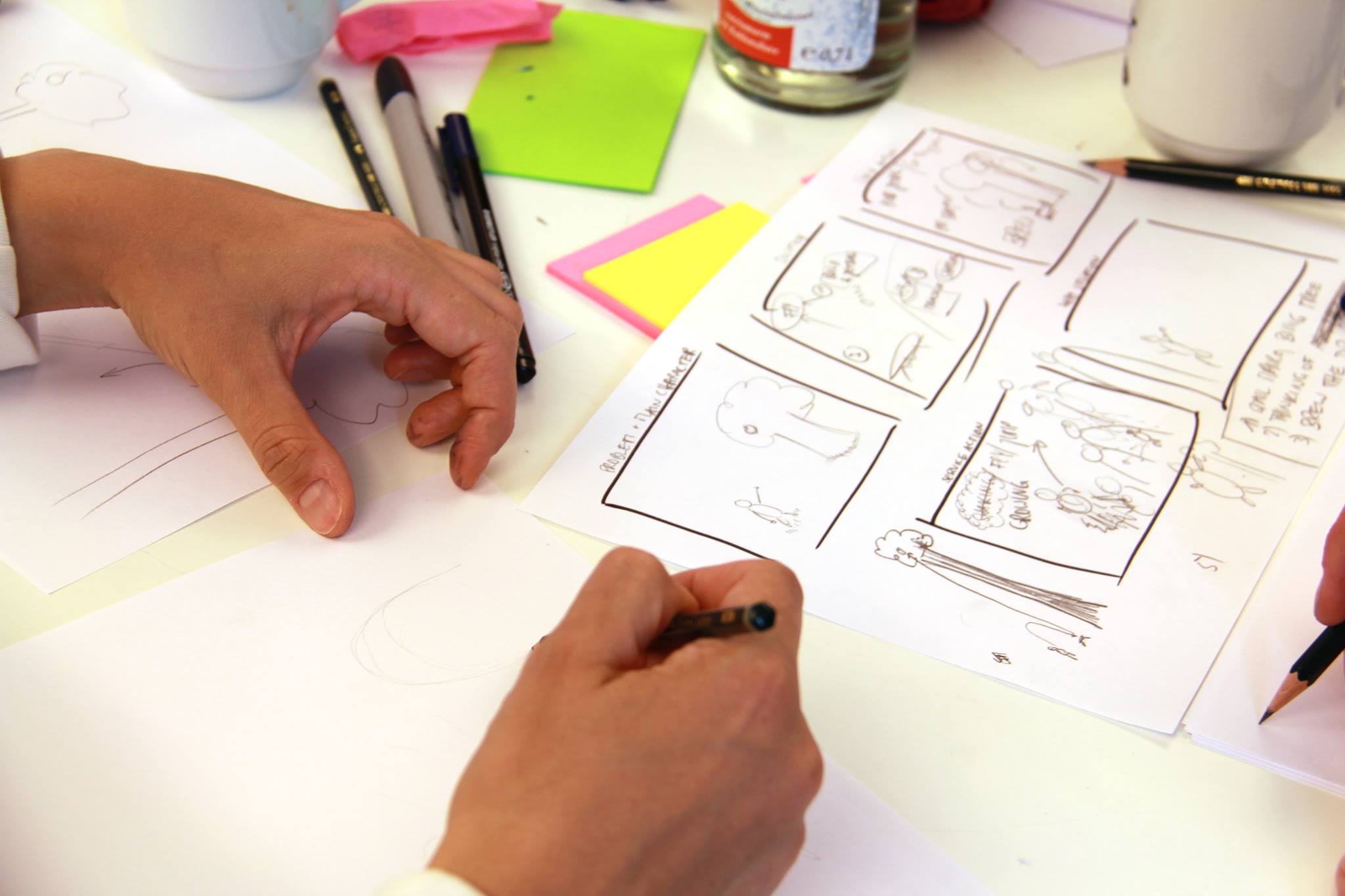 Selling, teaching, and reporting - all of these presentations styles demand a different way of
communicating. Visuals and Storytelling can be a handful to empower your message and facilitate the understanding of the content you are trying to convey.
Finding the perfect metaphor and story are the main challenges when creating a new presentation.
In this block, we will learn some frameworks for different kinds of presentations and how to find the best metaphors for your audience.


売る、教える、報告する──プレゼンテーションでは、それぞれの目的あったコミュニケーションの仕方が必要です。ヴィジュアルやストーリーテリングは、伝えたいメッセージを強めたり、内容を理解しやすくしたりするのに役立ちます。

プレゼンテーションをつくる際の主な課題は、完璧なメタファーとストーリーをみつけることです。
このパートでは、観客にあったメタファーを探すためのフレームワークを、プレゼンテーションの種類別に紹介します。
---
What you will get | ワークショップで得られるもの -
LEARNING OUTCOMES | 学べること
Learn how to encode complex messages into simple visuals

Acquire new tools and methods to craft your next presentation




Create a common vocabulary for team meetings




Develop facilitation skills to mediate intercultural teamwork




Gain an understanding of how data and information can be visualized




Train Illustration skills oriented to your daily professional needs
複雑なメッセージをシンプルなヴィジュアルに変換する方法

次回のプレゼンテーションに使えるツールやメソッド

チームミーティングにおける「共通言語」のつくりかた

異文化同士のチームワークを仲介するファシリテーションスキル

データや情報を可視化する方法

日々の専門的なニーズにあったイラストスキル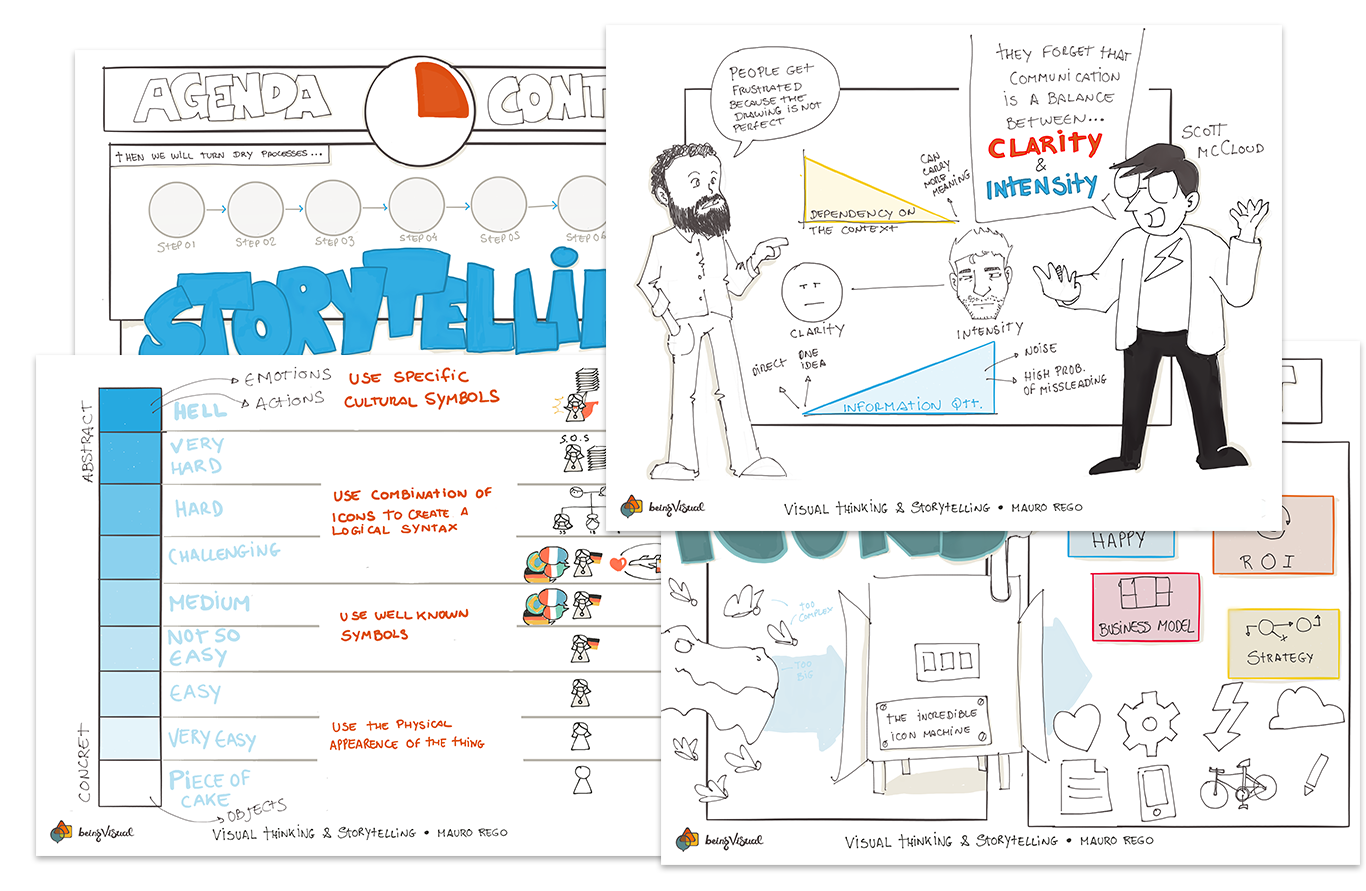 ---


More than 500 people have experienced our workshop
過去500人以上がワークショップに参加



"We had the pleasure of a one-day visualization workshop with Mauro for our entire team. Mauro has a unique and very personal style of moderating workshops which just amazing. We all learned a lot and it was huge fun at the same time. We also see the effects that we sketch more in our work throughout the team after the course. Absolutely recommended! :)"
Marc Stickdorn, Co-founder & CEO at More than Metrics and Author of This is Service Design Doing
---
WHO IS IT FOR | ワークショップの対象者


Are you pitching projects and ideas?
Do you need to visualize data more clearly?
Are you working in multidisciplinary teams and need to communicate complex information?
Are you leading or part of the innovation team within your company?
Are you always working on presentations for your company, agency, business model, Ph.D. or
classes?
Do you want to find out how to visually express the process, methods, and results?
Do you need to create more engaging visual metaphors for frameworks and theories?
プロジェクトやアイデアをピッチする機会がある人

データをもっと明確に可視化しなくてはいけない人

分野横断的なチームで働いていて、複雑な情報のやりとりをしなくてはいけない人

イノベーションチームを率いている、あるいは参加している人

会社やビジネスモデル、PhDや授業のプレゼンテーションを準備することが多い人

プロセスやメソッド、結果を視覚的に表現する方法を知りたい人

フレームワークや理論のために、魅力のある視覚的比喩をつくりたいと思っている人

THIS WORKSHOP IS FOR ANYONE | あらゆる人のためのワークショップ
Innovators (to be);
Trainers aiming to craft better didactic materials;
Entrepreneurs looking for ways to explain their new startup.
Coworkers that continuously work on any kind of presentations;
Ph.D. candidates looking for ways to visualize and present their research findings and theories;
Team leaders and members who need to facilitate processes and organize multidisciplinary and
multicultural teams;
(未来の)イノベーター
よいよい教材をつくりたいトレーナー
自分のスタートアップをうまく説明する方法を探している起業家
常にさまざまなプレゼンテーションに取り組んでいる会社員
研究結果や理論を視覚化したり発表したりする方法を探している博士課程の学生
分野横断的かつ多文化的なチームのファシリテーションや運営を担っているチームリーダーやメンバー。
---
There are no special/professional graphic design/drawing skills required
グラフィックデザインの専門知識や絵を描くスキルは不要
The workshop will be held in English.
本ワークショップは英語で行われます。