Dieses Event ist beendet.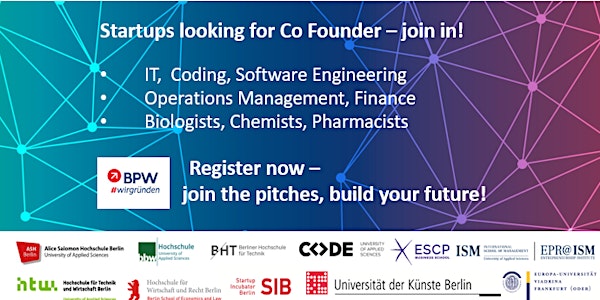 Are you looking for a Startup you can join? Come to our Co-Founder Matching
Are you looking for an idea or Startup, where you can invest your skills as a potential Co-Founder?
Zu diesem Event
Then join this online match making day to meet outstanding startup teams that are in founding programms of participating incubators or universities. The Business Plan Wettbewerb Berlin Brandenburg (BPW) invited several players to join forces in order to present you with a digital matching event that might kickstart your business journey.
The event is divided into three slots:
10:00 - 11:00 h Startups looking for IT / Coding / Software Engineering
11:00 - 12:00 h Startups looking for Operations Management / Finance
12:00 - 13:00 h Startups looking for Biologists, Chemists, Pharmacists
In each session the startups present themselves first with a 60 seconds Elevator Pitch. Afterwards they split up on individual tables for you to join them and introduce yourself. You are welcome to move around and get to know all startups.
The event will take place in Wonder.me. The link will be provided via E-Mail a day before the event.
Please note that screenshots will be taken during our events. By visiting our event, you agree to a possible publication of those.
These are all the participating startups:
Looking for CTO/ CAIO/ Coder/ Software Engineer
borrondo is looking for a CTO
I am building borrondo, a new kind of platform on which private and commercial users can rent out objects, locations and services to each other. Renting and renting out will be unmatched in terms of simplicity, speed and security — as easy as shopping online and significantly easier than selling online. How? With intelligent processes, numerous standardisations and a sophisticated design. The result is a trio of scalability, sustainability and increased social participation. What is missing? A CTO to shoulder the MVP development and help build the company as part of a visible founders' team. Want to learn more? Contact me directly at mdrescher@borrondo.de.
Rare is looking for reinforcement (CTO - Software):
Rare will become the collaborative platform for temporary premium advertising spaces. It brings advertising space providers together with advertisers in a short way by facilitating the implementation of creative and extraordinary advertising formats, such as giant posters, murals and projections. Thanks to intelligent matching algorithms and extensive search functions, the platform makes it possible to find more ideal spaces that actually reach the target group. Dashboards, analytics tools and other features will make progress and results trackable and transparent. After building a simple MVP, the founder is now looking for a co-founder or someone who wants to push the digital topics further with her.
SUMEDIAN is looking for a CAIO
Sumedian offers an ERP platform that is fully based on AI algorithms. With it, almost all business processes can be intelligently networked and automated. This saves time, money and valuable resources. The highlight is the integrated data factory and app store. This means that all relevant data can be securely stored, shared and even monetised in one place. Data protection compliant according to GDPR, of course. Sumedian's customers thus benefit from a strong and intelligent all-in-one solution.Contact: r2d2@sumedian.de
Tipsong is looking for a coder
We would like to develop a platform to bet on music charts, a site where you can get odds on what albums will be at the top of the charts at the end of a given week. We already wrote a business plan including financing and developed two prototypes (app and website). We are now working out whether we need a gambling license while looking for investors and a coder. We prefer a German speaking co-founder but are open to English speakers. Contact: LMMITULLA@gmail.com | Bruno.bloching98@gmail.com
Sproudit is looking for a coder/software engineer
Sproudit is a Social Media platform based on personal growth with an integrated event-tool to maximize the chance of meeting the right people for you online & offline! The mockups + airframes for the product are ready, as well as most parts of the business plan. In the long run I am searching for a back-end developer to join as a co-founder in order to develop the first MVP. Still I am open for another co-founder with skills in organization, structure & financials in order to join the first funding raise opportunities.Contact: info@sproudit.com
Investorio - Looking for a CTO (w/f/x)
We are Investorio - The mobile app for playful financial education. We use gamification and personalization to offer the most engaging learning app on investing. With a clear mission for financial inclusion we strive to make learning fun, engaging and actionable for everyone. Are you a talented mobile developer and know the ins and outs of building a scalable application that users love? Join our experienced team as CTO on this exciting journey! Contact: jan@investorio.ai, tristan@investorio.ai
Leav - Quit Smarter – is looking for a CTO
Crisis interventions tools to reduce relapses, cravings and comorbidities. Improving addiction and abuse care by integrating daily interactions. Reflection programs for users undecided about their consumption. That's us, Leav - Quit Smarter: The App against Addictions.
Innovation Platform is looking for a CTO:
Innovation Platform are simplifying the innovation process between universities and companies.
Keyward is looking for an IT Expert:
Keyward develops a software solution for the automotive industry aimed at reducing its carbon footprint, thus ensuring highest possible environmental, social and ethical standards. Their software utilizes unused data to train AI models and optimize the complete vehicle aerodynamic development process - from the early design stage to the CO2 legislation stage (short before production). Currently, they are searching for ML engineer / researcher to join the team and co-develop Keyward's Machine Learning models. The ideal person is an Engineer/Student/Researcher with Machine Learning experience and, preferably, understanding of Computational Fluid Dynamics (Aerodynamics). However, the second requirement is only a plus and not a must. The position can be offered as full-time, part-time or as a freelance project. The Keyward team is looking for likewise creative and motivated people with drive to improve themselves and to solve challenging task. If interested, please contact Asparuh under asparuh@key-ward.com
Click N Safe is looking for an CTO, IT Expert:
Click N Safe aims to revolutionize personal security solutions as lifestyle products by combining jewelry and design with smart technology and high functionality. We are currently looking for team members in various areas including a CTO to assist with technical development.Email:office@clicknsafe.org
Looking for a CFO / COO / CPO/ Marketing
YoniCore searching for a CFO Co-Founder:
YoniCore brings back the confidence and life quality for women with pelvic floor dysfunctions and urinary incontinence. YoniCore is shifting the treatment from doctors to the hands of women by providing them the knowledge and treatment that fits their unique bodies and stages in life. Our smart connected medical device can fit each woman and her unique body. It is the first end-to-end digital treatment that offers immediate relief with long-term training holistically. Contact: Yair Kira: yair@yonicore.com
Climaro is looking for a COO
Climaro is the Thermondo for air conditioners. The rapidly growing market for air conditioners in Germany is characterized by small installation companies. The idea of Climaro is to create a standardized, digital installation service for air conditioning technology with a nation-wide network of branches and one central headquarter. We are looking for a co-founder with a strong operations profile. Contact: info@climaro.de
So muse is looking for a Business Developer
Based on current advancements in natural language processing we develop a software product in form of an intelligent agent that acts like a personal sidekick. It will be based on a conversational UI in written or spoken language. The agent listens, questions, proposes and inspires and a web + hybrid app will be the main way of interacting with it. Potential Use-Cases still have to be explored but we are mainly looking into productivity, education or mental-health. Therefore we are building an adjustable MVP that lets us test different scenarios quickly and then focus on the most promising one. Contact: hi@somuse.cc
StyleXchange looking for DFO /CPO and Marketing Expert & Cryptoenthusiasts
styleXchange is a virtual fashion NFT marketplace, issueing exclusive designer drops for a community to trade and wear in games and metaverses. Based in Berlin we are about to launch our whitepaper for a token pre-sale in Q1 2022. Our tokenomics will enable the creators and investors of the virtual garments to stake their NFTs while offering utility to the community.
Looking for a Biochemnist / Material Scientist / Chemist / Pharmacist
Lösliche Lösung looking for Business Economist for Marketing, Packaging Engineer (m/f/d) and Material Scientist (m/f/d)
''A SOLUBLE SOLUTION'' is a 100% biodegradable bioplastic for packaging developed from natural renewable resources. It enables sustainable packaging for mass production for numerous industries as it is suitable for thermoforming. It is transparent, edible and due to its tasteless and odorless properties is a good material for food, cosmetic and hygiene packaging. On the other hand, this plastic can be called home-compostable bioplastic due to its water solubility. The packaging itself can be completely used up after emptying, so there is no waste. I am seeking a Business Economist for Marketing, Packaging Engineer (m/f/d) and Material Scientist (m/f/d) to apply for DBU Berlin und InnoRampUp (funding for 18-24 months, 2.000 – 2.500 EUR p. P.) Contact: parinaz.jabirian@gmail.com
Le Parfumé looking for an Chemist / Pharmacist
Le parfumé is a marketing agency for olfactory marketing and is expected to be founded in Germany. The company's core business is the development of fragrance concepts for brands that market their products to end consumers via an online shop. Le parfumé's marketing strategy aims for omnipresence with the customer. Complement us with your in-depth knowledge of perfumes and fragrances: studies in chemistry or pharmacy. You feel comfortable with the English language or you may even speak German. You feel ready to shake up the marketing industry and push the boundaries to customer access...Contact: f.zorn.online@gmail.com