Dieses Event ist beendet.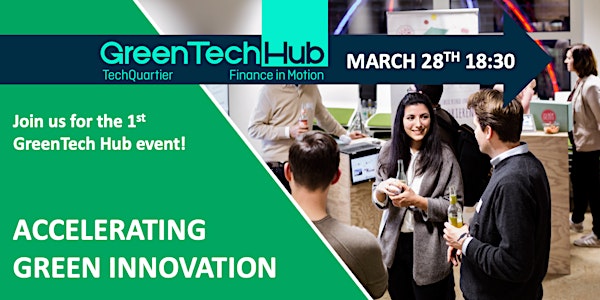 Accelerating Green Innovation
Zeit und Ort
Veranstaltungsort
GreenTech Hub Carl-von-Noorden-Platz 5 c/o Finance in Motion, 7th floor 60596 Frankfurt am Main Germany
Karte und Wegbeschreibung
Beschreibung
Established as a partnership between TechQuartier and Finance in Motion, the aim of the GreenTech Hub is to accelerate green innovation by providing a collaborative platform for innovative actors in the green tech, clean tech, and green finance sectors.
Join us for our first official event and connect with a dynamic community of green startups, impact investors, corporates, experts, and public officials. Listen to innovative startups present their solutions, exchange with the people behind these ideas, and enjoy lively discussions with the GreenTech Hub community.
18:30 – 19:00 Arrival
19:00 – 19:20 Creative act: 'The green transformation'
19:20 – 19:40 Rationale: Why a hub for green innovation?
19:40 – 20:10 Meet three leaders of the green transformation
20:10 – 22:00 Exchange with the GreenTech Hub community
When: March 28, 18:30h
Where: Carl von Noorden Platz 5, Frankfurt a.M.
We look forward to welcoming you to the GreenTech Hub!

TechQuartier and Finance in Motion