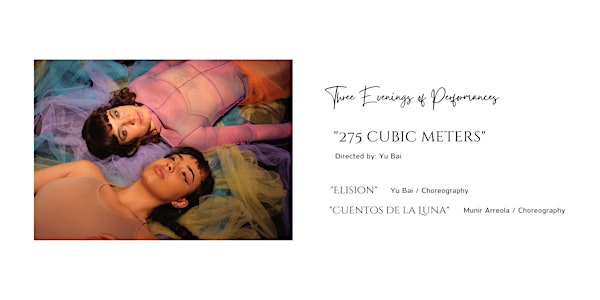 275 Cubic Meters
Join us for 275 Cubic Meters - an immersive performance art program that blurs the boundaries between humans and nature.
Date and time
Friday, May 26 · 7 - 9pm CEST
Location
Hosek Contemporary Fischerinsel 10179 Berlin Germany
Refund Policy
Refunds up to 30 days before event
About this event
275 Cubic Meters is a three-night performance arts program directed and produced by Yu Bai.
The program features two unique performances that will transport you to a world where humans and nature intertwine. The evening begins at 7:00 PM with doors opening, followed by the first performance, Elision, from 7:30 to 8:15 PM. This intriguing performance delves into our relationship with the Earth and all its creatures through "sympoiesis" - a collaborative approach to creation.
The second performance, Cuentos de la Luna, takes place from 8:30 to 9:00 PM and delves into the construction of identity and its various layers of interpretation, drawing inspiration from surrealistic motives and their relationship with life. Both performances are developed with an ecological perspective in mind, blending the boundaries between humans and the natural world.
Join us for an immersive experience inside the Heimatland vessel as we present 275 Cubic Meters, which equals to the total volume of the performance space. Don't miss your chance to playfully engage with current ecological topics alongside our talented performers!
​
Door opens: 19:00
Elision: 19:30 - 20: 15
Cuentos de la Luna: 20:30 - 21: 00
​
Premier: 26, 27, 28 May, 2023
​
Location: Hošek Contemporary, Fischerinsel, 10179 Berlin.
​
List of Credits:
Art Direction: Yu Bai
Production: Yu Bai
Elision:
Choreography: Yu Bai, Mayila Khodadin
Performers: Mayila Khodadin, Joy-Luna Schenk-Delgado
Video: Charles Ménard-Wendling
Music (live): Joy-Luna Schenk-Delgado
Costume: Yu Bai
Cuentos de la Luna:
Choreographer: Munir Arreola
Artistic Assistant: Lina Wailzer
Project Assistant: Anne Haferkorn
Performers: Munir Arreola, Mehrdad Gharibian, Kathrine Bang, Dany Kirilov, Brenda Zevallos
Music (live): Bastien Pouillès
Costume designer: Nur Hektor