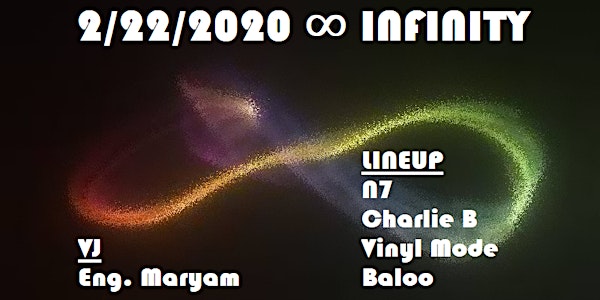 2/22/2020 ∞ INFINITY
الشرق والغرب اللانهاية
By German Consulate General Jeddah
Date and time
Saturday, February 22, 2020 · 8 - 11:30pm +03
About this event
The Consulate General of Germany in Jeddah unfolds a personal music selection from the '60s via today into infinity in this evening of sound and dance.
There are only very few tickets available: If you do not yet have a code, you need to ask for one by writing to events@gcgjed.org: Tell us about yourself (and maybe your partner or another recommended guest) and who referred you, include your instagram handle, and we may be able to send you a registration code.
Celebrate the German-Saudi spirit of cultural exchange by joining us for the lineup of our guests with local heroes.
Lineup:
N7 (Berlin-based)
Charlie B (Hamburg-based)
Vinyl Mode
Baloo
VJ The Golden Ratio 1.6 aka Eng. Maryam will make the Organic Carpet hover over the scene.
Message from the Consul General of Germany:
I love to promote cultural exchange between Saudi Arabia and Germany on a very personal level. From romantic harp to techno beats, visit us to find it all. We organize varied activities, and this time - in the tradition of TRIPLE VOLTAGE, QUANTUM LEAP, SPEKTRUM and THE DEEPEND - we prepare another electrifying experience.
Registration of each attendee is required - one ticket admits 1 person (+0, i.e. no guests) - limited availability -
- No access without registration and ID - No access after 10 p.m.
- Observe local laws & regulations - No photos or social media posts.
The cultural work of the Consulate General in 2020 is supported by:
Herrenknecht Tunneling Systems, BAUER Foundation Specialist, and E.A. Juffali & Brothers.