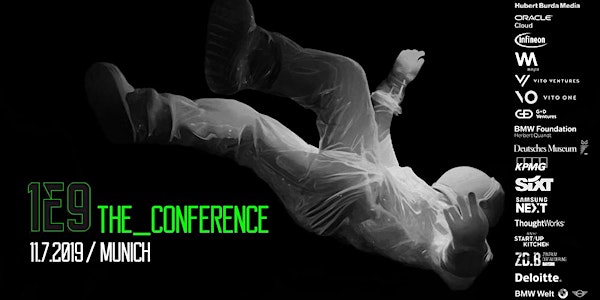 1E9 the_conference
Where Technology Empowers Humanity
When and where
Location
Isarforum at Deutsches Museum Ludwigsbrücke 80331 München Germany
Refund Policy
Contact the organiser to request a refund.
About this event
1E9 the_conference is not just a tech-conference packed with handpicked keynotes, discussions, workshops, networking opportunities and art.
It is the start of a permanent community that will enrich Germany's tech ecosystem. And that's exactly why all the players of this community are there:
You are a startup or an investor? Meet there and grow together!
You are an entrepreneur or visionary? Get impressions about the hottest tech stuff that will impact our future!
Your are a job seeker? Find your next employer!
You are a student and want to know how you can influence your future? Just go there!
You are a corporate? Find your next developer-unicorn!
You are a developer? Nerd? Tech-brain? Learn more about how you can use your magical tech skills to shape the future!
Join our mission to empower humanity through technology and cecome a part of the 1E9 the_conference on July 11th in Munich in at Deutsches Museum // Isarforum // Blitz-Club.
Still not convinced? Read this or scroll down.
#6 conference tracks:
Making Artificial Intelligence and robots work for us.
Creating a clean, smart and connected mobility.
Blockchain and beyond: Towards a decentralized future.
Privacy, openness, digital identity: New paradigms for the internet.
New Frontiers: Extending the spheres of humanity in space and on earth.
Ideas for a sustainable, liveable and healthy life and planet.
#4 + stages
Keynote Stage: One hero. One stage. One good speech worth-in to listen to.
Townhall: Down-to-ground panels and interaction with the crowd.
Debate Arena: The stage of the direct exchange of blows in British style - state your opinion.
Speakers`' Corner: Pitch your own idea.
#100 Speakers:
Bulent Altan (SpaceX, Mynaric)
Shermin Voshmgir (Institute for Cryptoeconomics, Blockchainhub)
Nigel Toon (Graphcore)
Daniel Krauss (FlixMobility)
Christoph Jentzsch (Ethereum, The DAO, Slock.It)
Simon Haddadin (Franka Emika)
Sebnem Rusitschka (Freeelio)
Heather Dewey-Hagborg (Biopolitcal Artist, "Love Virus")
Constantin Schwaab (Wirelane)
Christoph Ostermann (Sonnen)
Lin Kayser (Hyperganic)
Ben Livshits (Brave Software)
Ronit Wolf (Munich Science & Fiction Festival)
Josef Brunner (relayr)
Martin Fröhlich (Deutsche Bahn New Horizons)
Daniel Metzler (Isar Aerospace)
Wolfgang M. Heckl (Deutsches Museum)
Alexandra Sharon Bause (Apollo.vc)
Joscha Bach (AI Foundation)
Isabell Welpe (Professor for Strategy & Organization, TU Munich)
Christian Mio Loclair (Waltz Binaire)
Daniel Cremers (Artisense)
Kevin Adler (Miracle Messages)
Christopher Peterka (THE HUS.institute)
Robert Boehme (PTScientists)
Nick Nigam (Samsung Next)
Andreas Slettvool (Chooose)
Lutz Kloke (Cellbricks)
Rüdiger Trojok (UnternehmerTUM)
Thomas Lange (acatech)
Sandro Cerato (Infineon)
Lina Timm (Media Lab Bayern)
Demelza Hays (Incrementum)
Thomas Sattelberger (Member of Parliament)
Francisco Webber (Cortical)
Detlef E. Schröder (Oracle)
Michael Zargham (BlockScience)
John Xin (Lunewave)
Christian Walter (SDGx)
...and many more!
You want to know more about our speakers? Check out our conference page.
#Workshops
Ticket holders will get the chance to join a number of workshops, among them are:
Create a joint vision for sustainable cities.
Get hands dirty by handling state-of-the-art tools for cloud infrastructure services and machine learning.
Dive into basic and advanced token engineering concepts and crypto analysis strategies.
Understand tools to enhance privacy in your daily life.
Learn how to serve your audience as a digital media brand.
#Community Membership
1E9 the_conference is the birthplace of a community that will endure after July 11th. It will become the new home for tech-affine optimists that want to shape the future together.
On our digital platform, you can network, discuss, and collaborate with likeminded people from a variety of backgrounds. You get information and inspiration through our digital magazine full of high class tech journalism from the former team of WIRED Germany and you can collaborate with our editorial team to create stories with an impact. Of course, you can publish your own stories as well.
Ticket holders get a free community membership until the end of the year. 1E9 is the new gathering place for the wider tech community – for entrepreneurs, developers, scientists, nerds, artists, politicians, students, journalists and everyone who cares about tomorrow.
There's only one future! Let's make it a good one!
Get all the details about 1E9 the_conference on our conference page.
Please note that with the purchase of a ticket (paid or free) you agree to the "Terms and Conditions for attendance" at 1E9 events:
https://1e9.community/t/nutzungsbedingungen/4#heading--conference