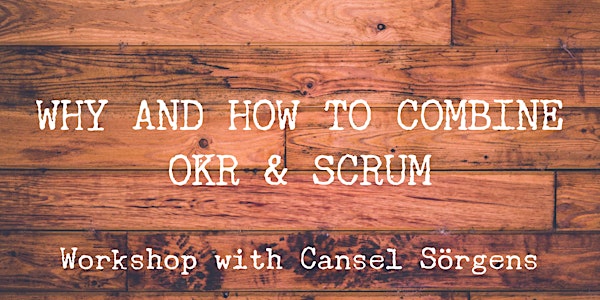 Why and How to combine OKR with Scrum?
Why and How to combine OKR with Scrum?
Refund Policy
Refunds up to 7 days before event
About this event
If we work with Scrum, do we still need OKRs? Why?
One common problem I observe with most scrum teams is that they don't see/have access to the big picture. No matter how hard the management tries to communicate the vision and strategy of the company, there is still a huge gap between vision and strategy and the work the teams deliver.
Most Scrum Teams are unfortunately turned into "Feature Factories" who deliver a feature and start developing the next one. They don't pause to reflect and analyze if the feature really solved a problem or made the life of their customers or users easier. The question about the outcome of their output remains unanswered.
If the team and organization want to escape from the feature factory, and remain aligned but still autonomous instead, outcome-oriented OKRs could help.
In this workshop I'm going show how OKR can close this gap and how OKR can help Teams to connect the dots and see if and how they contribute to the success of the company.
Target group:
Chief Product Officers
Product Owners
Product Managers
Product Designers
Product Developers
Scrum Masters
Agile Coaches
OKR Practitioners
OKR Coaches
Agile Product Development Enthusiasts
Business Agility Enthusiasts
What key learnings can you expect from this workshop?
Strategic Roadmap vs. Feature Roadmap
Similarities and differences between OKR and Scrum?
Why and how to connect OKR and Scrum?
Practical Examples
Tech Setup: For this interactive workshop we'll be using Zoom (Video call and Breakout Rooms) and Miro (online collaboration board). Please make sure you have a big enough screen to open Zoom and Miro windows next to each other. Also have a keyboard & help.
Your trainer: Cansel Sörgens
I believe goal achieving doesn't need to feel like a war to fight but like an adventurous journey. As Business Coach specialized in OKR I guide individuals, teams and organisations on the journey to their goals. For over 12 years I've been working for e-commerce / e-business companies in different roles such as Product Manager, Portfolio Manager, and Agile Transformation Coach.
Since 2016 I practice "Objectives and Key Results (OKR)" because I believe it covers the most important aspects of Business Agility such as alignment around a shared vision, development and execution the right strategy, focusing on things that matter and collaborate around measurable outcomes to learn and adapt along the way.