Startup of the Year Summit 2021 | Global Virtual Event
Startup of the Year Summit is a competition and event for entrepreneurs, investors, and corporate leads to connect and support startups.
About this Event
Mark your calendar!
Established is excited to share that the 2021 Startup of the Year Summit will again be held 100% virtual this year, allowing a global audience to participate from afar in the annual conference and have an incredible, front-row experience.
Who Should Register: Emerging Founders, Seasoned Entrepreneurs, Startup Teams, Mentors, Corporate Innovators, Partners, Accelerators, Investors, Ecosystem Builders and Enthusiasts - basically, anyone who loves startups!
Date: November 15 - 17, 2021 (more detail to come)
Time: Coming soon
What to do now?
Register as a 'stay in the loop' attendee to remain in the know as planning unfolds.
Mark a hold on November 15 - 17, 2021 on your calendar(s) to attend the online event.
Sit back, enjoy the new year, and keep an eye out for email updates from Established and Startup of the Year Summit 2021. We will NEVER spam you!
If your Startup is interested in applying to this year's competition, learn more below.
If you want to get your company's brand in front of our audience and community, reach out below.
Enjoy the final remarks and recap from Summit 2020 below.
What to Expect in 2021:
100 diverse, early-stage startups competing for the 2021 Startup of the Year championship title
Potential investment from Established Ventures, along with other prizes
Curated Office Hours between the Top 100, investors, corporate leads, and mentors
Keynote speakers
"Ask Me Anything" sessions with VCs, seasoned entrepreneurs, and innovation leaders
Ongoing networking opportunities for all attendees
People's Choice Award voting
Llamas, llamas, always llamas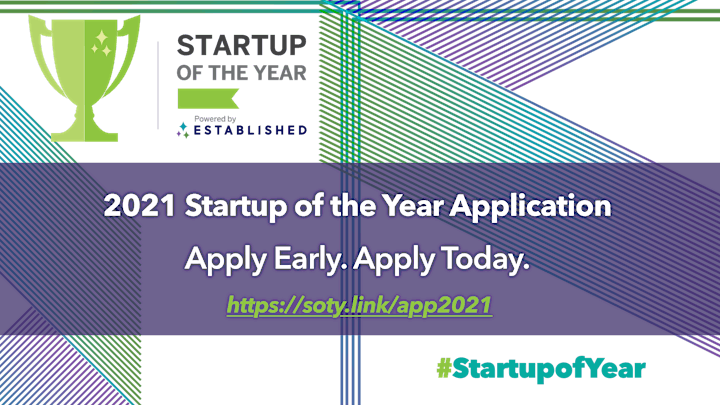 Learn more about our Startup of the Year program and community, and submit your 2021 Startup of the Year application early to maximize opportunities (such as pop-up pitch events, private office hours with our mentor network, and more). Learn more here.
Established loves our partners and sponsors, and we would love to have you (returning sponsor/partner or brand new) join us this year.
Is your company working harder now to expand your brand reach and build your audience in this new virtual way of life?
Do you have a product or service that our startups would value as a part of our prize package?
Does your business that wants to celebrate its innovators with a special competition category, similar to our Veteran category last year with its own cash prize?
Do belong to an ecosystem support organization that wants to join our network and get your startups involved?
Reach out to sponsor@est.us to learn more and see how we can help you reach your marketing goals while celebrating startups!