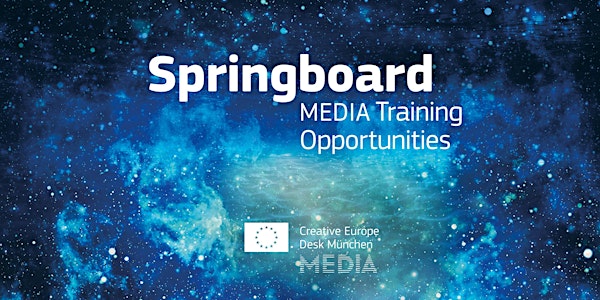 Springboard: 3D Character Animation
Springboard is a series of webinars by Creative Europe Desk Munich presenting European training opportunities for the audiovisual industry.
About this event
Springboard: 3D Character Animation
Any film professional looking beyond their home market can benefit from European training offers supported by the Creative Europe MEDIA programme of the European Union and the resulting international networks.
On September 25th The Animation Workshop, VIA University College presents their training program 3D Character Animation for animators, animation directors, CG artists, illustrators, designers, storyboard artists and other interested parties with experience in animation and drawing.
Programme managers Per Kristensen and Timothy Guy Leborgne will introduce the training programme and explain for whom it is designed and what qualifications can be learnt there. Former participant Kashif Ahmed (UK) will speak about his career after the training and how the programme and the international network established there have contributed to his professional development. After the presentation participants will have an opportunity to ask questions in a moderated Q&A session.
This English-language event is offered in cooperation with the Creative Europe Desk Denmark.
Registration:
Please register on Eventbrite ("Register"). Online seats are limited (first come, first served). The webinar will take place on Zoom. Registered participants will receive a link to the event on September 24th.
Springboard: 3D Character Animation
Wer nicht nur den nationalen Markt im Blick hat, profitiert von europäischen, durch das Creative Europe MEDIA Programm der Europäischen Union unterstützten Weiterbildungsangeboten und deren internationalen Netzwerken.
Am 25. September präsentiert sich der in dänischen Viborg angesiedelte The Animation Workshop, VIA University College mit dem Weiterbildungsprogramm 3D Character Animation für Animator*innen, Animationsregisseur*innen, CG Künstler*innen, Zeichner*innen, Designer, Storyboard Künstler*innen und weitere Interessierte mit Erfahrung in Animation und Zeichnung.
Die Programmleiter Timothy Guy Leborgne und Per Kristensen stellen das Programm vor und erklären dabei, für wen der Kurs konzipiert ist und welche Qualifikationen dort erlernt werden. Der ehemalige Teilnehmer Kashif Ahmed (UK) berichtet über seinen beruflichen Werdegang nach der Fortbildung und wie der Kurs und das dort aufgebaute internationale Netzwerk zu seiner professionellen Entwicklung beigetragen haben. Im Anschluss haben die Teilnehmer*innen die Möglichkeit, in einer moderierten Q&A Runde Fragen zu stellen.
Die englischsprachige Veranstaltung wird in Kooperation mit dem Creative Europe Desk Denmark angeboten.
Registrierung:
Bitte registrieren Sie sich über Eventbrite ("Register"). Die Anzahl der Onlineplätze ist begrenzt (first come, first serve). Das Webinar wird auf Zoom stattfinden. Der Zugangslink wird am Vortag der Veranstaltung an registrierte Teilnehmer*innen geschickt.