SheSays Munich: Transcending Uncertainty Through You
About this Event
What are the rules when no rules apply? Transcend boundaries through purpose and your creative self! Learn to do more of that in this virtual workshop and group-coaching session.
Start the year right by investing in yourself! We all have dreams, hopes, and aspirations for this year, and we're here to help you push them forward.
Spend some time with us on Thursday the 28th of January, in a group-coaching and inspirational session with Anna and Annabelle. These two will share how you can better anchor your dreams into reality through some action-oriented, self-reflective practices, starting with purpose. Anna is a creative leadership coach, and Annabelle is a self-driven side-hustler with style.
In this workshop, you'll learn...
How to find and anchor your purpose
Self-reflect on your voice, superpowers, and personal brand
A goal-oriented approach on making and doing with your superpowers
As a bonus, they will share some personal stories, and tips on some of their learnings of making your work and goals more visible and impactful.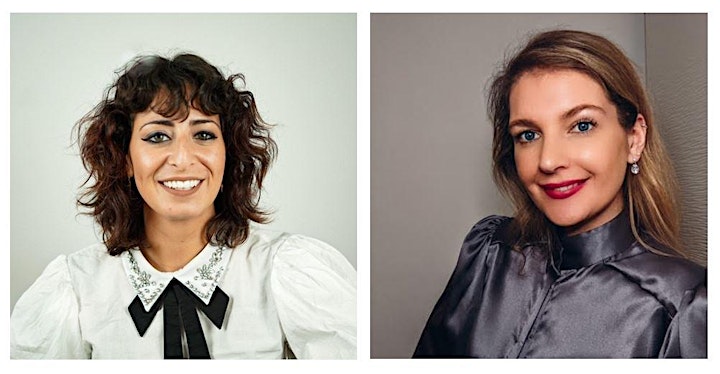 ABOUT THE SPEAKERS OF THE NIGHT: ANNA (left ) AND ANNABELLE (right)
Anna Mouchref is an American with Middle-Eastern roots, now residing in Europe. She is driven by the notion that everyone can, and should be living their best lives. Her medium is through human-centered, empathy-based practices and products. If she's not skating or trying out a new specialty coffee, she can be found leading Culture and Diversity at Siemens Digital Industries, or otherwise coaching through her women's growth community, U4Social.
Annabelle Deisler was born in Germany but has lived most of her adolescent years abroad. She worked in Management Consulting for 7 years in the areas of Supply Chain Management and currently works for Amazon Logistics. In order to have a balance to her highly analytical job, she owns Corner Office, a fashion brand for business women. Being a woman in a male dominated industry, she had to find her voice, and self-branding was a big part of it. Due to her ever-changing projects, she had the possibility to try out a lot of different ways to present herself, and she always came back to the same conclusions. Apart from work, she likes to skate with Anna and write.
WHEN: Thurs, January 28th at 7 pm
WHERE: Zoom, more info and video link will be shared to those who are registered.
Registration closes by January the 22nd - better save your spot today!
We are very much looking forward to meeting you.
Anna, Annabelle & SheSays Munich
_______________________________________________________
Through participating in this meetup (that is, through ordering a free ticket with Eventbrite), the participant gives his consent that SheSays Munich (1) saves his name and contact data (i.e. email), (2) is later on allowed to send emails to the participant, and (3) is allowed to take photos and videos during the meetup that might be published online and that might include the participant. If the participant does not agree to points (1), (2) and (3), he or she should not order a ticket for the meetup.