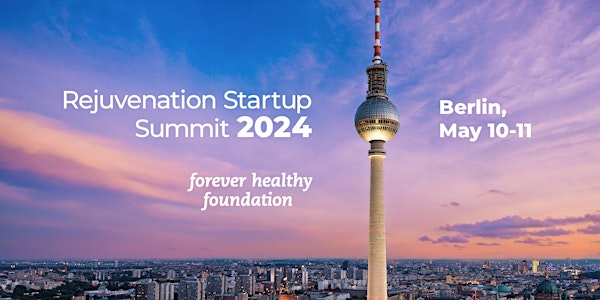 Rejuvenation Startup Summit 2024
The leading networking event for rejuvenation startups, longevity investors, and translational researchers
By Forever Healthy Foundation / MIRA
Date and time
May 10, 2024 · 12pm - May 11, 2024 · 11:30pm CEST
Location
Radialsystem V Holzmarkstrasse 33 10243 Berlin Germany
Refund Policy
Refunds up to 30 days before event
About this event
1 day 11 hours

Mobile eTicket
The Rejuvenation Startup Summit 2024 is a vibrant networking event that aims to accelerate the development of the rejuvenation biotech industry.
The Summit is the world's largest in-person gathering of longevity startups. It brings together startups, members of the longevity venture capital / investor ecosystem, and researchers interested in starting or joining a startup – all with the goal of accelerating the development of the rejuvenation biotech industry. It is the second edition of the Summit, following the inaugural Rejuvenation Startup Summit in 2022 with more than 400 participants from over 30 countries.
Rejuvenation/Longevity biotech is a new, emerging field of medicine. It aims to prevent and reverse the diseases of aging by addressing their common root cause, the aging process itself. Rejuvenation therapies aim to reverse or repair age-related cellular changes such as molecular waste, calcification, tissue stiffening, loss of stem cell function, genetic alterations, and impaired energy production.
In addition to an exciting line-up of keynotes, presentations, and panels, the Summit will feature an all-day startup forum for easy networking.
Beginning at noon on Friday and ending with a big party on Saturday night, there will be ample opportunity to connect, learn and network with the key players in the field.
Rejuvenation Startups
Learn from the leading investors in the longevity space and get them interested in your approach. Connect to potential new team members. Present on-stage or in the all-day startup forum (limited availability). Panel discussions include participants from leading rejuvenation investors.
Researchers with a startup itch
Learn how to break out of the lab and start or join a rejuvenation startup. Get tips from founders and institutions. Highlights include keynotes from selected speakers and panel discussions with successful founders.
Investors
Meet the most promising rejuvenation startups from all over the world, hear them present their approaches live on stage, and get in touch with them straight away.
Media
Take the opportunity to meet the emerging rejuvenation biotech industry. Learn firsthand from relevant players about this exciting new field that has the potential to become one of the biggest industries ever.
About the organizer
Forever Healthy is Michael Greve's humanitarian initiative with the mission of enabling people to vastly extend their healthy lifespan.
Forever Healthy's projects include the evaluation of new rejuvenation therapies, evidenced-based curation of the world's cutting-edge medical knowledge, funding translational research on the root causes of aging, and hosting both the annual Undoing Aging Conference and the Rejuvenation Startup Summit.
Greve's venture capital firm, Kizoo, which provides mentoring, seed, and follow-on financing for rejuvenation biotech startups, is also part of the initiative. So far, Kizoo has funded fourteen startups that are working to turn research on the root causes of aging into therapies for human application.