Location
Baden-Württemberg Stiftung
Kriegsbergstraße 42
70174 Stuttgart
Germany
How can we reach the Sustainable Development Goals (SDGs) with the help of Artificial Intelligence?
About this event
The Stuttgart Chapter of Women in AI & Robotics and our partner KI Garage, a project funded by the Baden-Württemberg Stiftung, invite you to attend our first in-person event on July 13th, 2022 at the wonderful event location at the Kriegsbergstraße 42, 70174 Stuttgart.
Agenda:
4 pm: Doors will open for participants of the workshops.
4:15 pm: We start with two parallel workshops which are taking place on site in Stuttgart. One will focus on sustainable AI, whereas the other will introduce the participants to the SDGs and we will brainstorm how AI can be used to reach them.
5:30 pm: Doors will open for everyone. The event will take place on site only. There is no live stream.
6 pm: The main event will start with a keynote from a high-profile speaker with a background in the intersection of sustainability and artificial intelligence. Her talk will be followed by a panel discussion on the topic "How can AI support us in reaching the SDGs?". Our panel will have experts from different backgrounds, e.g. AI, Sustainability, SDGs, Software Development, AI Ethics and Responsible AI. The keynote speaker and the panelists will be announced soon!
After the panel, the visitors will have the opportunity to network with the speakers and other members of the community. A variety of snacks and refreshments will be available at the event.
We look forward to seeing you there!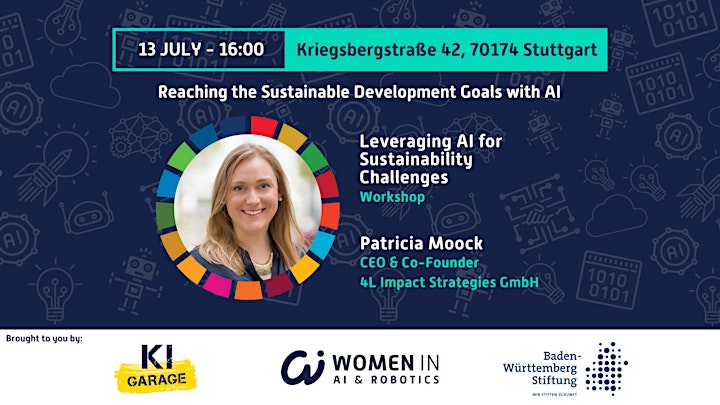 📣👩‍🏫 We are happy to announce the first in-person workshop at 4 pm on "Leveraging AI for sustainability challenges". In this workshop, you will:
✅ learn about the Sustainable Development Goals (SDGs), their purpose and how to contextualize and work with them as a north star for innovation
✅ discuss why AI is important to solve sustainability challenges
✅ learn about the most pressing challenges within the SDGs targets
✅ develop AI-based innovation for selected SDG sub targets with an SDG innovation canvas
✨👩‍🏫 The workshop is led by Patricia Mook, CEO & Co-Founder of 4L Impact Strategies GmbH. Patricia is a certified SDG for business change leader and climate protection officer.
🌍 Starting her career as a chemical engineer, she has worked for a long time as a project engineer in the chemical industry with stations in Canada, Belgium and Germany.
🌍 Motivated by the urgently needed system changes towards sustainability and digitalization, she co-founded 4L Impact Strategies - a sustainability consultancy and academy.
🌍 In her work with clients, she integrates innovation and strategic organizational development with sustainability.
Seats are limited, don't forget to register! During registration the ticket type for this workshop is called "Workshop on SDGs" due to a character limitation.