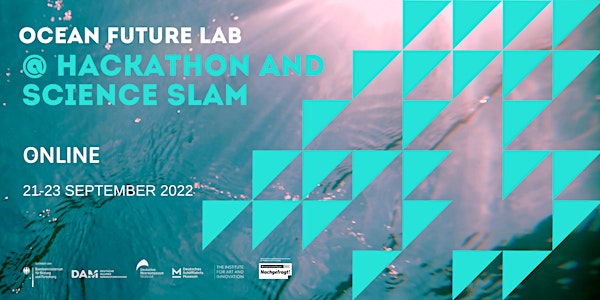 Ocean Future Lab Hackathon
The Ocean Future Lab Hackathon is a collaborative format for idea development and idea acceleration.
About this event
The Ocean Future Lab Hackathon
Within a limited time frame, it enables young, passionate teams of entrepreneurs and experts to find innovative and sustainable solutions in the fight against ocean issues.
The Ocean Future Lab Hackathon provides a space to push ideas forward, drive innovation and to create new value propositions. The best ideas selected by the jury and the public will be presented at the Entrepreneurship Summit 2022. And there's more to come! Parallel to the Hackathon, the Science Slam will take place to share insights and scientific facts and provide inspiration to a broader audience. Furthermore, the visualizations of the workshop narratives executed by Filmuniversity students will be shown.
Let's change the world and create a more sustainable future together!
When? 21-23 September 2022
Where? Online on Slack and Zoom
The Ocean Future Lab is a project of the "Science Year 2022 - Participate!" and is funded by the Federal Ministry of Education and Research. Partners are the German Alliance of Marine Research, the Institute for Art and Innovation, the German Oceanographic Museum in Stralsund and the German Maritime Museum in Bremerhaven.