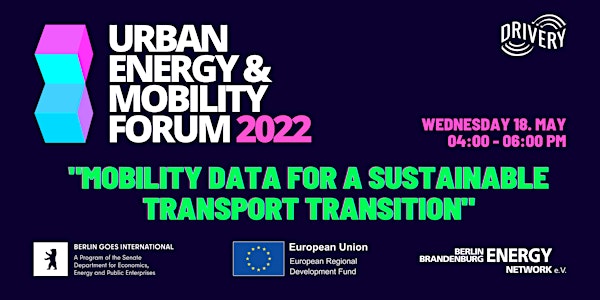 Mobility Data for a Sustainable Transport Transition: Networking Event
Event Information
Location
The Drivery GmbH - Hangar 18
Mariendorfer Damm 1
12099 Berlin
Germany
After successfully conducting the Urban Energy and Mobility Forum 2022 we want to bring everyone together for an in-person networking event.
About this event
📣Let's wrap up the #UEMF22 takeaways with key industry players, startups, and political stakeholders in the mobility sector! 📣
🔜Join us on May 18th for our networking event, taking place at the Drivery🕺!
Look forward to exciting discussions on the main #urban challenges and the current solutions of the mobility sector with a focus on the opportunities and obstacles of #mobility #data for a sustainable transport transition.
You will have the great opportunity to present your innovative #startup 💡 at our Speed #Pitching Session and get to know your #peers in our networking 🎉 session after the event.
Program
15:30 Drivery Tour
16:00 Opening statements
16:15 Keynotes
16:45 Panel discussion: Mobility Data and Digital Technologies for a Smart Urban Ecosystem
Moderator: Ralf Echtler, Founder, CREATIVE FLOSS
17:15 VC & Accelerators
17:30 Pitch Session
Let's meet some of the newest and most exciting minds of the mobility sector in Berlin. Up to five startups will pitch their business idea and solution to the crowd.
18:00 Networking & Drinks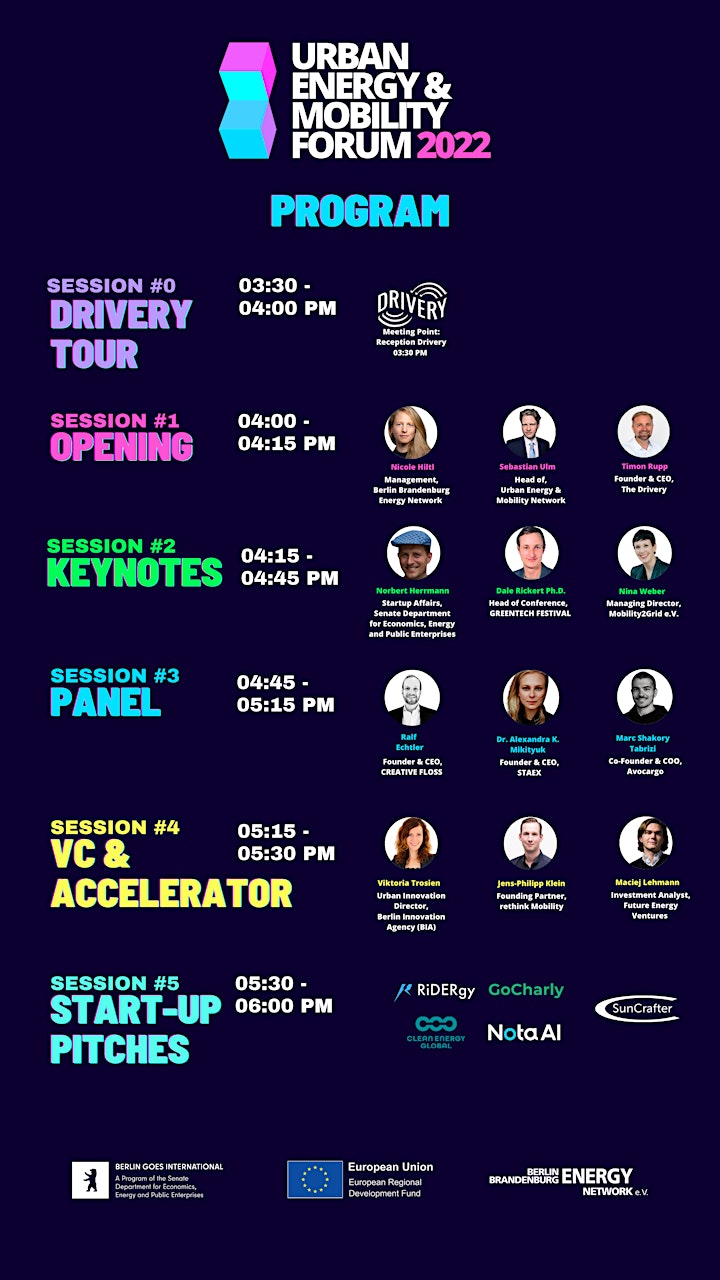 UEMF22 Retrospect:
Due to the growing numbers of city residents, changing transportation habits, and the pressuring need to cut congestion and emissions, urban areas are transforming their mobility patterns. At the Urban Energy & Mobility Forum 2022, together with 23 high-profile speakers from the urban mobility sector and over 350 attendees, we discussed the most pressing challenges of urban mobility development and analyzed the possible innovative solutions leading to climate-neutral livable cities.
Date and time
Location
The Drivery GmbH - Hangar 18
Mariendorfer Damm 1
12099 Berlin
Germany