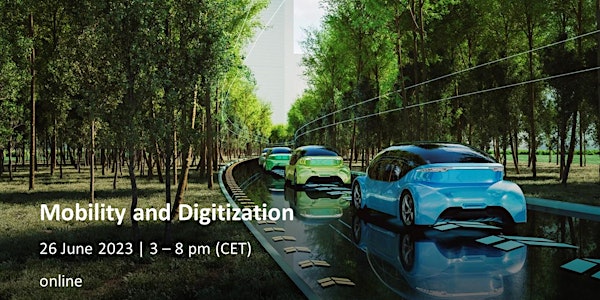 Mobility and Digitization
Driving the transition towards a smart and sustainable mobility through digitization.
Date and time
Monday, June 26 · 6 - 11am PDT
Refund Policy
Contact the organizer to request a refund.
Agenda
3:00 PM - 3:10 PM
Welcome and introduction
Ruth Houbertz - Society6.0
3:10 PM - 3:35 PM
E-Mobility Ecosystem: Contribution of e-mobility to the energy resilience
Rainer Bachmann - E:E Consulting GmbH
---
It will be presented how e-mobility can support the energy resilience of the EU. Different aspects of storage and injection are discussed.
3:35 PM - 4:00 PM
Charging Infrastructure in Cities: Metrics for Evaluating Future Needs
Ludwig Hohenlohe - Theondata GmbH
---
The THEONDATA platform collects charging information all over Europe and can display the utilization of the chargers, the local pricing scheme and by that contribute to the business model development...

4:00 PM - 4:25 PM
Can electric vehicles relieve power grids? A potential analysis.
Stefan Lösch - Fraunhofer IFAM
---
E-vehicles are basically batteries on wheels. In addition to mobility, they can theoretically also be used for power grid services or electricity markets. The talk provides information on the potenti...

4:25 PM - 4:50 PM
Digitization developing standards for ISO 15118
Stephan Voit - E:E Consulting GmbH
---
The continuous development of standards is necessary; best practices of ISO 15118 are demonstated through VDE and DKE.
4:50 PM - 5:00 PM
Networking BREAK and Q&A
5:00 PM - 5:25 PM
E-Mobility goes digital – the opportunities of digital channels for providers
Anne Schwier - CIRRANTIC GmbH
---
An Over-The-Top Platform for E drivers is presented and discussed, where the information about chargers, optimal prices, charging technology and charger availability is being displayed in the "wallet...

5:25 PM - 5:50 PM
Vehicle to Grid Technology – EU H2020 Project MEISTER
Rainer Bachmann - E:E Consultig GmbH
---
The EU H2020 funded project MEISTER has developed a proof-of-concept (POC) with results on how V2G can stabilize the low voltage grid: reduction of the load in the grid, compensation of reactive powe...

5:50 PM - 6:15 PM
Charging Point Online Report – Digital Tool Production @Westenergie Netzserv
Oliver Motz - E.ON Westenergie
---
To support the grid planning, several IT solutions are available, which show in which grid segment charging@home will occur in the first step, where chargers should be placed in cities and along the ...

6:15 PM - 6:40 PM
Smart City Quarters based on decentralized energy generation and e-mobility
Michael Fipper - E:E Consulting GmbH
---
Decentralized generation of energy and local traffic regulation can provide a major support for the climate neutrality of cities and municipalities which will be explained in detail.
6:40 PM - 7:05 PM
Honour the past, defend the present, fight for the future of mobility
---
The future can be left to fatalism, the authorities, the market and the people, or: future is what we create. People live in the past, the present and already in the future. Socio-economic systems ca...

7:05 PM - 8:00 PM
Networking and Open Information Exchange
---
The Networking and Open Information Exchange is quality time for attendees and speakers to ask questions which were not addressed during the workshop talks. It also provides opportunity to exchange v...

About this event
Technologies and Sustainability #2
Mobility and Digitization
Driving the transition towards a smart and sustainable mobility is one of the key requirements to reduce greenhouse gas emissions and move closer towards the future of mobility. Adopted in 2020 by the European Commission in the Sustainable and Smart Mobility Strategy, digitization is considered an essential enabler to transform mobility; becoming more efficient, accessible, and sustainable.
E-vehicles come in different types. They include all-electric vehicles (EVs), plug-in hybrid electric vehicles (PHEVs), and hybrid electric vehicles (HEVs). To further increase the acceptance of EVs by a broader community, accessibility of charging infrastructure is becoming increasingly important. Aside from their primary use as transportation, they may also be used for backup power grid services or electricity markets, which leads to more energy resilience and stability. The combination of mobility and digitization creates unique challenges and new opportunities for innovation and entrepreneurship, unlocking the potential of mobility data by facilitating access and sharing. This includes, for example, information about optimal placement of chargers, best charging practices, charging technology, charger availability and smart charging. In turn, this results in better charge pricing for the consumer and provider.
Join us on June 26, 2023 from 3 pm – 8 pm (time zone Berlin, Germany) to learn about the different aspects of mobility and digitization provided by our high-level speakers from industry and R&D. The workshop will be held in English online via Zoom.
Join the workshop and learn more about the topics we holistically address with Society6.0 Network for Socio-Economic Disruption.
Frequently asked questions
What is your refund policy?
Can I support the organization through donations?
Are there sponsor packages?
Will participants' contact data be exchanged?
Can we also participate in developing solutions on specific topics?
What is included in the ticket price?
About the organizer
Society6.0 is the Network for Socio-Economic Disruption: Value-driven – International – Independent – Holistic – Transformative – Responsible – Sustainable – Empowering.