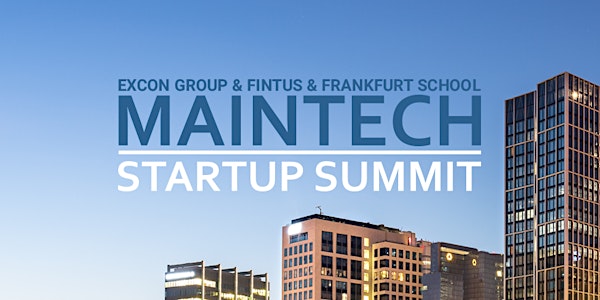 MAINTECH STARTUP SUMMIT 2019
Frankfurts Elevator Pitch Event für FinTech, LawTech und Business- Innovationen.
When and where
Location
Frankfurt School of Finance & Management Adickesallee 32-34 60322 Frankfurt am Main Germany
About this event
Wie können wir die aktuelle Technik weiterentwickeln und entscheidende Verbesserungen innerhalb der Finanzbranche und deren Prozesse erreichen oder letztere sogar vollkommen automatisieren? Und wie formt die Industrie 4.0 die Finanz- und Versicherungsindustrie sowie unser Rechtswesen von Morgen? Um diese Herausforderungen anzugehen, organisieren die Frankfurt School, ihre MBA-Programme, die EXCON Services sowie die fintus GmbH den zweiten EXCON, fintus und Frankfurt School MAINTECH STARTUP SUMMIT am 11. April 2019 in Frankfurt am Main. Ein Pitch-Event, auf welchem Start-ups, Studenten und Alumni ihre smarten, innovativen und disruptiven FinTech-, InsurTech- und LawTech-Geschäftsideen präsentieren und sich selbst ihrer Branche vorstellen können.
Reiche deine Idee ein, präsentiere sie vor unserer Jury in Deutsch oder Englisch auf dem neuen Frankfurt School Campus und gewinne einen von 3 attraktiven Preisen, um dein eigenes Business zu starten! Wir verleihen 5.000 € für den ersten, 3.000 € für den zweiten und 2.000 € für den dritten Platz. Alle Finalisten bekommen die Gelegenheit, Ihre Ideen vor potenziellen Arbeitgebern und Investoren zu präsentieren. Zudem wird allen Teilnehmern die Möglichkeit geboten, ihr Netzwerk auf dem Event durch die ebenso anwesenden fintus' FinTech-Partner zu erweitern.