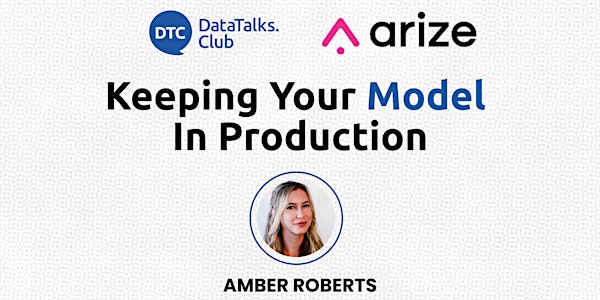 Keeping Your Model In Production
The best practices for implementing ML observability for your model - Amber Roberts
About this event
So you have built and deployed your model into production – now what? Building a model and taking it from experimentation to production is hard — and keeping it there is even harder! How do you know your models are doing well? And how do you know when you need to retrain your model?
During this workshop, we'll tackle these questions through the lens of a credit card churn model use case.
We'll cover the following steps:
Ingest data from storage into Arize
Set up monitoring around drift, data quality and performance
Troubleshoot performance degradation and model drift
Implement fairness checks in production
By the end of this workshop, you'll have the ability to know when your model is broken, how to quickly find the root cause, and when to retrain.
We will also offer a sneak preview of an upcoming workshop for monitoring unstructured use cases.
About the speaker:
Amber Roberts is Machine Learning Engineer at ML observability company Arize AI. Previously, Amber was a product manager of AI at Splunk and the Head of Artificial Intelligence at Insight Data Science. A Carnegie Fellow (2016–2017), Amber has a MS in Astrophysics from the Universidad de Chile.
DataTalks.Club is the place to talk about data. Join our slack community!
This event is sponsored by Arize AI.