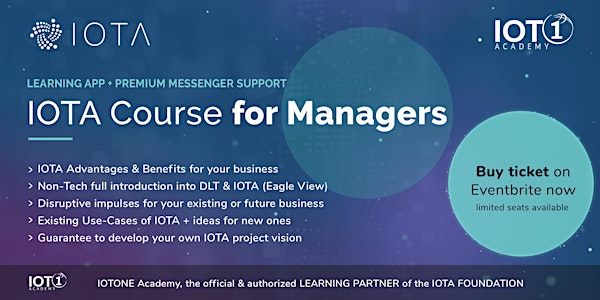 Multiple dates
IOTA Course for Managers // Learning App with Premium Support
In this Training you will learn all advantages and benefits of IOTA for companies to use it in their business & processes.
Date and time
July 1, 2020 · 12am - July 11 · 3am PDT
Refund Policy
Contact the organizer to request a refund.
About this event
Important: courses start every day but you can hop on at any day and start at your own pace with your learn app. Please read below or send us an e-mail with your questions to info@iotone.academy. Thank you.
Overview: What you will learn in this course
This course gives you profound knowledge about the IOTA Foundation, the background & the strategic big picture of the 3rd Generation Blockchain IOTA and it's several technology stacks (you don't need technical expertise to understand).
It will help you understand the story from the beginning of IOTA to today and the insights from IOTA Insiders about all projects and the future plans, e.g. Chrysalis and Coordicide.
The trainings will provide you with detailed information about existing Use-Cases and possibilities for new Use-Cases and interesting areas to claim as New Business Models for your business.
The course will also give you an Eagle View overview of what DLT is, what the differences between 1st, 2nd and 3rd Generation Blockchains (DLTs) are and when to use which DLT.
This learning content will help you understand advantages & benefits of DLT in general and IOTA in particular. It will help you understand DLT as Trust Layer for a Decentralized Data-based Economy & how to use IOTA to transform your business.
This course is an Active Learning Course. It aims to practically help you to develop an idea / vision for your first practice-oriented IOTA application project based on InApp-tasks & homework. It enables you to use the Business Canvas - as well as the Future Modelling Methodology to support you in developing your IOTA idea / vision.
It will also help you understand & leverage resistance in your company to successfully implement DLT.
This training will also challenging your idea with real IOTA trainers & experts (not available in the App Only Course)
Requirements
There are no special requirements necessary for you to use this course.
You expressly do not need to have any technological expertise to participate in this course (no programming skills or similar)
It helps having a college degree (e.g. in Business Administration, Economics, Management, etc.) or having a Strategy or Consultancy background
It also helps having understood the concept of P2P transactions and/or Pretty Good Privacy Encryption – but it is not essential to have that
What's in for the price?
Get basic knowledge of the technology & disruption stack of IOTA
Get a hands-on course with a very practical approach and InApp-tasks & homework with multiple assignments to enhance your Learning Transfer
Get full access to a beautiful Learning App (Mobile Learning App incl. Multi Device Usage e.g. for Tablet, PC or Notebook) incl. Push Notifications, Offline Usage, Trainings & Tests, Badges, Messenger-Usage (from Premium Messenger Course on)
Get carefully conducted and extensive learning content, co-developed with the IOTA Foundation including an extensive and complete course for 6 weeks (faster learners welcome though)
The complete course / online training is consisting of 7 Courses (with 4-7 trainings each)
Get the Learning-App + the Premium Messenger Support with 20 answers to you questions guaranteed + a 2h Video Seminar (due to Corona)
Three Languages: German, English or Spanish (your choice)
Concept of this course, IMPORTANT INFO
This is the LEARNING APP COURSE + PREMIUM SUPPORT (a 20 questions solved guaranteed messenger-support during workdays via Premium Messenger is given)
Courses start EVERY DAY
We start on the designated event day listed here on Eventbrite. After you bought the LEARNING APP COURSE + PREMIUM SUPPORT, we will sending you the login incl. password ASAP via e-mail
Then you can start the course directly
Course content overview
Strategic thoughts on IOTA
IOTA technology - introductory basic knowledge (division of the Blockchain community, clash of economic ideologies, The Innovator's dilemma, etc.)
Introduction to DLT (Basics of Blockchains & DLT, Consensus Mechanism in Distributed Ledgers, struggle of economic ideologies - Decentralized vs. Centralized, etc.)
Three Blockchain generations (stages of development) of the blockchain (the beginning of cryptocurrencies - the Bitcoin, the second generation: Ethereum - Blockchain 2.0, the third generation - IOTA Blockchain 3.0)
Introduction to IOTA (advantages and benefits of DLT & IOT, differences DLT & IOTA, new IOTA-based business models, success factors in digital business)
Technical insights into IOTA (inter alia DAG instead of Blockchain, basics of the technology, MIOTA, IOTA as cryptocurrency, The Tangle, Technological Trust, Free Transactions, Challenges and Solutions, etc.)
The IOTA FOUNDATION (Overview, key figures, financing & structure, news and prospects)
The IOTA Vision & Use Cases (mobility, trade and logistics, industry, health sector, smart energy, finance industry, smart data management, projects / cooperations & more prospects)
The IOTA ecosystem (IOTA community, sample projects in the IOTA ecosystem, links and contacts), practical IOTA examples
Your own DLT project (your DLT/IOTA project step by step, creativity techniques for your DLT project)
Digitization and Resistance in companies (the psychology of resistance, resistance to innovation in companies, the problem of middle management, dealing with resistance - defense strategies)
Future Modeling (time travel) & advantages & systematics of business model canvas
Homework & Learning Transfer
In the courses homework tasks are included to strengthen the learning transfer following the principles of modern active learning. Participants are asked to do the homework tasks that help them to reflect the learned content and adapt them to their professional purposes.
By this the course aims to practically help to develop an idea or vision of an own IOTA application. All participants can save their tasks in the app for later usage.
Participants who booked a training with Premium Messenger or higher receive an approval to their tasks by the instructors or are asked to communicate about the outcome.
However, homework tasks are voluntary and Participants who are just interested in learning a new and exciting topic can pursue to learn without taking part in interaction with instructors.
A further contribution of the course for the supposedly first IOTA project is given by a structured explanation on how to set up an IOTA project also enhanced by recommendations by a renowned consulting company that explains the Business Canvas - as well as the modern Future Modelling Methodology to support the trainees in pursuing their own iota IOTA project.
The content of the "IOTA Onboarding Course for Manager" has been written by your instructor together with the IOTA Foundation and great support from writers & editorial team of the IOTONE ACADEMY.
Your instructor of IOTA Onboarding Course for Managers
Arne Flick
About the organizer
The IOT ONE ACADEMY is a digital campus for corporate education of employees in the field of Industrial Internet of Things (IIoT), also called Industry 4.0 in Germany.
The goal of the particularly practice-oriented, digital academy is to support large companies in modernizing parts of their production and administration with the latest IoT-Technologies.
The IOT ONE ACADEMY uses the latest didactic, app-based methods to enable particularly sustainable learning and a high level of learning transfer.