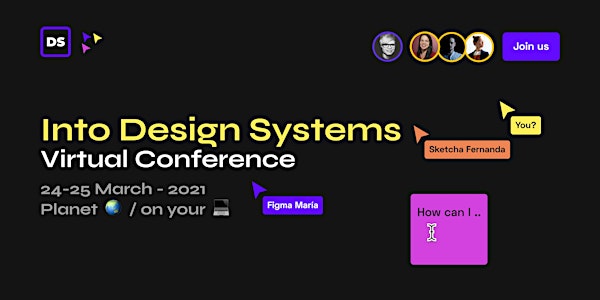 Into Design Systems - Online Conference 2021
Online conference, 24 - 25 March.A two-day Design Systems & UX Design conference. Insights from experts live talks, demos, Q&As, roundtables
About this event
A virtual Design Systems conference to bring together the community around Design Systems, and Design Tools organized by the design community.
Our aim is to create a live experience we would love to attend. Watching talks and saying hi & bye in the chat is not the type of conference we're looking for so we've created our own.
You shape the content
Tackling a specific problem? No idea how to structure the Design System? Establish workflows for contributing patterns / components?
We want to make sure to create an engaging event with valuable content - we want people to take the most out of this. That's why every participant will have the opportunity to suggest topics, ask questions and contribute before and during the conference in an interactive whiteboard and live in the stream. There is so much content out there we could watch Youtube all day. This event is dedicated to people who want to connect & contribute rather than watch.
Networking
There will be plenty of networking possibilities before & during the event. Sneak peak: Slack chat, interactive whiteboards, Pitch opportunities, job board, Show & Tells. Maximum power of interactivity possible in 2021 - we want to take advantage of all possibilities.
What to expect:
Live demos of Design System projects & workflows
Live presentations & Q&As
Topics (Workflows, Design System Metrics, Versioning, Collaboration, Documentation, Design tokens & components and many more)
Community Show & Tells (hacks, plugins, workflows..)
Live Roundtables
Interactive online whiteboards where you can network & participate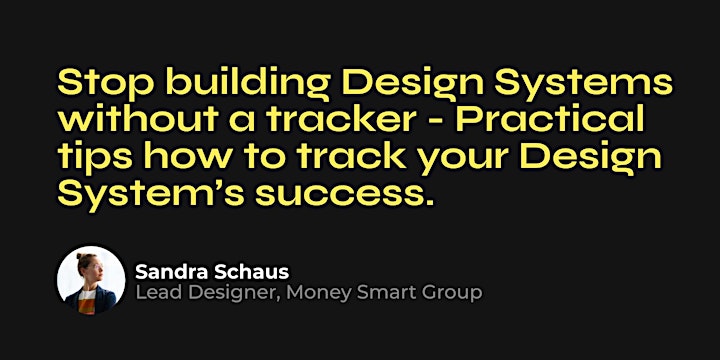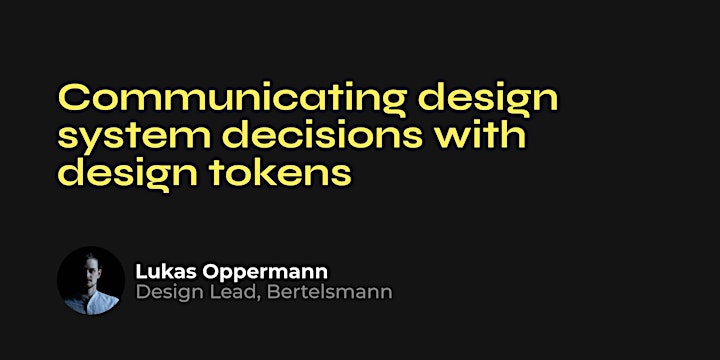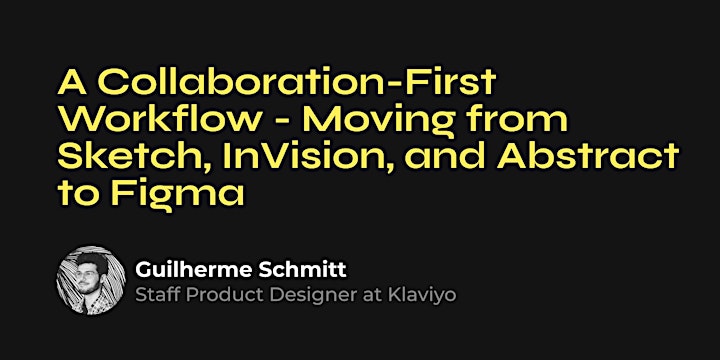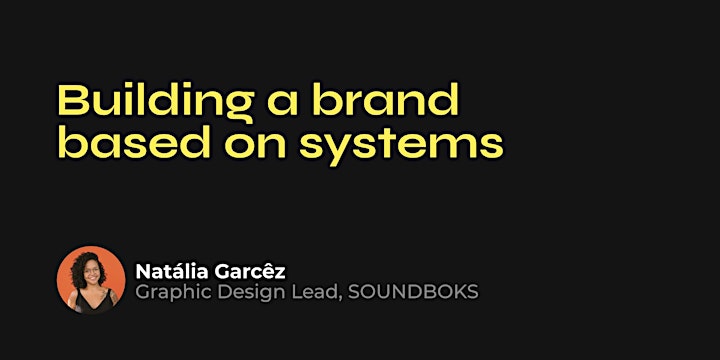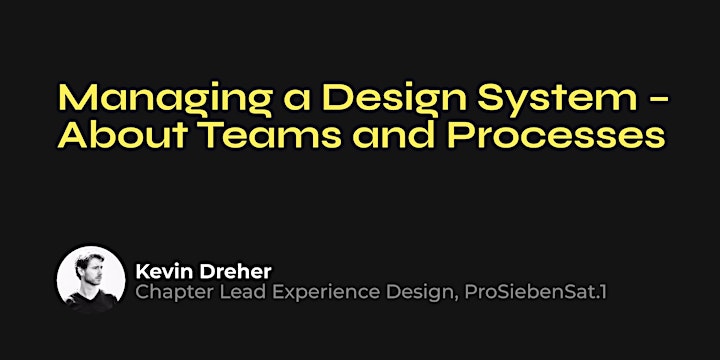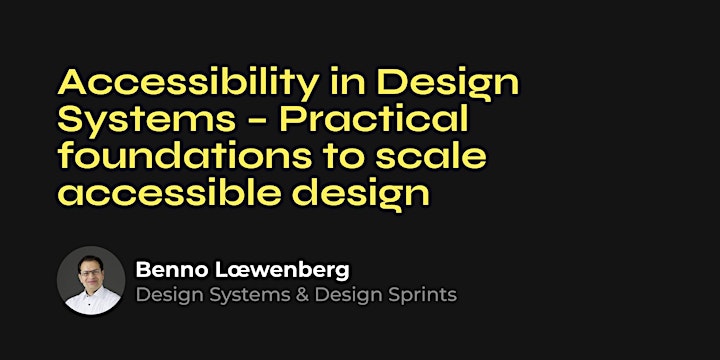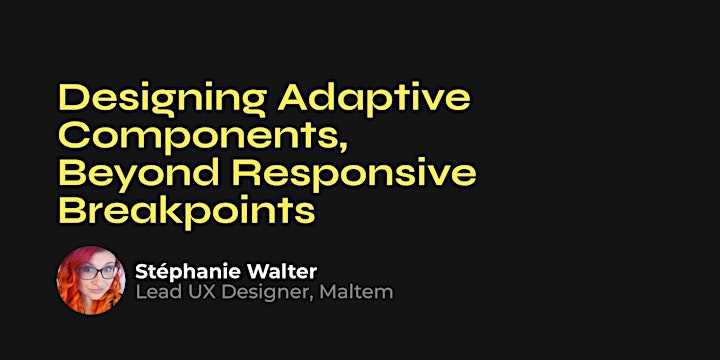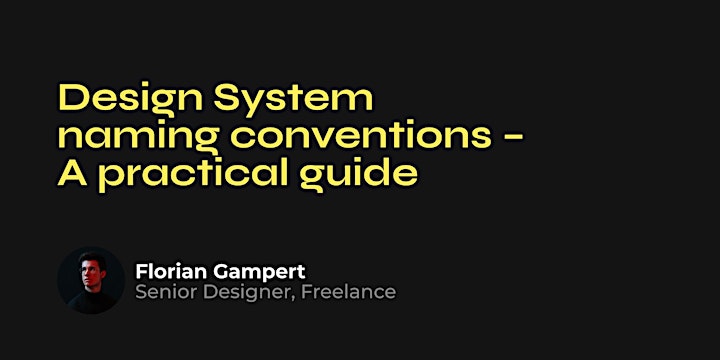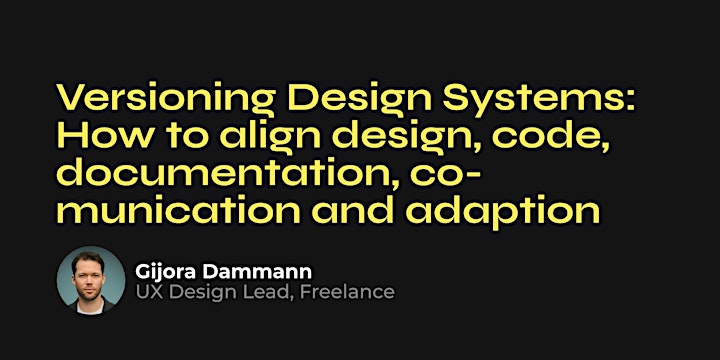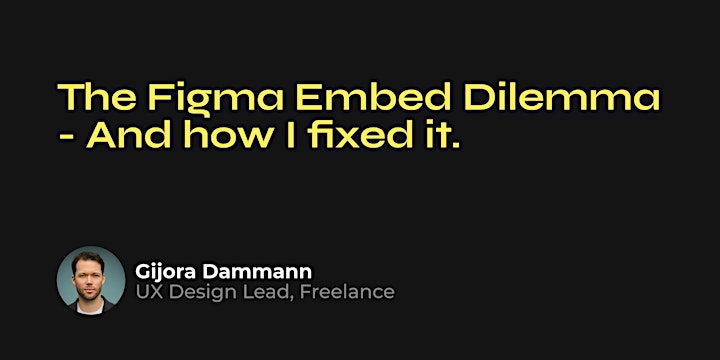 Confirmed Topics
🎨 Version control a Design System
🚀 Design System Metrics
👩‍🔬 Design System Workflows
👨🏽‍🎨 Design Tokens & Components
& more will be announced soon
🍻Schedule: (CET https://time.is/CET)
👉🏻 Day 1, March 24th
3:30 PM - 4:00 PM
Welcome & introduction
4:00 PM - 5:00 PM
Stop building Design Systems without a tracker - Practical tips how to track your Design System's success.
Sandra Schaus, Lead Designer, Money Smart Group
5:00 PM - 6:00 PM
Communicating design system decisions with design tokens
Lukas Oppermann, Design Lead, Bertelsmann
6:00 PM - 7:00 PM
ZUi - ZEISS User Interface: Sneak Peak into our collaborative Icon Workflow
Franziska Kühbandner - Technical Lead Visual/UI Design (Carl ZEISS Meditec AG)
Sofie Jürgens-Ajayi - Senior User Interface Designerin (Carl ZEISS Microsopy)
Emanuel Haas - Senior User Interface Designer (Carl ZEISS Meditec AG)
7:00 PM - 7:30 PM
Building a brand based on systems
Natália Garcêz, Graphic Design Lead, SOUNDBOKS
7:45 PM - 8:15 PM
Design System naming conventions – A practical guide
Florian Gampert, Senior Designer, Freelance
8:15 PM - 9:15 PM Networking
👉🏻 Day 2, March 25th
1:00 PM - 2:00 PM
Design System: from bookkeeping to championing. How an impact measuring tool turned into a stakeholder management system.
Varya Stepanova, Design Systems Architect and Engineering Manager
2:00 PM - 3:00 PM
Versioning Design Systems: How to align design, code, documentation, adaption and comunication
Gijora Dammann, UX Design Lead, Freelance
3:00 PM - 3:30 PM
The Figma Embed Dilemma - And how I fixed it.
Gijora Dammann, UX Design Lead, Freelance
4:00 PM - 5:00 PM
A Collaboration-First Workflow - Moving from Sketch, InVision, and Abstract to Figma
Guilherme Schmitt, Staff Product Designer, Klaviyo
5:00 - 6:00 PM
Managing a Design System – About Teams and Processes
Kevin Dreher, Chapter Lead Experience Design, ProSiebenSat.1
6:00 - 7:00 PM
Accessibility in Design Systems – Practical foundations to scale accessible design
Benno Lœwenberg, Design Systems & Design Sprints
7:00 PM - 8:00 PM
Designing Adaptive Components, Beyond Responsive Breakpoints
Stéphanie Walter, Lead UX Designer, Maltem
8:15 - 8:30 PM
Demo by our Sponsor - Sympli.io
8:30 PM - 9:30 PM
Design Systems Roundtable & Networking
Limited spots only
Tickets are limited , first come first served. There will be a lot of interaction and networking possibilities in chats, whiteboards, Q&A sessions. In order to serve the best experience it doesn't make sense to let thousands of people join the stream.
What community members say:
"The Design Friends Meetup is a great place to get inspired, have insights and meet awesome people. I really enjoyed all the times I participated, both online and in person. It's just awesome."
Clara Rêgo, User Experience Designer
"Despite social distancing, Silvia brings together great people from the design community who share their new ideas and favorite techniques. I'm really looking forward to evolving with you, whilst learning and connecting in new and revitalizing ways."
Lukas Ponikowski, UX/Interaction Designer
I am totally thrilled about the Into Design Systems virtual conference. I already had the chance to meet Silvia Bormüller at the former Sketch Meetups, which were always very informative, entertaining and you could make great contacts. Therefore, the conference can only be great :-).
Andreas Keim, UX-Consultant
Frequently asked Questions:
Limited tickets & spots only - first come first served
The event will be held in English
All sessions will be recorded, all recordings will be provided to participants after the event
Casual meetup style, not a business meeting / fancy conference
The timezone is CET, Central European Time, https://time.is/CET
Introvert friendly environment & setup
Streamed from Munich, Germany
No yada yada & sales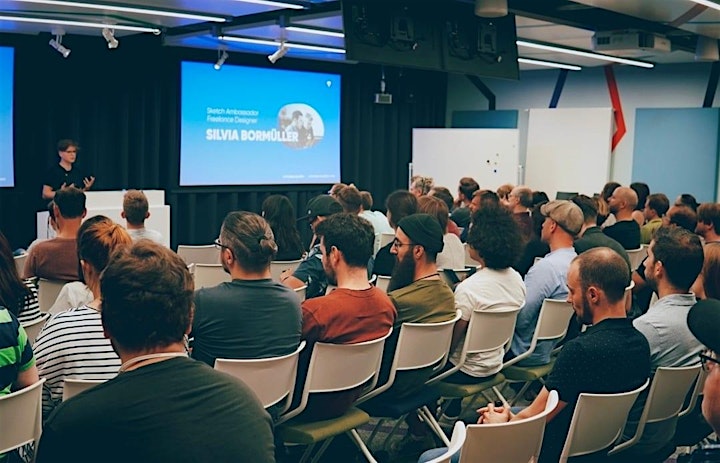 About Design Friends
Hey, my name is Silvia Bormüller and I'm a freelance designer from Germany. I've started this meetup community in April 2017. Usually, our event was hosted by companies like Google in Munich as you can see in the fancy image, back then we usually had 100 people attending our events. Due to the situation we switched to remote Meetups now people from all over the world can join our sessions. Until today I've hosted 30+ Meetups and reached 3.400+ creatives. In terms of Design Systems it always felt like there is so much to show and talk about, most often we found ourselves networking and discussing workflows until midnight.
Design Systems Roundtable, Feb 2021
This is how a typical live session (meetup) looks like. In this session we discussed the following topics: Design System Metrics, Versioning, How complex should a Design System be & more.