Description
Inline Games Berlin 2017

Berlin Neukölln hosts the biggest freestyle inline event in Germany at the last weekend in July.
The Berlin team Slalomplace welcomes the world's best slalom skaters from all over the world, who compete in 5 disciplines:Battle, Classic, Speed, Slides, Jumps and Pair Classic!

Depending on the weather, the outdoor event takes place in the ice stadium or in the indoor sports hall. Audiences are welcome, admission is free!
Here is the temporary schedule: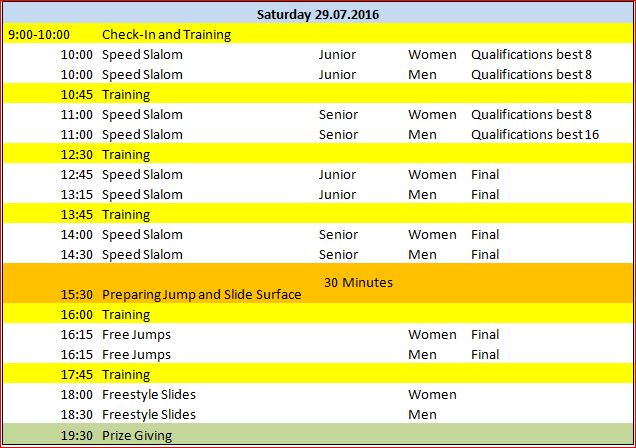 The After Party on Sunday!

Feel welcome in Berlin Neukölln! Have a nice eve after four days of skating at Inline Games Berlin. This year we're going to come together at BRAUHAUS NEULICH, a real Berlin place with craft beer, coke and high chill factor.
Location: BRAUHAUS NEULICH
Selchower Str. 20 - U8 Boddinstr. (south exit)
Further information:
http://www.facebook.com/inlinegamesofficial/
http://www.slalomplace.de/
Contact:
E-Mail: inlinegames-berlin@outlook.de

FAQs
How can I contact the organizer if I have questions?
Please send a mail to inlinegames-berlin@outlook.de. We will answer asap.

Are refunds possible?
If you bought the wrong ticket, please send a mail to inlinegames-berlin@outlook.de. Then you buy the ticket you want and we refund you in cash (excluding ticket fee) at the event.

Do I have to print the ticket?

Yes. It is your permission to enter the battle ground. Please show it to the stuff at the entrance.

Is it a problem if the name on the registration / ticket does not match the participant's name?
Yes. Your ticket is bonded to a WSSA-ID. Only the person with the registred WSSA-ID is allowed to take part. If you have no WSSA ID just type 0000000000000 at the registration form.

I cannot pay online. How can I register?
If you are not able to pay online, please send a mail to inlinegames-berlin@outlook.de.
What is also included in my ticket?
You will have free entrance to the after show party at Sunday July 30th. Also you'll receive a Berlin Inline Games 2017 backpack.
Is a t-shirt included?
This year we have a unique Berlin Inline Games 2017 backback for you. But of course we have t-shirts with the 2017 design to buy.

Will there be food & beverages at the venue?
Like last year we will offer delicous sandwiches as well as hot and cold drinks. For lunch we have our Berlin BBQ. The prizes are very low, since we sell cost covering, so please support us and visit the food area.