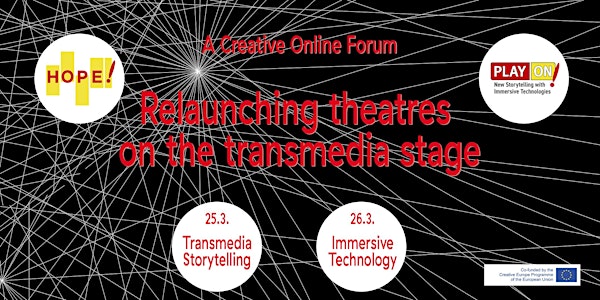 HOPE! Public access
Leading artists and experts talk about their outstanding projects with transmedia storytelling and immersive technologies.
About this event
Welcome to the HOPE! Conference an extraordinary event over two days.
On the first day, speakers will share their experiences with interactive storytelling in theatre.
Transmedia Storytelling - Thursday March, 25
The second day will focus on immersive technology and its direct application for theatre.
Immersive Technolgoy - Friday, March 26
Hope is streamed and therefore open to the public with your registration we will send you our Confernce App with usefull information about the spekater, the companies and about all 6 Panels
We look forward to seeing you again at the HOPE conference and please check the detailled programme and the stream on our website (https://play-on.eu/hopecreativeforum/).