Global Blockchain Networking Series – Germany meets Israel
About this event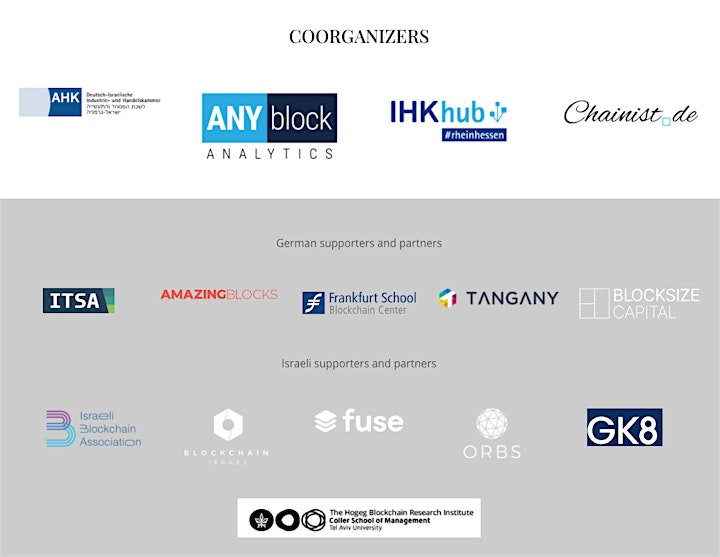 Germany's blockchain industry is gaining momentum especially after releasing and adopting the governmental blockchain strategy in 2019. Whether this is in the well-regulated space of custody, tokenization, supply chain or renewable energy, productive use case adoption by existing companies and a thriving group of startups is happening quickly. The industry is convinced that global cooperation fosters adoption, shapes markets deeper and supports adoption even faster.
Agenda
1. General Introduction
2. German Companies & Institutions
Anyblock Analytics GmbH, Peter Eulberg, CEO
Tangany, Julian Richter, Head of Sales and Business Development
Amazing Blocks AG, Nicolas Weber, Head of Business Development
Blocksize Capital GmbH, Thomas Langbein, Head of Sales and Business Development
FS School Blockchain Center, Robert Richter, Research Fellow at Frankfurt School
International Token Standardization Association (ITSA), Maximilian Bruckner, Executive Director
3. Israeli Companies & Institutions
Israeli Blockchain Association, Mr. Yosef Shaftal, Executive Director
Blockchain Israel, Ms. Yael Rozencwajg, Founder and CEO
Hogeg Blockchain Research Institute, Mr. Ari Achiaz, Managing Director
Fuse, Mr. Mark Smargon, CEO
GK8, Ms. May Michelson, Senior Director of Global Sales
Orbs, Mr. Ran Melamed, Head of Business Development
We'll keep the introductions focused and facilitate discussions, business matching and networking. 
Moderation
Ms. Charme Rykower will guide us throughout the virtual networking event. She was born in Munich where she studied Political Science M.A. After moving to Israel, she worked for a High-Tech company and since 2008 she is Senior Executive at AHK Israel, the Israeli-German Chamber of Commerce. She is scouting for Israeli technologies on behalf of large and medium-sized German companies, organizes technology-related events, and introduces Israeli High-Tech companies to German corporates, investors, and governmental institutions.
Blockchain in Israel
The State of Israel is driven by a strong defence industry, highly technological military intelligence units, and cutting-edge academic institutions, and has become a hub for start-ups and disruptive hi-tech. Through the country's unique experiences with fintech, cyber and cryptography, it has also positioned itself as a hotspot for innovation in blockchain technologies.
The global blockchain ecosystem has evolved immensely in the last few years. We have seen a shift from cryptocurrency excitement and skyrocketing funding rounds, to the development of scalable blockchain-powered products. The Israeli blockchain ecosystem is a microcosm of the global industry and the changes reshaping the future of blockchain, and a shift to decentralization. It is expected that Israel will give birth to some of the most meaningful blockchain Startups globally.
We would like to create a bi-national networking platform for blockchain experts to create cross-border synergies and potential partnerships. We would like to invite you to take part in the first German Israeli Blockchain Exchange, where you will have the opportunity to hear from leading German and Israeli blockchain experts and share your own experiences.
About the Global Blockchain Networking Series
A selected number of German blockchain companies had the idea to connect to blockchain companies around the globe utilizing the existing network of the German Chambers of Commerce (IHK/AHKs).
AHK Taiwan and their blockchain event triggered the engagement. Currently, two events are planned with Israel and Vietnam. Additional countries are being discussed, e.g. Rwanda, South Korea and the USA.
For participants
When you attend this event, you agree that we are allowed to use content like records (video and images) for internal usage to promote upcoming events and can be published on the website of the event partners and coorganizers. If you don't agree, please inform the organizers prior to the event.