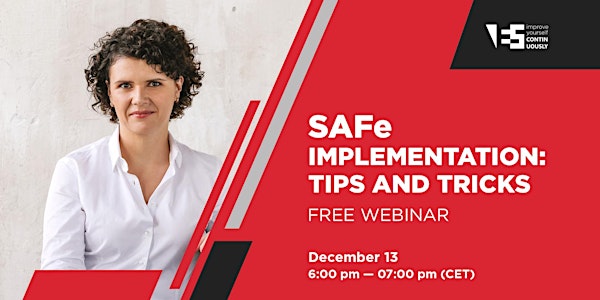 Free webinar Scaled Agile Framework (SAFe) implementation: tips and tricks
Do you want to know more about SAFe implementation? Join our free webinar!
About this event
Scaling of software development teams is a big challenge. Ones you have "Go" decision with SAFe (Scaled Agile Framework) you should plan the transformation very carefully.
On webinar we will share our tips tricks regarding SAFe implementation:
what main points to keep in mind during your transformation planning
how to manage expectations of your key stakeholders
how to define who should be in ART (Agile Release Train)
how to plan education and training events correctly
how to speed up the transformation
About the speakers:
Alyona Lubchak
CEO @ E5
SPC, PMP, ICP, ICP-ADM, CSM certification
CEO and co-founder of Agile consulting agency in Ukraine
Guided successful Scaled Agile transformations in Software Product Companies
Helped dozens of companies with their Agile journey
Conducted hundreds of training events and taught thousands of specialists
Guided non-software companies with their Agile implementations
Successfully delivered dozens of software products to the market
Drives SAFe community in Ukraine