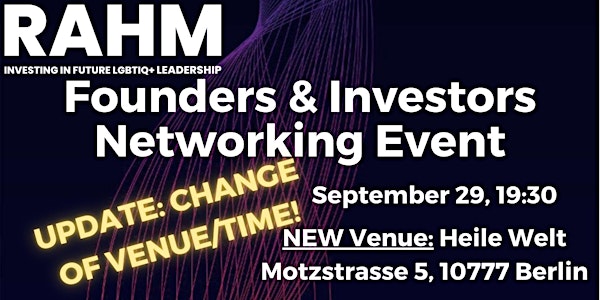 Founders & Investors Networking Event * NEW LOCATION*
**UPDATE: CHANGE OF VENUE** Where are all the LGBTIQ+ founders at? 404: LGBTIQ+ diversity is missing in the startup scene
When and where
Location
Heile Welt Motzstraße 5 10777 Berlin Germany
About this event
**UPDATE: CHANGE OF VENUE**UPDATE: CHANGE OF VENUE**UPDATE: CHANGE OF VENUE**
Due to an unexpected high number of interest in the event, we have had to find a larger space. Please note the new address Heile Welt, Motzstrasse 5, 10777, Berlin and start time change to 19:30.
*****************************************
More diversity in the startup scene means more than just increasing the share of white women founders. There, I said it.
The Female Founders Monitor by Startup Verband was first issued in 2018, the Migrant Founders Monitor was initiated in 2021, so the awareness of other diversity dimensions than just (binary) gender is growing.
Just like Stuart Cameron, CEO at the UHLALA Group, founded RAHM, the global LGBTIQ+ leadership network, because nothing like it existed before, the RAHM community will be a trailblazer once again, this time by bringing LGBTIQ+ founders & investors together.
Being an LGBTIQ+ founder has its unique challenges, especially during fundraising. So join us for the first networking night in Berlin specifically for LGBTIQ+ founders and investors so we create a more diverse startup ecosystem together!
**UPDATE: CHANGE OF VENUE**UPDATE: CHANGE OF VENUE**UPDATE: CHANGE OF VENUE**
SAVE THE DATE
DATE: Thursday 29 September
TIME: 19:30
NEW! VENUE: Helie Welt
Motzstrasse 5
10777 Berlin
https://www.facebook.com/heileweltbar/
We have the back space reserved - so go to the bar and look out for Peter in a RAHM t-shirt.
Please note that there are only limited bar snacks available.
For more information contact peter@uhlala.com