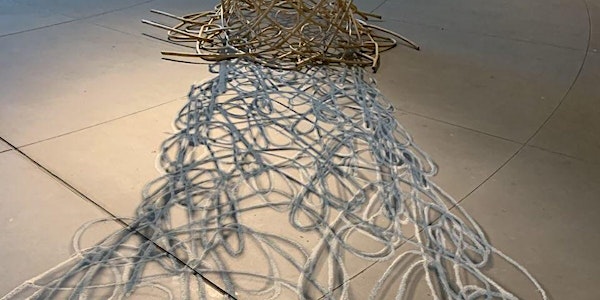 Finissage with Ceremonial Performance »dancing CaCO3« by Kaaren Beckhof
Finissage with Ceremonial Performance »dancing CaCO3« by Kaaren Beckhof
About this event
dancing CaCO3
Eine zeremonielle Performance von Kaaren Beckhof
mit einem Soundscape von Wingel Mendoza
unter Mitwirkung von Lara LadikCaCO3 ist die chemische Formel für Calciumcarbonat. Dieses ist aus drei Elementen aufgebaut, die für die gesamte organische und anorganische Materie auf unserem Planeten von besonderer Bedeutung sind: Kalzium, Kohlenstoff und Sauerstoff.
In Form von gemahlenem, weißem Marmor wird es am Tag der Finissage zum beweglichen und eigenwilligen Zeichenmaterial der Künstlerin. Wingel Mendoza entwickelt live zu der Streuzeichnung ein soundscape indem er die Klänge des Materials, seiner Herkunft und seiner Aktivitäten verwendet.
Während der Performance konvergieren Bewegung und Stillstand, Zeit und Raum. Die Künstlerin verschmilzt vorgebeugt mit ihrer Umgebung und dem zu einem multisensorischen Raumbild zur Ausstellung. Besucher:innen werden in diesen Prozess einbezogen, indem sie angeleitet eine Abfolge von Wahrnehmungsexperimenten mit verschiedenen Formen von Calziumcarbonat ausführen und während der Streuung einbringen.
Die Veranstaltung wird dokumentiert.
Mit Ihrem Besuch erklären Sie sich mit der freien Benutzung von Aufnahmen, in denen Sie zu erkennen sind, einverstanden.
www.kaarenbeckhof.de
____
dancing CaCO3
A ceremonial performance by Kaaren Beckhof
with a soundscape by Wingel Mendoza
with the collaboration of Lara Ladik
CaCO3 is the chemical formula for calcium carbonate. This is composed of three elements that are of particular importance to all organic and inorganic matter on our planet: Calcium, Carbon and Oxygen.
In the form of ground white marble, it will become the artist's mobile and idiosyncratic drawing material on the day of the finissage. During the drawing performance Wingel Mendoza develops a live soundscape by using the sounds of the material, its decent and activities. Movement and stillness, time and space converge. The artists merge with their surroundings to create a meditative spatial image for the exhibition.
Visitors are involved in this process by being guided to perform a sequence of perceptual experiments with different forms of calcium carbonate, which they bring in during the performance.
The event will be documented.
With your visit you agree to the free use of recordings in which you can be recognized.
www.kaarenbeckhof.de
____
The exhibition is curated by multidisciplinary scientists and designers of the project Object Space Agency of the Cluster of Excellence »Matters of Activity« of the Humboldt-Universität zu Berlin under the direction of Prof. Dr. Claudia Blümle and Clemens Winkler.
Please note that as a prerequisite for visiting the exhibition FFP2 mask obligation and for visiting events (guided tours, performances, lectures etc.) additionally the 3G-rule is applied (fully vaccinated, recovered or proof of a negative rapid test by official test center).
The exhibition will be open from September 17th, 2021 to March 4th, 2022, every Monday to Friday from 14-18.