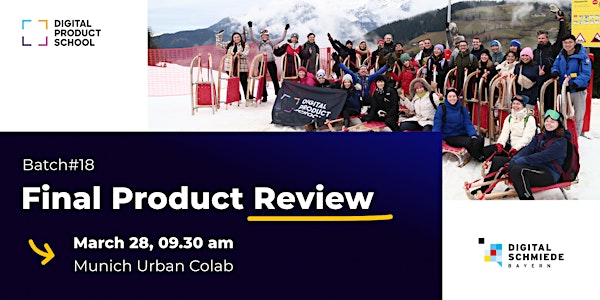 Final Product Review Batch#18 | Digital Product School
Join us for the final presentations of our nine DPS and Digitalschmiede Bayern teams and learn about their products and journeys!
By Digital Product School | UnternehmerTUM
Date and time
Tuesday, March 28 · 12:30 - 3:30am PDT
About this event
***This event will be held online (Youtube Live) with an on-site public viewing at the Munich Urban Colab.***
The 3-month adventure of Digital Product School and Digitalschmiede Bayern Batch#18 started on January 9, 2023. After twelve weeks of hard work, our nine teams are ready to present their solutions and prototypes to a large audience for the first time.
The teams of Digitalschmiede Bayern worked on important topics for the Bavarian administration and citizens, like how a market monitoring tool can help market surveillance inspectors with checking if online shops follow the EU regulations to ensure the most effective consumer protection. How to enable data-driven decision-making by using a digital tool for assessing the economic impact of relocating public authorities?
At the same time, the teams of Digital Product School dealt with exciting topics such as how to help key personas in the manufacturing industry with reducing time spent in decision-making during their shift. Furthermore, the two teams of Digital Media Lab assist Circular Republic, UnternehmerTUM's new circular economy initiative, in being a thought leader and pacemaker in the circular economy community through their social media activities and newsletter.
These are just a few challenges the nine teams tackled in Batch#18. Learn more about their products and journeys at the Final Product Review!
Schedule:
09:30 am - Intro
09:35 am - Welcome by Michael Stockerl I Director DPS
09:45 am - Product Reviews DPS teams
10:30 am - Break
10:45 am - Welcome by byte - Bavarian Agency for Digital Affairs
11.00 am - Product Reviews Digitalschmiede Bayern teams
11:45 am - Networking & Product Booths
12:30 pm - Official End
You can choose if you want to be part of the public viewing at the office and get to meet some of our participants in person or if you wish to watch our live stream remotely. Please choose the ticket category accordingly - first come first serve!
Registration is open until Sunday, March 26.
-------------------------------------------------------------------------
*** Diese Veranstaltung wird online via YouTube Live durchgeführt und im Munich Urban Colab live ausgestrahlt. ***
Die dreimonatige Reise der Teilnehmer.innen des Batch#18 der Digital Product School und der Digitalschmiede Bayern hat am 9. Januar 2023 begonnen. Nach zwölf intensiven Wochen sind die neun Teams endlich bereit, ihre Ergebnisse und Prototypen erstmals der Öffentlichkeit zu präsentieren.
Die Produktteams der Digitalschmiede Bayern arbeiteten an Herausforderungen der Bayerischen Verwaltung: Wie kann ein Marktüberwachungstool den Inspektoren der Marktüberwachung dabei helfen, zu überprüfen, ob Online-Shops die EU-Vorschriften einhalten, um den effektivsten Verbraucherschutz zu gewährleisten. Wie kann eine datengestützte Entscheidungsfindung mit Hilfe eines digitalen Tools zur Bewertung des wirtschaftlichen Einflusses von Behördenverlagerungen ermöglicht werden?
Gleichzeitig befassten sich die Produktteams der Digital Product School mit spannenden Themen, z.B. wie man Produktionsleiter in der Fertigungsindustrie dabei helfen kann, die genutzte Zeit für Entscheidungsfindung während ihrer Schicht zu reduzieren. Darüber hinaus unterstützen die beiden Marketing-Teams aus dem Digital Media Lab Circular Republic, die neue Initiative von UnternehmerTUM zur Bündelung der Kräfte im Bereich Circular Economy, durch gezielte Social-Media-Aktivitäten und einem Newsletter sich als Vordenker und und Taktgeber in der Circular Economy Community zu etablieren.
Dies sind nur einige der Herausforderungen, denen sich die neun Teams in Batch#18 stellten. Erfahrt mehr über ihre Produkte und die aufregende Reise der Teams im Final Product Review!
Schedule:
09:30 - Intro
09:35 - Grußwort von Michael Stockerl I Director DPS
09:45 - Abschlusspräsentationen der DPS Teams
10:30 - Pause
10:45 - Grußwort von byte - Bayerische Agentur für Digitales
11:00 - Abschlusspräsentationen der Teams der Digitalschmiede Bayern
11:45 - Austausch
12:30 - Offizielles Ende der Veranstaltung
Es besteht die Möglichkeit sowohl an der öffentlichen Liveübertragung im Munich Urban Colab inkl. persönlichem Austausch mit den Teilnehmer.innen vor Ort als auch online über Youtube Live teilzunehmen. Bitte wähle die Ticketkategorie entsprechend deiner bevorzugten Teilnahme-Option aus.
Anmeldung bis spätestens Sonntag, 26. März möglich.