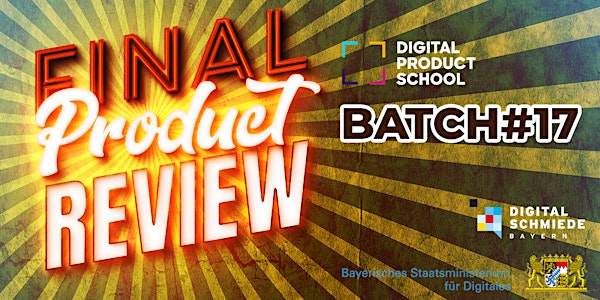 Final Product Review Batch#17 | Digital Product School
Join us for the final presentations of our 9 DPS and Digitalschmiede Bayern teams and learn about their products and journeys!
About this event
***This event will be held online (Youtube Live) with an on-site public viewing at the Munich Urban Colab.***
The 3-month adventure of Digital Product School and Digitalschmiede Bayern Batch#17 started on September 12, 2022. After 12 weeks of hard work, our 9 teams are ready to present their solutions and prototypes to a large audience for the first time.
The teams of Digitalschmiede Bayern worked on important topics for the Bavarian administration and citizens, like how to make producing briefs for standard administrative proceedings easier for lawyers? How to enable a simpler, more transparent and less time-consuming process of awarding public orders and decorations? And how to improve animal protection controls at farms?
At the same time the teams of Digital Product School dealt with exciting topics such as how to motivate fans to find the most intelligent and sustainable way to enter and leave the SAP Garden? How to create an immersive massage experience that helps people to disconnect from everyday life? Last but not least, how to help clinicians to run more insightful sleep assessments?
These are just a few challenges the 9 teams tackled in Batch#17. Learn more about their products and journeys at the Final Product Review!
Schedule:
01:00 pm - Intro
01:10 pm - Welcome by Michael Stockerl I Director DPS
01:15 pm - Sprint Reviews DPS teams
01:45 pm - Break
02:00 pm - Welcome by Dr. Hans Michael Strepp I Head of Office at Bavarian Ministry for Digital Affairs
02.15 pm - Sprint Reviews Digitalschmiede Bayern teams
02:45 pm - Networking
04:00 pm - Get-Together: Drinks & Talks (on-site only)
You can choose if you want to be part of the public viewing at the office and get to meet some of our participants in person or if you wish to watch our live stream remotely. Please choose the ticket category accordingly - first come first serve!
Registration is open until Friday, November 25.
-------------------------------------------------------------------------
*** Diese Veranstaltung wird online via YouTube Live durchgeführt und im Munich Urban Colab live ausgestrahlt. ***
Die dreimonatige Reise der Teilnehmer.innen des Batch#17 der Digital Product School und der Digitalschmiede Bayern hat am 12. September 2022 begonnen. Nach 12 intensiven Wochen sind die 9 Teams endlich bereit, ihre Ergebnisse und Prototypen erstmals der Öffentlichkeit zu präsentieren.
Die Produktteams der Digitalschmiede Bayern arbeiteten an Herausforderungen der Bayerischen Verwaltung: Wie kann man die Erstellung von Schriftsätzen bei Routine-Verwaltungsverfahren für Anwält.innen vereinfachen? Wie kann ein einfacheres, transparenteres und weniger zeitaufwändiges Verfahren für die Verleihung von Orden und Ehrenzeichen ermöglicht werden? Und wie kann die Einhaltung von Tierwohl-Bestimmungen besser gewährleistet werden?
Gleichzeitig befassten sich die Produktteams der Digital Product School mit spannenden Themen, z.B. wie man Fans motivieren kann, den intelligentesten und nachhaltigsten Weg für die An- und Abreise in den SAP Garden zu finden? Wie kann man ein eindringliches Massageerlebnis schaffen, das den Menschen hilft, vom Alltag abzuschalten? Zu guter Letzt, wie können wir Klinikpersonal dabei unterstützen, bessere Erkenntnisse bei Schlaf-Analysen zu gewinnen?
Dies sind nur einige der Herausforderungen, denen sich die 9 Teams in Batch#17 stellten. Erfahrt mehr über ihre Produkte und die aufregende Reise der Teams im Final Product Review!
Agenda:
13:00 - Intro
13:10 - Grußwort von Michael Stockerl | Director DPS
13:15 - Abschlusspräsentationen der DPS Teams
13:45 - Pause
14:00 - Grußwort von Dr. Hans Michael Strepp I Amtschef Bayerisches Staatsministerium für Digitales
14:15 - Abschlusspräsentationen der Teams der Digitalschmiede Bayern
14:45 - Austausch
16:00 - Ausklang mit Musik & Getränken (nur vor Ort)
Es besteht die Möglichkeit sowohl an der öffentlichen Liveübertragung im Munich Urban Colab inkl. persönlichem Austausch mit den Teilnehmer.innen vor Ort als auch online über Youtube Live teilzunehmen. Bitte wähle die Ticketkategorie entsprechend deiner bevorzugten Teilnahme-Option aus.
Anmeldung bis spätestens Freitag, 25. November möglich.