Location
MAFINEX Technologiezentrum
Julius-Hatry-Straße 1
68163 Mannheim
Germany
Explore the hidden potential in women's health tech & meet inspiring female entrepreneurs from Germany and Israel.
About this event
Technology surrounding female health has long been underestimated. But with an expectet market potential of 3 billion by 2030 and a target group that represents over 70% of consumption directly or through influence it is far from a niche market.
The products of femtech founders at the forefront of innovation and science. But not only that, they change the startup and investment scene by bringing in more women and influence society by breaking tabos and making female health a topic.
For this years international women's day we are bringing the Israeli and German Femtech scene together!
You can look forward to meeting inspiring female entrepreneurs from Israel and Germany, hear their stories and be part of exciting discussions surrounding the startup scene, leading a company and the femtech field. So get ready for some thought-provoking input and amazing networking opportunities.
Tickets, are strictly limited, so save your seat. See you then!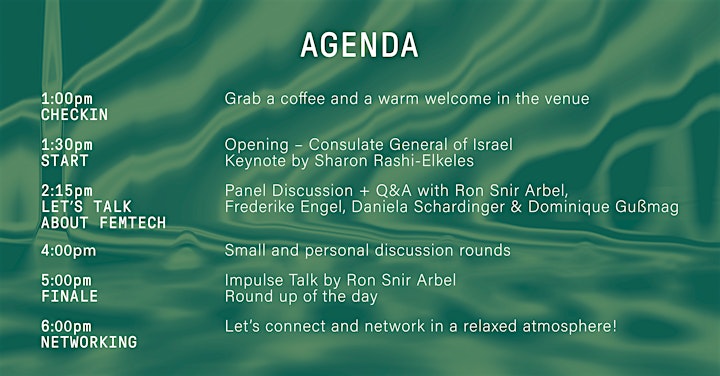 OUR SPEAKERS
From Israel: Sharon Rashi-Elkeles
Sharon is a biomed professional, combining strong scientific background with business skills and experience. For the past several years, Sharon became a passionate entrepreneur: she founded a private company in the Stem-cells field, led AbracadaBRA (a screening-bra for the early detection of breast cancer), Israel's FemTech Hub Eve and is involved in other startups associated with the Femtech sector. Furthermore she is currently the chairwoman of the Israeli council for the advancement of women in STEM.
From Israel: Ron Snir Arbel – Ezbra
With over 17 years of experience as Senior Executive in industries ranging from capital markets to politico-economic positions and intense knowledge in the Venture Capital industry Ron is bringing exciting perspectives for our panel. With Ezbra she is currently pushing innovation in the FemTech field. Ezbra is offering the first sterile, disposable, feminine post-surgical bra .
Frederike Engel –infavher
In 2020 Frederike founded "infavher". An online shop dedicated to all needs of the female body. The goal is not only to provide easy access to innovative products of the FemTech and FemCare space, but also to edcuate, break taboos and destigmatize.
Israeli Startup : Daniela Schardinger – OCON Healthcare
As Vice President for Marketing and Medical Affairs at OCON Healthcare Daniela possesses longterm experiences not only in sales but also in medical managent in the pharma industry. OCON has developed a hormonefree, smart and safe IUD that empowers women in the area of contraception.
Dominique Gußmag – Hannoverimpuls, Female Health Incubator
The Female Health Incubator (FHI) in Hannover supports startup founders in developing their female health businesses. It aims for a sustainable impact by fostering gender-sensitive solutions in the healthcare industry. As the project lead for Entrepreneurship, Dominique is well versed in the German FemTech industry, consultation of startups and the path the founders await.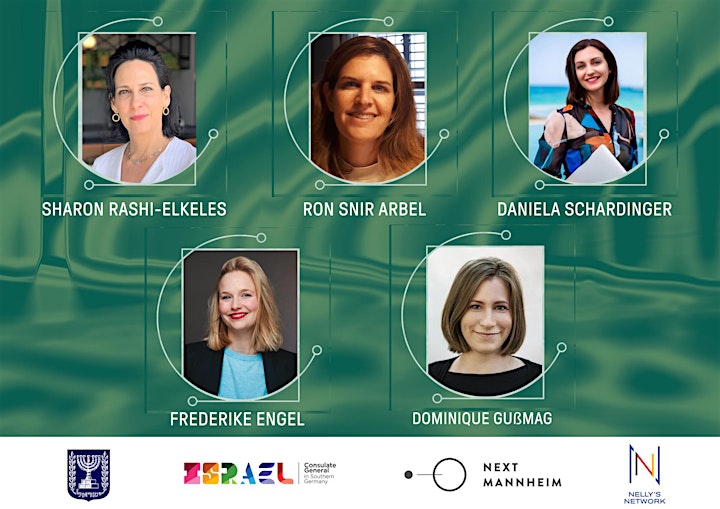 When?
08.03.2022, starting 1 pm
Where?
MAFINEX Technology Center, Julius-Hatry Str. 1
Anything else I need to know?
Please note, that the event will take place under 2G+ rules.
Women only?
No! But: We want to get more women into tech startups and build a network of female tech enthusiasts. So: Yes, dear gentlemen, you are very welcome to join. We can only change the tech field together. How about bringing your female friends, colleagues or other tech-ladies along and help us with our mission!
A BIG THANKS TO OUR AMAZING SPONSORS WHO SUPPORT THE EVENT: LEONARDO HOTELS AND ODENWALD QUELLE.