Willkommen zum Faces Of Change Festival!
About this event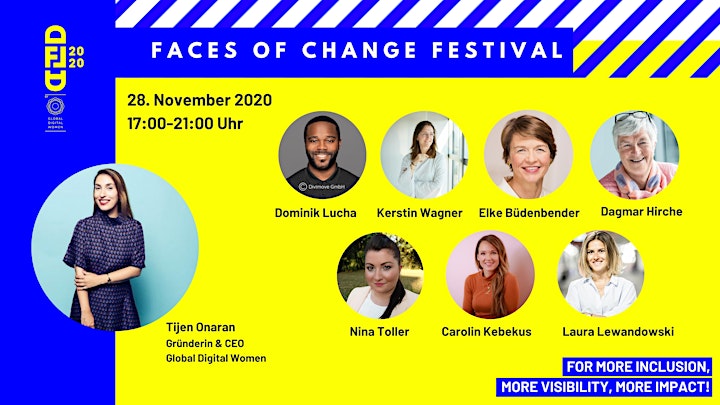 3 Länder, 11 Städte und 18 einzigartige Gewinnerinnen haben wir im Rahmen unseres diesjährigen Digital Female Leader Awards besucht. Unsere unvergessliche Journey To Diversity geht zu Ende und gemeinsam mit Euch möchten wir den Abschluss dieser unglaublichen Reise zu den Faces of Change unserer Zeit feiern!
Seid mit dabei und erlebt den unglaublichen Dominik Lucha bei unserer Keynote "Buliding a diverese and inclusive future!". Lasst Euch bei Paneldiskussionen von inspirierenden Frauen mitreißen und diskutiert mit unseren hochkarätigen Partner*innen über spannende Themen, die uns jetzt und zukünftig begleiten werden. Gemeinsam tauchen wir in die Welt der Kulinarik ein und lassen uns von der wunderbaren Verena Lugert verzaubern.
Wollt Ihr noch mehr? Das bekommt Ihr auch! Die großartige Komikerin und Schauspielerin Carolin Kebekus wird Euch beim Abschlusstalk begeistern. Seid mit dabei beim unvergesslichen Abschluss unserer Journey To Diversity!
Als Abschluss eines herausfordernden Jahres würden wir gerne mit Euch eine Spendenaktion für einen guten Zweck starten. Daher würden wir uns freuen, wenn Ihr einen kleinen Beitrag spendet, der den folgenden Vereinen zugute kommen wird:
Berliner Kältehilfe
Björn Schulz Stiftung
Kinderherzen
Weisser Ring
Bahnhofsmission
Wir möchten darauf hinweisen, dass das Event auf Deutsch ist.
Wir freuen uns auf Euch!
Euer Team von GDW
#JourneyToDiversity
_________________________________________________________________________________________
We visited 3 countries, 11 cities and 18 unique winners as part of this year's Digital Female Leader Awards. Our unforgettable Journey To Diversity comes to an end. We want to celebrate together with you the end of this incredible journey to the Faces of Change our time.
Be part of it and experience the incredible Dominik Lucha at our keynote "Buliding a diverese and inclusive future!". Let yourself be carried away by inspiring women in panel discussions and discuss with our top-class partners* during the Table Captain Sessions about exciting topics that will accompany us now and in the future. You could decide in advance which topic you would like to discuss based on our interesting selection of topics. Together we will dive into the world of culinary arts and let the wonderful Verena Lugert enchant us.
Do you want more? You'll get that! The great comedian and actress Carolin Kebekus will inspire you at the final talk. Be part of the unforgettable conclusion of our Journey To Diversity! We are looking forward to you!
As the end of a challenging year, we would like to start a fundraising campaign for a good cause with you. Therefore we would be very happy if you would make a small contribution that will benefit the following associations:
Berliner Kältehilfe
Björn Schulz Stiftung
Kinderherzen
Weisser Ring
Bahnhofsmission
We would like to point out that the event is in German.
We are looking forward to you!
Your team from GDW
#JourneyToDiversity