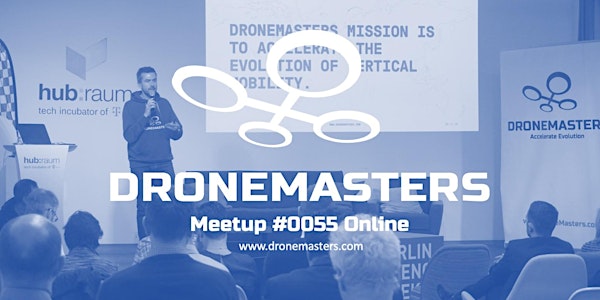 DroneMasters Meetup #055 Online
60 minutes full "droning" - followed by networking online.
Refund Policy
Contact the organizer to request a refund.
About this event
This DroneMasters Meetup will be an online event. The Meetup language is English. Registered participants will receive an access link to join the event. Networking afterward is made possible by DroneMasters's instant messenger.
16:00 CEST (Berlin) / 7:00 am PST (San Francisco) / 10 :00 am EDT (New York) / 11:00 pm CST (Shenzhen) / 02:00 am AEST (Sydney)
Intro. DroneMasters Meetup #055 Online
Frank Wernecke, Founder & CEO, DroneMasters Boost GmbH, Berlin (de), dronemasters.com
1) Monitoring penguins and whales along the Western Antarctic Peninsula using drones
Clara Bird, PhD Student, Oregon State University, Oregon, (us), https://mmi.oregonstate.edu/gemm-lab
2) Shaping drone delivery in urban environments
Alexander Norman, Global Operations Lead, Matternet, Zurich (ch), http://mttr.net/
3) Wanted: delivery drones that can fly 300km
Gabriella Ailstock, Associate, Health System at VillageReach and Coordinator for the UAV for Payload Delivery Working Group (UPDWG), Vancouver (ca), www.villagereach.org
4) Situational Awareness Systems for First Responders
David Kocharov, Engineering Expert, ResponDrone, Yerevan, (am), https://respondroneproject.com
5) Intelligent cloud solution and advisory services for a corporate drone fleet program
Edwin Sanchez, Founder, VirtuXplorer, Weston (us), https://virtuxplorer.com/
Prior registration is mandatory . We reserve the right to make changes to the program at short notice and without prior notice - this does not result in any claim for a refund.
---
DroneMasters' mission is to accelerate the evolution of vertical mobility. The DroneMasters Meetups provide the leading global cross-industry network around vertical mobility and drones. At the DroneMasters Meetups, experts and enthusiasts from business, science, civil society, administration, and politics share ideas and experiences to shape the sustainable use of drones.
The talks are limited to 10 minutes to keep the event entertaining. The presentation language is English. Users of the DroneMasters instant messenger can stay conneceted after the event.
DroneMasters initiate projects, build companies, connect and consult experts, investors, corporations, and start-ups. The DroneMasters Academy provides access to science, tech, engineering, and math (STEM) using drones and drone sports. The DroneMasters Boost GmbH is an incubator and consultancy. The DroneMasters Venture GmbH is an investment company focusing on early-stage start-ups.