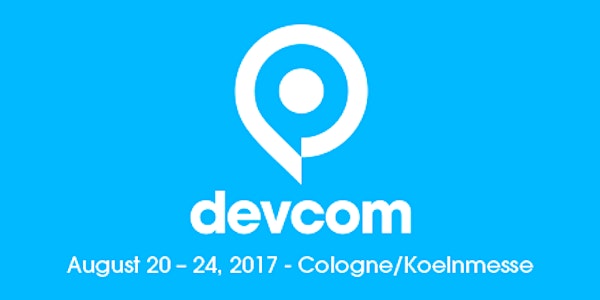 devcom 2017
When and where
Location
Congress-Centrum Ost Koelnmesse Deutz-Mülheimer Straße 51 50679 Köln Germany
Description
devcom is the primary games industry event at gamescom, the world's largest computer and video games event.
devcom is a prestigious, five-day umbrella framework for a series of events focused around game development, game publishing, networking and community building.
The main events at devcom are:
- the devcom developer conference
- RESPAWN – the gathering of game developers @ devcom
- the devcom summits, tutorials and master classes
- the official gamescom keynotes and the devcom developer lounge.
The devcom developer conference is a business-focused, two-day conference with an extensive business and matchmaking area, and up to six conference and keynote rooms. It primarily targets senior games industry professionals, long-established businesses, developers and managers. The extensive exhibition area is devoted to the business aspects of the conference, focusing on issues such as human resources and game development tools.
The devcom developer conference is the ideal place to do business, discover what is trending in the games industry and find experienced new employees. The devcom developer conference has its own press center, an 800m² exhibition area and the devcom business center.
RESPAWN – the gathering of game developers @ devcom is based on the concept of creating a relaxed and open forum for game developers and students to get together and exchange ideas. Rather than boxing speakers and their audiences up in closed rooms, the sessions are held at 'talk stations' dotted around the venue. RESPAWN 2017 will feature the Indie Game Summit, a Newcomer Summit and a new format, the Late Night Talks on Sunday evening.
RESPAWN is the ideal place to exchange ideas and insights on game development, find your way around in the games industry and meet numerous indie developers, newcomers and game developers.
- The devcom developer lounge provides an ideal meeting place for networking and deeper discussions throughout the entire run of gamescom. Located in the gamescom business area , the devcom developer lounge offers a 300m² space for your meetings and separate workshop rooms for three new devcom formats:
- devcom master classes – two three-hour roundtables every day for up to 40 attendees each on topics such as marketing, game design, sales and production
- devcom tutorials – up to four separate hands-on tutorials every day on how to use the latest technology, engines or advertising tools
- devcom summits – three one-day summits focused on Mobile Gaming, VR and Monetization
Your devcom business ticket will allow you access to the devcom developer lounge as well as to all three new conference formats. This gives you first-class conference content and an easily-accessible meeting location in the heart of the gamescom business area, available at any time during gamescom.
A program of hard-hitting talks, trend-setting tutorials and executive opinion pieces added to the buzz of the Indie scene at RESPAWN and a vibrant employment marketplace is set to make devcom the premium European conference for the games industry, bringing the global business of games together in Cologne.
devcom – five days packed with talks, summits, matchmaking and networking. Get your tickets now and save 20% on our limited Early Bird Tickets!
The overall organization of devcom is in the experienced hands of Stephan Reichart & the Aruba Events team, renowned for QUO VADIS – create.game.business, RESPAWN – gathering of game developers and other European games conferences. Aruba Events is part of the Computec Media Group.
Frank Sliwka, one of the world's foremost games conference organizers and former head of GDC Europe, has joined the devcom team at Aruba as senior project lead for devcom.
devcom is a division of gamescom and a new BIU brand.