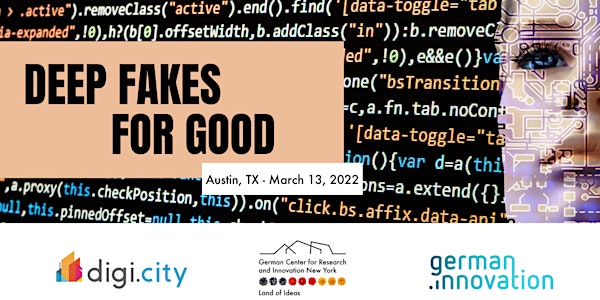 Deep Fake for Good Panel hosted by DWIH New York | SXSW 2022
Join us for a community breakfast followed by a panel session focussed on Deepfake for Good, Tech Ethics and the challenges of AI.
By german.innovation | ginNova GmbH
Date and time
Starts on Sunday, March 13, 2022 · 11am CDT
Location
Innovation Bridge Europe - House at Wax Myrtle's Club / Rooftop 506 San Jacinto Blvd corner of East 5th Street Austin, TX 78701
About this event
Be invited to
10 - 11 am | Community Breakfast
Meet fellow delegates working in AI, Machine Learning, Robotics and Tech Ethics and those interested in the field8s) and the exhilarating cross-innovation potential.
This event is open to all.
hosted by DWIH New York (German Center for Research and Innovation) and the Global Women in AI & Robotics
11am - 12pm | Focus Panel "Deepfake for Good"
Join us for a transdisciplinary panel exploring the (ethical) challenges of AI and Machine Learning and find out how government, academia and industry are using deepfakes and similar applications for good.
What seems real may be far from it. Deepfakes - aka video-based, AI-generated identity swaps - are misinformation weapons designed to pervert truth and destabilize reality.
Their origin dates back to 2017 when a Reddit user assigned the faces of celebrity women to porn performers' bodies. Over the past four years, deep fakes have gone mainstream and , but perhaps not all is sinister and dark. Several groundbreaking positive-use cases have emerged where creatives use tech to protect privacy, enhance accessibility and even inspire justice.
Join us for "Deepfakes for Good" at SXSW 2022 and learn how government, academia and industry are using these tools for good, for example to enhance news reporting, catch sexual predators and protect privacy.
Speakers include:
Cliff Fluet | https://www.linkedin.com/in/clifffluet/
Partner Lewis & Silkin (London, UK), Founder & Department Head Media & Entertainment, Managing Director Eleven Advisory Company
Marian Glaeser | https://www.linkedin.com/in/mglaeser/
Co-Founder and CEO of Brighter AI Technologies
This format is organized by german.innovation and is only possible through the the support and close cooperation with German Center for Research and Innovation (DWIH New York) and Innovation Bridge Europe. Thank you <3
Badge holders only: This event is open to all SXSW delegates.
Please let us know if you have any questions: claudia@german-innovation.org
We are very much looking forward to meeting you all.
Life happens: Just in case you registered but can no longer attend the event, please let us know as soon as possible so that we can give your spot to another person.
Covid-19 Rules
The safety of our attendees, speakers, and guest is our top priority. Please observe the guidelines as outlined by the City of Austin and Austin Public Health. For more information, please see: https://www.sxsw.com/covid19-guidelines/
Proof of completed vaccination or a negative test no older than 24 hours from a certified test center are required to attend this event.
In addition, we strongly recommend to observe general safety measures such as keeping 5 feet / 1,5 m courtesy distance where possible, frequent handwashing or use of hand sanitizer. Please wear a face mask where possible, especially in small rooms / crowded spaces. If you are showing cold symptoms like a fever or cough, please get well first before attending a public event.
About the organizer
german.innovation is a collaborative Strategy Consulting and Networking Agency focused on innovation strategies, the implementation of emerging technologies and connecting innovators and creative minds internationally. german.innovation's official entity ginNova GmbH was founded in Hamburg (Germany) in the summer of 2020 by long-time collaborators Sanja Stankovic and Claudia Schwarz.
german.innovation seeks to promote interdisciplinary collaboration and knowledge exchange to accelerate transnational (cross-) innovation, strengthen the "tech for good" community and to collectively work towards achieving the Sustainable Development Goals (SDGs) set by the United Nations. While we share a curiosity for all things tech, we have a particular passion for Creative Technologies; CleanTech, Sustainability and Social Impact Tech; Smart (Creative) City Strategies and their intersections of mobility, clean energy and big data as well as Artificial Intelligence, Machine Learning and Tech Ethics.