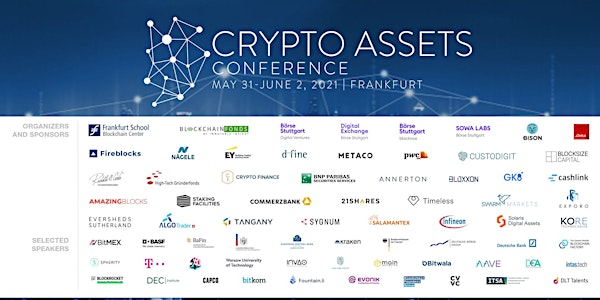 CRYPTO ASSETS CONFERENCE 2021 - #CAC21A
Discover the recent developments in blockchain, custody, crypto assets, DeFi, and the digital Euro at the Crypto Assets Conference #CAC21A.
About this event
THIS IS AN ONLINE EVENT. NO PHYSICAL PARTICIPATION POSSIBLE.
Blockchain technology, since its emergence, has created hundreds of digital assets and spurred new business models on decentralized networks. Due to its rapid evolution, the Frankfurt School Blockchain Center organizes the Crypto Assets Conference, inviting executives, founders, investors, and representatives from public authorities to discuss the latest insights into this disruptive technology.
AGENDA
The agenda of the CAC21A can be accessed by clicking on this link.
OUR CONFERENCE
Affected by the Covid-19 pandemic and current regulative efforts, digital assets are experiencing a boost in popularity on private and institutional levels. This comprises a huge spectrum of crypto assets, like Bitcoin and decentralized finance, digital securities and their infrastructure as well as the digital euro and identity – all based on decentralized networks.
Covering top-level content about current trends in DLT, blockchain and crypto assets through speeches, discussions or pitches, a diverse range of industry experts and thought-leaders will unite at the leading European crypto conference. Join 1500+ online participants to collaborate and interact with peers and experts and to get up to date on the following topics:
Day 1 (Mon., May 31, 2021): Bitcoin, Crypto Assets and DeFi
Day 2 (Tue., Jun 1, 2021): Digital Securities and Infrastructure
Day 3 (Wed., Jun 2, 2021): Digital Euro and Identity
All keynotes, presentations, and panel discussions will be streamed to our Frankfurt School conference platform, which will be accessible by all participants with a valid ticket.
Speakers on all three days include (continuously updated)
Alexander Höptner (Bitmex)
Thomas Nägele (NÄGELE Attorneys)
Michael Spitz (Ex-Commerzbank)
Katharina Gehra (Blockchainfonds by Immutable Insight)
Dr. Thomas Dünser (Ministry of Finance Liechtenstein)
Ulrich Bindseil (European Central Bank (ECB))
Dr. Maximilian Marenbach (Kraken)
Doris Dietze (Bundesministerium der Finanzen (BMF))
Prof. Dr. Philipp Sandner (Frankfurt School Blockchain Center)
Simon Seiter (Deutsche Börse)
Maximilian von Wallenberg (Börse Stuttgart Digital Exchange)
Jan Kühne (Börse Stuttgart Digital Exchange)
Dr. Ulli Spankowski (BISON, Börse Stuttgart)
Daniela Merz-Lander (Börse Stuttgart Digital Ventures)
Christoph Kreiterling (BaFin)
Dr. Joachim Schwerin (European Commission)
Alexander Bechtel (Deutsche Bank)
Dr. Matthias Hirtschulz (d-fine)
Dr. Marcus Hennig (d-fine)
Dr. Marc Henniges (d-fine)
Markus Moesenbacher (Infineon)
Hany Rashwan (21Shares)
Alireza Siadat (Annerton)
Michael Cyrus (Deka Bank)
Dr. Harry Behrens (Daimler Mobility)
Seamus Donoghue (Metaco)
Johannes Kaske (Metaco)
Dr. Helge Steinweg (Telekom)
Sebastian Müller (Commerzbank AG / Commerz Business Consulting GmbH)
Dr. Jan Rosam (EY)
Manuel Klein (EY)
Kurt Zeimers (BNP Paribas Securities Services)
Michael Duttlinger (CASHLINK)
Oliver Pieper (BASF SE)
Sebastian Becker (RIDDLE&CODE)
Berit Fuss (RIDDLE&CODE)
Heinz-Günter Lux (Evonik)
Prof. Dr. Agata Ferreira (Warsaw University of Technology)
Maximilian Portenlänger (Bankhaus von der Heydt)
Lukas Weniger (Bankhaus von der Heydt)
Helge Michael (Main Incubator)
Adrian Doerk (Main Incubator)
Philipp Pieper (SWARM Capital Markets)
Christoph Iwaniez (Bitwala)
Andy Flury (Algotrader)
Martin Kreitmair (Tangany)
Dr. Alex von Frankenberg (High-Tech Gründerfonds)
Dr. Günther Dobrauz (PwC)
Andreas Traum (PwC)
Konstantin Dagianis (PwC)
Dr. Robert Holzmann (PwC)
Dimitri Gross (PwC)
Peter Hofmann (Custodigit)
Alessandro Torfi (Custodigit)
Rupertus Rothenhaeuser (Crypto Finance AG)
Stijn Vander Straeten (Crypto Finance AG)
Wolfgang Albrecht (Staking Facilities)
Michael Shaulov (Fireblocks)
Stephen Richardson (Fireblocks)
Neil Chopra (Fireblocks)
Tim Bruenjes (Fireblocks)
Dr. Carsten Stöcker (Spherity)
Jonas Gross (Digital Euro Association)
Thomas Pirzer (INTAS.tech)
Benjamin Schaub (INTAS.tech)
Julian Grigo (Solaris Digital Assets)
Arno Pernthaler (DEC Institute)
Marcel Harmann (DEC Institute)
Carsten Hahn (Capco)
Patrick Hansen (Bitkom)
Jacek Czarnecki (Fountain)
Greta Gaumert (Exporo)
Patrick Hartmann (Exporo)
Jan Karnath (Timeless)
Carla Bünger (KORE Technology)
Markus Pejacsevich (Salamantex)
Mauro Casellini (Bitcoin Suisse)
Christian Labetzsch (Blocksize Capital)
Connor Payne (Blocksize Capital)
Frank Wagner (Invao)
Ajit Tripathi (Aave)
Benjamin Horvath (Blockrocket)
Dr. Mathias Imbach (Sygnum)
Olaf Hannemann (CV VC)
Constantin Ketz (ITSA)
Denise Duve (DLT Talents)
Victor von Wachter (University of Copenhagen)
Robert Kopitsch (Blockchain 4 Europe)
Benjamin Duve (Commerzbank)
Dr. Carola Rathke (Eversheds-Sutherland)
Thomas Tüllmann (Eversheds-Sutherland)
Dr. Anika Patz (Eversheds-Sutherland)
Wolfgang Männel (Blockchain Founders Group)
Dr. René Andres (European Investment Fund (EIF))
Maximilian Forster (Cash-on-Ledger)
Serkan Katilmis (Cash-on-Ledger)
Dr. Johannes Schmitt (BLOXXON)
Radoslav Albrecht (Bitbond)
Felix Fernandez (21e6)
Dr. Tobias Setz (OpenMetrics)
Philipp Hartmannsgruber (Bundesblock)
Florian Glatz (Bundesblock)
Lasse Clausen (1kx)
Sergej Stein (Amazing Blocks)
Ken Nakamura (GMO Internet)
Matthew van Niekerk (SettleMint)
Patrick Lowry (Iconic Holding)
Sebastian Blum (Greenfield One)
Tim Dierckxsens (Arkane Network)
Simon Peters (Decus)
Holger Geissler (ipOcean)
Daud Zulfacar (Licence.Rocks)
Moritz Putzhammer (Trality)
Phillip Börger (ifb)
Heinrich Krebs (ifb)
Dr. Paolo Tasca (University College London)
Prof. Dr. Tim Weingärtner (LUCERNE SCHOOL OF COMPUTER SCIENCE AND INFORMATION TECHNOLOGY)
Mukaya (Tai) Panich (SCB 10X)
Soravis Srinawakoon (BAND Protocol)
Tascha Punyaneramitdee (Alpha Finance Lab)
Do Kwon (Terra)
Cameron Dickie (B2C2)
Lior Lamesh (GK8)
Topics breakdown
Day 1 (Monday, May 31, 2021): Bitcoin, Crypto Assets and DeFi
Bitcoin and Ethereum: development, potential and performance
Decentralized Finance (DeFi) and the emergence of a new class of financial products
Custody of assets: regulation and cornerstones for digital finance
Day 2 (Tuesday, Jun 1, 2021): Digital Securities and Infrastructure
Digital securities: recent developments, new regulation
Infrastructure: secure IT, AML, custody services, service providers
Tokenization of equity, debt, cash-flows, physical assets, other assets
Liechtenstein Token Act: Regulatory developments & learnings
Day 3 (Wednesday, Jun 2, 2021): Digital Euro and Identity
CBDCs, Libra, stablecoins, DC/EP system (China's digital Yuan)
Digital identities: decentralized identity solutions providing trust between people, things, systems and companies for Industry 4.0 applications
Location and date
Location: Online via streaming access
Dates: Monday, May 31, 2021, 09:00 CEST until Wed., June 2, 2021, 18:00 CEST
Language: German and English
Tickets
Registration via Eventbrite required: Participants who might not want to pay via credit card on Eventbrite can contact us; this way we will provide an invoice which would then be paid e.g. via bank transfer.
Refund Policy: no refund of the ticket price is possible.
Who should participate?
This conference is ideal for the people who seek to understand crypto assets and are interested in talking to practitioners to be able to judge these new developments:
Investors in new technologies, venture capitalists, crypto investors
Startups and founders that are interested in understanding crypto assets
Financial organizations (banks, investment funds, asset management) in all industries
Employees in the area of business development and digitization in all industries
Lawyers, consultants, and analysts (with IT or business background)
Contact
Frankfurt School Blockchain Center
Email: team@fs-blockchain.de
Phone: +49 69 154 008-790
Internet: www.fs-blockchain.de
About the Frankfurt School Blockchain Center
The Frankfurt School Blockchain Center is a think tank and research center which investigates implications of the blockchain technology for companies and their business models. Besides the development of prototypes, it serves as a platform for managers, start-ups, technology and industry experts to share knowledge and best practices. The Blockchain Center also provides new research impulses and develops training for students and executives. It focuses on banking, mobility, "Industrie 4.0" and the energy sector.
Further information can be found on the Website, on Facebook, or via Twitter.