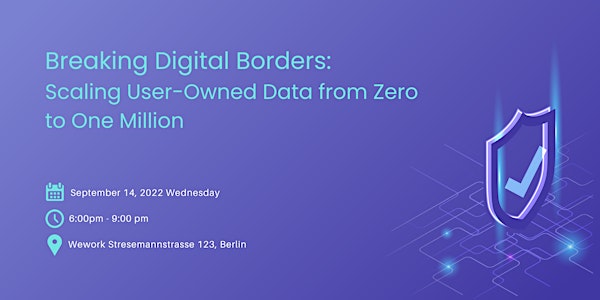 Breaking Digital Borders: Scaling User-Owned Data from Zero to One Million
Event about achieving decentralization beyond blockchains with user owned data scaling from zero to one million.
Date and time
Wednesday, September 14, 2022 · 6 - 9pm CEST
Location
WeWork - Kreuzberg - Private Büroflächen und Coworking Stresemannstraße 123 10963 Berlin Germany
About this event
Users are becoming increasingly concerned about losing control over their own data, while application builders are finding it difficult to keep up with the fast-evolving data management and data privacy regulations.
The existing solutions are largely complex, fragmented, and resource-consuming. As users become more aware of data privacy, simpler processes and tools are needed to empower developers to build in a trusted open data ecosystem while providing control and data ownership to the end user.
This event is a step in the direction towards data ownership and building privacy-preserving applications. In this event, Affinidi will host a talk and demo by multidisciplinary tech leaders who will touch upon what lies beyond Web 3 for unlocking data, scaling from zero to one million user-owned data through a real-world use case (Common Check), and challenges and opportunities for achieving scalability from a business and ecosystem standpoint for an open, trusted data ecosystem.
Attendees will get an inside peek into the suite of no-code tools being developed at Affinidi for building applications in an open data ecosystem enabling trust. The suite of tools offers builders and developers solutions for:
Achieving Data portability & interoperability
Data storage enabling user ownership
Data verification for reusing the data
Agenda
6pm – Doors open
6:30 pm – 6:35 pm: Welcome & Agenda - Marco
6:35pm -6:50 pm: Introduction of LemmaTree & Affinidi – Glenn Gore
6:50 pm – 7:05 pm: Turning a challenge into an opportunity with Common Check – Junius Ho 
7:05 pm – 7:20 pm: Connecting the dots – Niandong Wang 
7:20 pm – 7:35 pm: Product preview: Affinidi Console – Marco & Zain 
7:35 pm – 7:55pm: Q & A  
7:55 pm – 8:00 pm: Closing remarks  
8:00 pm – 9:00pm: Networking & Drinks 
Affinidi empowers communities with control and ownership of their data, creating new business models and greater trust.
Speakers