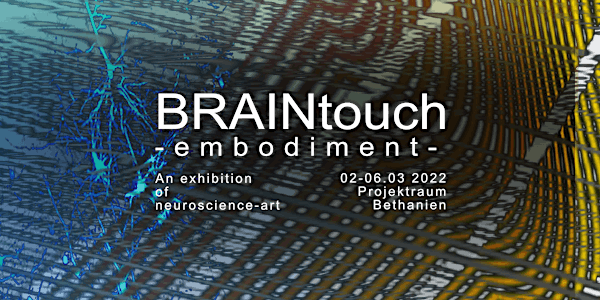 BRAINtouch: EDGE 2022 Neuroscience & Art Exhibition
A neuroscience- art exhibition in the heart of Berlin on the theme of our sensory experience.
When and where
Location
Bethanien Creative Quarter Mariannenplatz 2 10997 Berlin Germany
About this event
BRAINtouch: embodiment presents a scientific-artistic perspective on how we can connect with our brains. Neuroscience-art overcomes the skull through electricity, biology, and sensory experience. Participants take on the role of researchers, experimenting and observing, to become immersed in the science of the brain. With avenues to make the brain 'touchable', what do we learn about ourselves?
Featured artworks:
Sensory Neuronal Network by Rainer Dunkel & Dr. Benjamin Staude invites members of the public to interact with a multimedia representation of how the brain interprets our sensory environment. Scientifically modeled data of how the brain processes what we touch is represented through a sculpture with sound and projection images.
Brainspectives: a tale of two worlds by Kiara Freitag invites us to look at the brain through the eyes of a neuroscientist and explore how shifting the angle of view gives you a completely different perspective on what to discover within our brain.
You and I, You and Me by Mindaugas Gapševičius & Maria Safronova Wahlström (in collaboration with jewellery designer Helga Mogensen and shoe designer Leon Crayfish) uses neurotech-integrated wearables to open new channels by which we can perceive and understand our environment. They ask "Are we humans ready to look inward into the grey matter of our biological selves as well as to truly explore the depths of all matter before us?"
Flares in Fog by Geinene Carson lets us relate to experiencing "foggy brain" like those suffering with chronic neurological conditions. What does it take to dispel the fog and restore the right channels for processing and living? We must invoke hopeful, harmonious rhythms that not only efficiently function, but are determined to work towards more purposeful being.
Balance by Paula Muhr draws on the late-nineteenth-century neurologist Jean-Martin Charcot's image-based medical research into hysterical paralysis. This mysterious symptom, currently referred to as functional paralysis, entails the loss of sensory and motor function that cannot be explained by organic damage.
reAfference by Alessandro Braga, Sophie Mars, Ioana Bilea, Mina Jamshidi Idaji, Ulysse Fontaine, Tilman Stephani, and Georgy Zarubin adds a new channel to the many sensory loops through which we interact with the world. It showcases an accessible interactive EEG toolset compatible with the ever growing scene of multimedia performances and dance.
Cellogram by Kyubin Hwang, Harin Lee, Alessandro Braga, Yongbom Lee is a piece for cello and EEG, thaat integrates brain imaging and sound production. The timbral qualities of cello sound are modulated by mapping 12 brain signals recorded from different regions of the brain, while the celloist follows different sets of instructions that affect her internal state and consequently the signals that modulates the music she plays.
Also featuring talks from Dr. Benjamin Staude, Alessandro Braga, Dimitra Mazaraki, and Ian Erik Stewart
2G+ Event. Free entry / kostenloser Eintritt.
Limited entry on the door / begrenzte Karten am Eintritt.
EDGE is a Berlin-based e.V. blurring the borders between Art and Neuroscience.
EDGE ist ein Berlin-basierter e.V. zur Verbindung von Kunst und Neurowissenschaft
Exhibition funded by / Austellung gefördert mit:
DANA Brain Awareness Week.2021 Grant, distributed by FENS