Celeberations of Ayurveda Day 2020 - today 13th Nov 3 - 6 PM Online 15-18 Uhr
About this Event
Presenting and highlighting different facets of Ayurveda and its usefulness in CoVid19 -Times.
Doctors, Panchakarma Centres, Practitioners, educational Institutes and Product Manufacturers from India and Germany.
Experience sharing by Ayurveda Experts, Panel Discussion and Short Webinars
organised by Indien Institut e.V., Munich (www.indien-Institut.de)
in Association with the Consulate General of India in Munich and
Ministry of AYUSH - India
https://www.facebook.com/events/710386152921751/?active_tab=discussion
Friday 13. November,
3:00 Ayurveda and Yoga eine Liebesgeschichte von Julia Yoga Vidya
4:00 Key Message on Ayurveda in Challenging Times by Dr. Balaji Tambe
4:45 Panchakarma for Chronic Diseases -Dr. Jeevan E.P.
5:15 Panel Discussion on Importance of Ayurveda for CoVid & 2021
Dr. Ulrich Bauhofer, Iris Hüttner, Gita Desai, Dimple Janda,
Dr. Jeevan, Dr. Anoosha Shastry, Moderation: Sanjay També
5:45 A Yogic Dance by Deepika C.
5:55 Closing Remarks and Vote of Thanks by Consul CIP, Munich
Mr. N. Ramakrishnan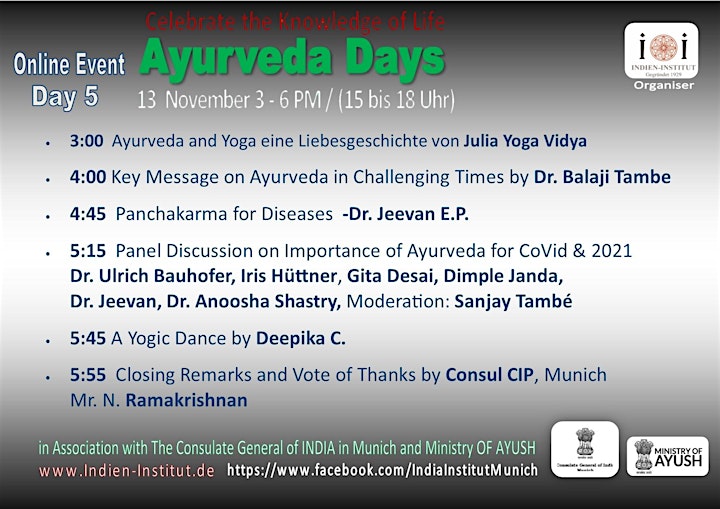 Day1-Monday 9. November, Opening Remarks - Chairman - Indien Institut - Munich
Welcome Adress by Hon'ble Consul General of India Shri Mohit Yadav
Message from Secretary AYUSH Ministry, Vaidya Rajesh Kotecha
Keynote Adress - Dr. Ulrich Bauhofer - Munich
Ayurveda Unveiled trailer - Film Tribute by Gita Desai
Tuesday 10. November,
Session 1: 4 to 4.30 PM Brigitte Heinrich (HP), Santulan Ayurved
Immunstärkung mit Ayurveda – Hausmittel und Anwendungen für Zuhause
Session 2: 4:30 to 5 PM CET Dimple Jangda - India
Ayurveda to boost immunity herbal and spice tea recipes, to improve digestion, metabolism, colon health, sleep, bronchial health, Ayurvedic diet DIY skincare and haircare tips.
Wednesday 11. November,
Session 1, 4 – 4.30 PM CET - Brigitte Heinrich (HP) Santulan Ayurved
Frauengesundheit mit Ayurveda – Zusammenhänge und praktische Tipps für Zuhause
Session 2, 4:30 - 5 PM - Gayatri Puranik - Ashwamedh Ayurveda
"Das Besondere an pflanzlichen Nahrungsergänzungsmitteln nach Ayurveda"
Thursday 12. November,
4 – 4.30 PM - Ishwari Thornton, Santulan-Veda.de
Herbstliche Kochvorführung nach Ayurveda:
Upma (Herzhaftes Grießgericht) und Mungdal Suppe
4:30 - 5 PM - Vera Schulte - www.ayurveda-vor-ort.de / ARTA
Interview mit Iris Hüttner "Kinderwunschtherapie in der Ayurveda-Praxis